About this Event
According to research by Linkedin, 50% of B2B clients will avoid doing business with suppliers without a fully completed Linkedin profile. More than ever these days, having a fully completed Linkedin profile is the minimum acceptable standard if you want to be taken seriously in business.
Linkedin is the popular choice for all business professionals. With over 550 million members in over 200 countries and 24 different languages, it offers unparalleled access to B2B decision makers, wherever you are.
We are delighted to welcome once again, Hong Kong's most respected Linkedin Trainer, Steve Bruce from SBC.
In this popular workshop series, Steve will teach you how to use Linkedin effectively. He will also outline the ways that you can leverage the power of Linkedin to identify decision makers in your target companies, source new business, build a strong personal brand & present yourself powerfully to your target market as an industry opinion-former and thought-leader.
In this workshop, you'll learn how to:
Upgrade your Linkedin profile effectively
Create a compelling and succinct personal headline
Create a clear career summary statement
Quickly build and grow your business network
Source powerful recommendations from happy clients & ex bosses
Present yourself to your target market as an opinion-former and a thought leader
Quickly identify target clients
Source new business
Leverage the power of Linkedin groups to build your reputation and personal brand
ACCESS 10% DISCOUNTED TICKETS BY SIGNING FOR A FREE GARAGE COMMONS MEMBERSHIP
Full workshop: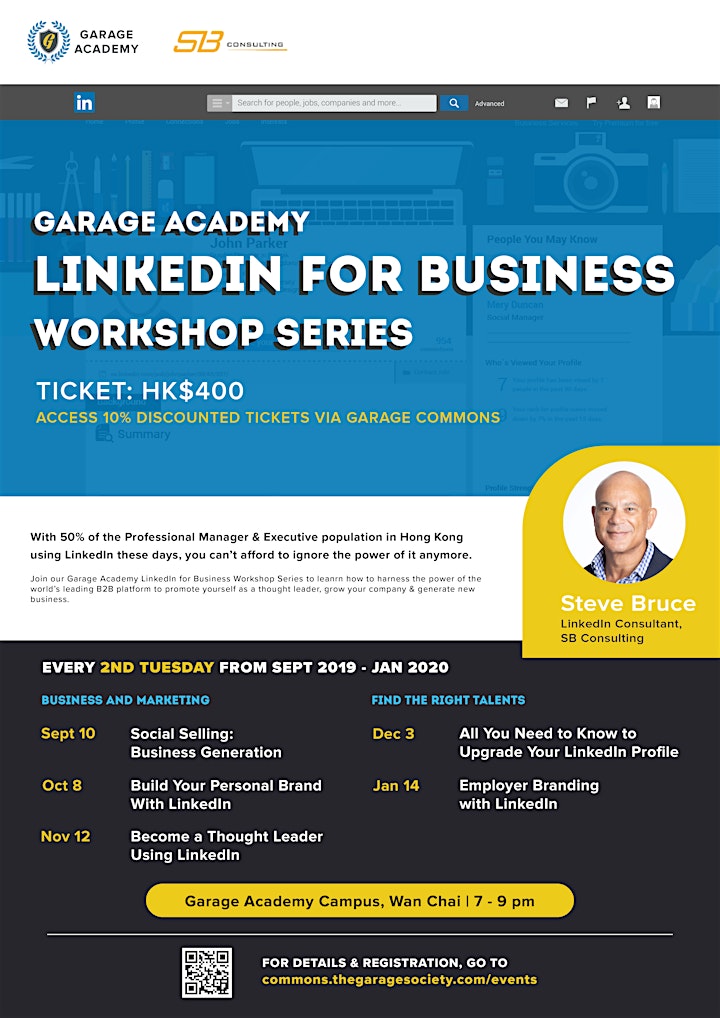 About the Steve Bruce
Steve is a Hong Kong based Linkedin Trainer & Marketing Consultant with 30+ years' international advertising agency, sales and marketing consultancy experience. He helps growing companies like yours who do not have your own marketing team to tell your story in a clear, powerful way that will excite & engage your target customers. His tagline is 'marketing that makes sense' and he has helped his clients to generate millions of dollars in revenue.
He also helps Senior Executives, Business Owners & Corporate Teams to present themselves powerfully on Linkedin. The SB Consulting magic is that 30+ years of international marketing experience means that he can tell your story better, in much less time and more effectively than you can working by yourself. He has also personally generated over HKD2.5m in revenue from Linkedin.
About Garage Academy
Garage Academy is Garage Society's knowledge-sharing platform with a mission to nurture the leaders of the new generation workforce through a wide curation of classes, workshops and community events rooted in innovation and emerging technologies.
Join our digital community Garage Commons now to connect with fellow entrepreneurial minds, build your personal & professional skill set, and innovate & grow your business!