AI & Big Data in FinTech Forum 2021
About this event
AI & Big Data in FinTech Forum (ABFF) Live event was held on September 29th with over 8 Sessions attended by 1800+ Delegates from 90+ Countries.
The recording of the sessions are now available on-demand. Registered attendees will receive the access link for session recording.
人工智能与大数据金融科技峰会于 9 月 29 日举行,共有超过 8 场会议,来自 90 多个国家的 1800 多名代表参加了会议。
注册的参会者将收到会议录影的访问链接。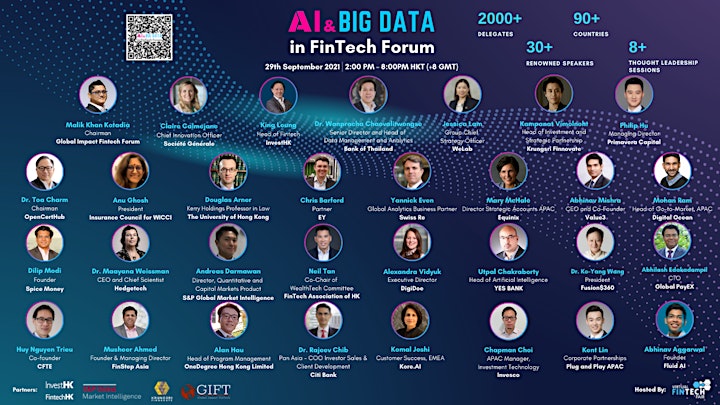 With the rise of Big Data and enhancement of Artificial Intelligence technologies, there is rapid transformation of Financial Services across sectors. In a post-pandemic world, embedded AI and big data analytics will form the back bone of FS, especially as they are leveraged to deliver Digital services.
ABFF showcase the best AI & Big Data solutions in Asia, with Thought leaders and Technology experts providing insights on what lies ahead for Financial Services as the adoption of digital and AI enable fast changing consumer behaviours and demands.
For more information: https://virtualfintechfair.com/ai-and-big-data-fintech-1
随着大数据的兴起和人工智能技术的提升,跨行业的金融服务正在快速转型。 在后疫情时代的世界中,融入人工智能和大数据分析将构成金融服务的支柱,尤其是当它们被用于提供数字服务时。
人工智能与大数据金融科技线上峰会2021展示亚洲最优秀的人工智能和大数据解决方案。随着数字化和人工智能的采用使消费者行为和需求快速变化,思想领袖和技术专家将提供有关金融服务前景的见解。
查询更多资讯: https://virtualfintechfair.com/ai-and-big-data-fintech-1
Organizer of AI & Big Data in FinTech Forum 2021
VFF, co-founded by FinStep Asia and Novsphere Media, is a series of exclusively digital and in-person events showcasing Fintech companies from across Asia and bringing together the brightest minds and thought leaders in the global Fintech community. ??
Since the launch of VFF in 2020, VFF have showcased 200+ innovative FinTechs from across Asia and over 250 thought leader speakers covering Digital Banking, WealthTech, InsurTech, RegTech, Digital Assets, Islamic Finance, Financial Inclusion, Women & FinTech among others. We have had 10,000+ delegates from more than 100 countries with over 60 global partners join us across our events.?
Our aim is to run world class Fintech conferences and forums with the focus on innovation in Asia Pacific. ??