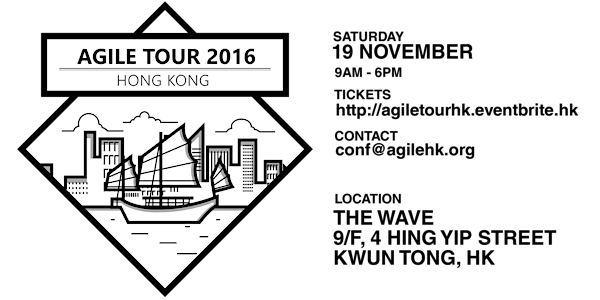 Agile Tour Hong Kong 2016
When and where
Location
The Wave 4 Hing Yip Street 9/F Kwun Tong Hong Kong
Description
On Saturday 19 November 2016, we will host a one day conference on all things Agile at the brilliant offices of The Wave.
Software development, building more collaborative teams, and achieving overall business agility are just some of the topics that will be covered on the day, through speakers, workshops and chances to network with other Agile thinkers in Hong Kong.
It doesn't matter if you know nothing about Agile, are looking to learn from others, or to share your expertise - there will be something for you on this day. We will have streams covering organisations, people, practices and technology. Half of our sessions will be in the format of interactive workshops - helping you grasp complex issues by doing!
We are proud to announce our program for Agile Tour HK 2016!
About half of our program are workshops!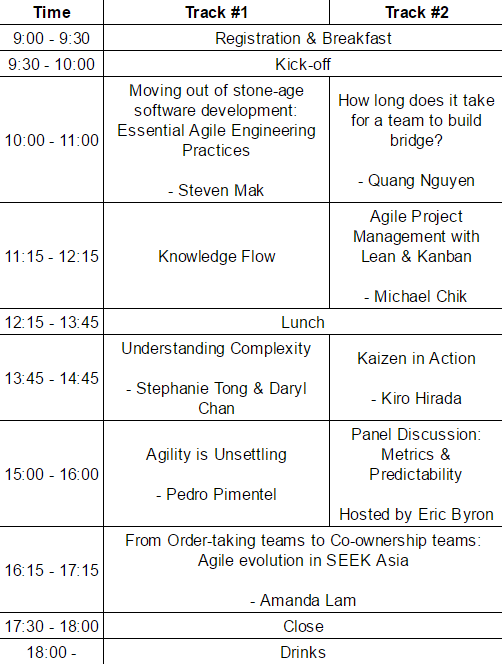 Pricing is very affordable at HK$100 (plus Eventbrite & PayPal fees) for the first 30 tickets or until 2 weeks before the conference. Afterwards, the ticket price will increase to HK$200. So sign up quickly!
Sponsors
This event is sponsored by The Wave, Palo IT, CA, and SEEK Asia.
Due to the already very low price of the ticket and our very limited resources, we can unfortunately not process any refunds