About this event
If you desire to expand your business network, build connections, or find new inspirations, we have a casual social networking event just right for you. We will meet monthly at different locations in town to connect with the city's top professionals from all industries!
如果你想结交来自各个行业的朋友
感受愉快友好氛围的社交体验
或是在寻找新的灵感
欢迎加入我们全行业社交之夜!
Join us after work from 7:30 pm on August 5 at Blue Frog, an industrial-style restaurant & bar with spacious areas and high ceilings, located in the center of Lujiazui. Grab a drink, make like-minded friends in this friendly environment, and say goodbye to work stress!
8月5日,周四晚7点半起
我们邀您来到位于陆家嘴核心区域
享誉业界的 blue frog 蓝蛙西餐厅酒吧
在轻松舒适的工业风挑高空间中
结识志趣相投的伙伴
享受美食美酒和欢笑
让所有的工作烦恼一扫而空
共同度过惬意畅聊之夜!
购票链接 Ticket Link: https://yoopay.cn/event/73526721
There will be interactive games, lucky draws and various prizes waiting for you. Don't miss out!
活动会设置有趣的互动环节
鼓励大家进行快速社交
为之后的深度交流作铺垫
更有精彩抽奖和惊喜奖品等着你!
The entrance fee includes one drink. Name tags will also be provided as well to make it easy for leads and referrals. We hope to see you there!
活动入场费包含一杯酒水
我们也会提前收集行业信息
现场提供姓名标签
便于大家更好的社交
我们期待您的莅临!
WHEN
7:30 PM - MIDNIGHT
THURSDAY, AUGUST 5
8月5日,周四
晚上7点半至半夜
WHERE
bluefrog蓝蛙(滨江店)
上海市浦东新区富城路14号
No.12-14, Fucheng Road
Pudong New Area, Shanghai
蓝蛙西餐厅酒吧起始于2003年,在上海茂名南路迎来第一家门店,至今已是遍布中国17个城市70家店的领先西餐品牌。其专注于提供经典融合创意的现代美式炙烤美食和鸡尾酒。在每家蓝蛙,都可以享受到尽兴轻松的体验,以及亲切友好的服务。在这里,心与心更贴近了。来自美国的品牌创始人希望将家乡的地道风味带到中国,并将大都市餐厅的专业水准与轻松怡人的本地社交氛围合二为一。
The first location of Blue frog was established in 2003 on South Maoming Road, and now the brand had already made an impressive achievement by opening a couple of new outlets across the city.
The food range of Blue Frog covers a set of burgers, salads, classic western dishes, as well as some selections of Asian flavors. On the drink menu, you'll get your meal delighted by a bottle of beer, a glass of wine or cocktail, or even alcohol-free Mocktails can be a good choice for nondrinkers.
The Bingjiang branch of Blue Frog is situated in a unit of a restaurant parade opposite the Super Brand Mall in Lujiazui, with a walkable distance to the Binjiang waterfront promenade, Blue Frog can be an ideal energy-refreshing station for long walk tourists, shoppers, or white-collar workers.
ATTENDEES 参与人群
All industries professionals are expected
将有魔都各行业的优质伙伴加入我们
RUNDOWN 活动流程
7:30 pm - 8:45 pm
Arrive and Mingle
入场交流
8:45 pm - 9 pm
Engaging Icebreaker & Lucky Draw
互动游戏和抽奖
9 pm - Midnight
Mingle and Network
持续整晚的自由畅聊
TICKET 门票
RSVP Options: It includes 1 complimentary drink
and participation in games and lucky draw
报名选项:以下门票费用均包括一杯酒水或饮料
及参加互动游戏和抽奖
Drink Options
Red/White Wines, Selected Cocktails, Selected Liquor, Beer, Soft Drinks
酒水选项
红/白葡萄酒,精选鸡尾酒,精选烈酒,啤酒和软饮
Early Bird 早鸟票
RMB 80 /person
每位80元
Prepaid Ticket 预售门票
Group Ticket 组队价
(2+ people sign up 两人及以上报名)
RMB 90 /person
每位90元
Single Ticket 单人价
RMB 100 /person
每位100元
Sign up before 7:30, AUGUST 5
8月5日晚7点半前报名
At-Door 现场票
RMB 120 /person
每位120元
TICKET LINK 购票链接: https://yoopay.cn/event/73526721
CONTACT US 联系我们
Please add WeChat below if you have any further questions, or want to follow more upcoming events
活动咨询、商务合作,或获知更多活动和详情
请扫码添加以下微信 (ID: shfun_official)
还有超值晚餐特惠可现场购买
Dinner deals are also available
套餐 MENU 1 - 88 RMB
时代扎啤/福佳白扎啤 500ml+炸鸡配薯条
Stella Artois / Hoegaarden 500 ml + Fried Chicken + Fries
套餐 MENU 2 - 108 RMB
蓝蛙长岛冰茶/啤儿鸡尾酒/热情果梦奇多+炸鸡配薯条或烤南瓜牛油果时蔬沙拉
Selected Cocktail + Fried Chicken + Fries or Roasted Pumpkins and Avocado Salad
BRAND STORY
蓝蛙采用精巧的空间及内饰设计, 融入周边社区的特点及个性,带来极富亲和力的用餐氛围,让每位客人都能在这里享受休闲放松。蓝蛙的每家门店均采用挑高设计,营造明亮宽阔、通透的空间感。备受欢迎的户外区域更是享受阳光、放松小憩的好选择。长条的酒吧吧台展示了蓝蛙的丰富酒品,搭配令人放松的情境照明,展现大都会的生生活力;轻盈的木质调、酷感十足的砖墙,搭配柔和的灯光设计,带来温暖的活力,让每位顾客都能沉浸于此,享受完全的身心放松。餐厅内各处都设计有标志性的蓝蛙形象元素,营造出极富亲和力的轻松用餐氛围。
微信公众号 WeChat Official Account:
ShanghaiFUN上海
Email: erin_tang@126.com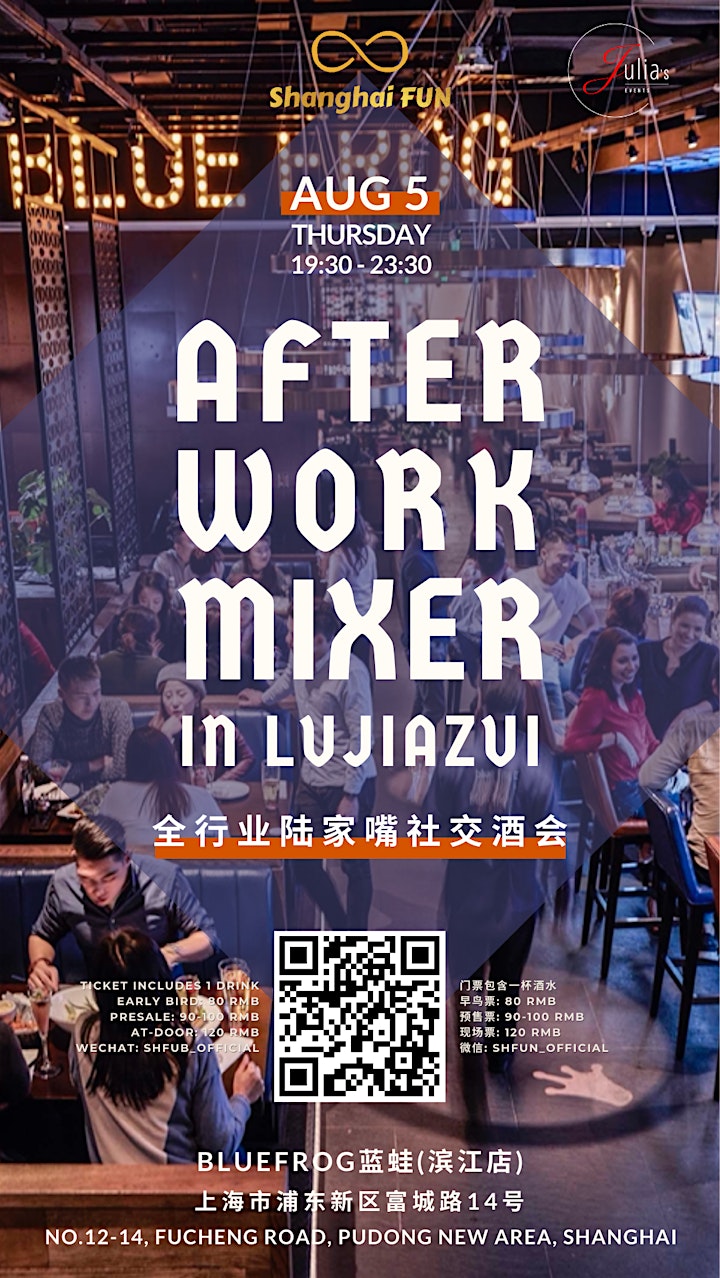 Organizer of After-Work Mixer in Lujiazui 全行业陆家嘴社交酒会 @bluefrog蓝蛙(滨江店)
About Shanghai FUN
We organise parties, networking events, brunch/dinner meetup and after work drink events in Shanghai. 
Join us to make new friends, expand your social circle and take part in fun events! 
Our events attract an international crowd of professionals looking to socialise, network and meet like-minded people.
Invite your friends to follow us and spread the word!
活动组织方
Shanghai FUN立足魔都,每周不定期的组织派对及类型多样的社交活动,参与人群为外国人、海归,及具有国际背景的人士,所选活动场地均为城中品质潮流场所。
联系微信 Contact WeChat: shfun_official
微信公众号 Wechat Official Account: ShanghaiFUN上海