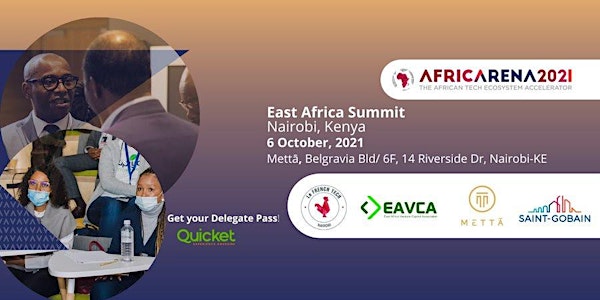 AfricArena: The East Africa Summit
Details
When and where
Location
Mettā Nairobi 14 Riverside Drive #Suite 6A Nairobi, Nairobi County Kenya
About this event
Register Here
AfricArena will be hosting The East Africa Summit on October 6th in partnership with Mettā Nairobi, La French Tech, EAVCA & Saint-Gobain.
AfricArena is an African tech ecosystem accelerator. Through events, AfricArena accelerates the growth of tech startups and the ecosystems in which they operate by providing a platform where they can share their business model, gain valuable networks and attain funding.
This year, AfricArena will organize 4 hybrid events across 4 regions in Africa, in building up the annual AfricArena Summit in Cape Town. The Regional Events will bring together startups, investors, and corporations operating in the Region. ±25 startups from the Region will be selected to pitch at the Regional Event. Those events will act as semi-final pitch sessions before our Grand Summit in Cape Town in November 2021.
The conference will feature pitches from 10+ startups operating in East Africa, between the Seed stage and Growth stage, as well as keynotes and panel discussions from the top minds in business, tech, and investment in the region.
Tickets available on Quicket.
Register Here