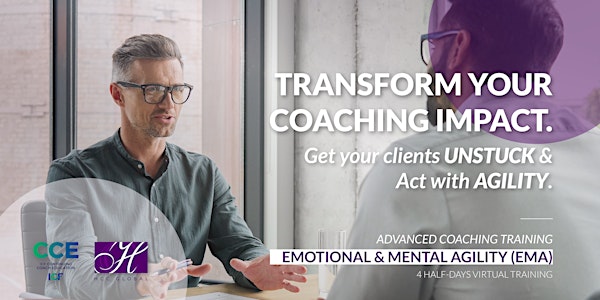 Advanced Coaching Training – Emotional & Mental Agility (May-June 2023)
Transform Your Coaching Impact. Get Your Clients Unstuck & Act With Agility.
Date and time
Starts on Wednesday, May 24 · 12am PDT
Refund Policy
Contact the organizer to request a refund.
About this event
Transform Your Coaching Impact. Get Your Clients Unstuck & Act With Agility.
People often find themselves stuck; in the status quo, in an unfulfilling job, in an unproductive pattern of behaviour, in a non-rewarding relationship… They repeat the same behaviours over and over, wondering why nothing ever changes. How do we get our clients unstuck? What would help us escape from this vicious cycle? A large part of getting stuck can be traced back to the workings of the mind.
Emotional And Mental Agility (EMA) is the first level of advanced coaching training you need to find and address root causes of behaviour. It is an evidence-based programme based on the powerful model of Acceptance and Commitment Therapy (ACT) - adapted to the world of coaching. EMA will help you with new insights about the working of the human mind, teach you how to access the unproductive scripts, assumptions, beliefs and strategies that keep your coachees 'stuck'. You will learn how to get your coachees "off the treadmill", to clarify what they really, really, really want and to move towards it.
EMA is a robust methodology with particular application for clients who want to make significant changes, who are "stuck", who want to stop acting in "autopilot" mode or live a more meaningful life.
Upon completion of the training and a short reflective post-programme assignment, participants could earn 13 Core Competencies + 5.5 Resource Development Units under the ICF Continuing Coaching Education (CCE). For more information, please refer to this training brochure.
(This is a Continuing Education (CE) activity approved by the Division of Industrial-Organizational Psychology and Division of Counselling Psychology under the Hong Kong Psychological Society (HKPS) )
Programme details
Date: 24, 31 May 2023; 7, 14 Jun 2023 (4 Half-days)
Time: HKT 15:00 - 19:00 (GMT +8)
Format: Virtual Interactive
Price: HKD8,000; 15% bring-a-friend additional discount for registration with a friend
Upon your registration, invoice with payment details will be sent to you in 1-week as a confirmation.
The Trainer
Henry Chamberlain | Managing Director of HCC Global Limited | I/O Psychologist, ICF PCC Coach
About Us - HCC Global Limited
We are a science-driven coaching organisation that brings profound insights and impactful solutions to organisations looking to unleash their people's potential. Our team of experienced I/O psychologists works with best-in-class assessment tools for all talent levels. We have extensive experience in bringing validated and reliable data to talent recruitment, coaching, and people development in Hong Kong and globally.
–––––––––––
Website: hccglobal.net
Linkedin: HCC Global Limited
Contact us: info@hccglobal.net