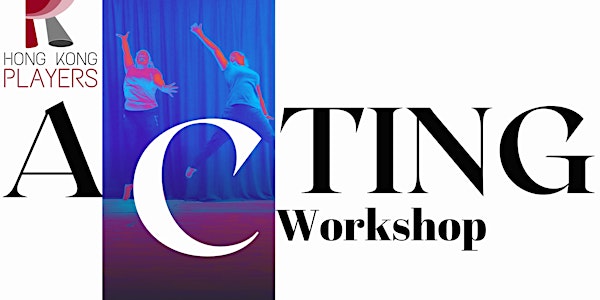 Actor's Workshop: Approaches to Text
Join the Hong Kong Players with their new Workshop Series: "Approaches to Text".
When and where
Location
Spooky 3/F, On Tat Building 3-5 Pat Tat Street Hong Kong, KOW Hong Kong
About this event
Join the Hong Kong Players with their new Workshop Series: "Approaches to Text". These workshops aim to equip participants with various approaches to text and performance. Each session will introduce a new approach to working with texts and then apply these to texts chosen by the participants. 
Schedule: 
21 September: Marceau and Mime
5 October: Linklater and Voice 
19 October: Laban and Characterisation
2 November: Stanislavski and Objectives
16 November: Pinter and Subtext
Day: Tuesdays
Time: 7:00pm - 8:30pm
Where: Spooky Rehearsal Studio, 3/F, On Tat Building, 3-5 Pat Tat Street, San Po Kong, Kowloon, Hong Kong
Cost: $ 1000 (HKD)
Age: 18years +
Participants will be provided with a choice of texts before the sessions and they are able to choose a text that they connect with. Sessions are will take place every alternative week in order to provide participants with the space and time to prepare for each session as they choose a monologue to prepare for each session.
Detailed Schedule Outline:​
Session 1: Marceau and Mime
This workshop will focus on physicality and developing a strong physical vocabulary for communication. After developing a solid foundation in principles of mime, the workshop will culminate in a mime performance of a text by Marcel Marceau.
Session 2: Linklater and the Voice
This workshop explores the voice and ways of using the voice as a starting point to access a character in performance. Here Linklater's Resonance Ladder will be applied to monologues chosen by the participants before the workshop as a way of developing variation and illuminating character objectives throughout the piece.
Session 3: Laban and the Efforts
This workshop will start off with an investigation into Laban's Eight Efforts, both physically and vocally. Participants will apply their explorations to a monologue text of their choice.
Session 4: Stanislavski and Duologues
This workshop harnesses Stanislavski's approach to text, using techniques like Given Circumstances, Magic If, Objectives and Emotion Memory as a means of developing a realistic approach to character and scene.
Session 5: Pinter and Scenes
This workshop focuses on subtext and how to approach subtext in a performance.