Active Nation Day 2017 - Hong Kong (Chrissy Denton, F45, Hit45 and Barre2ba...
Description
Active Nation Day is a movement created in 2012 by Lorna Jane to inspire women, their families, communities, cities and the world to live a more Active Life.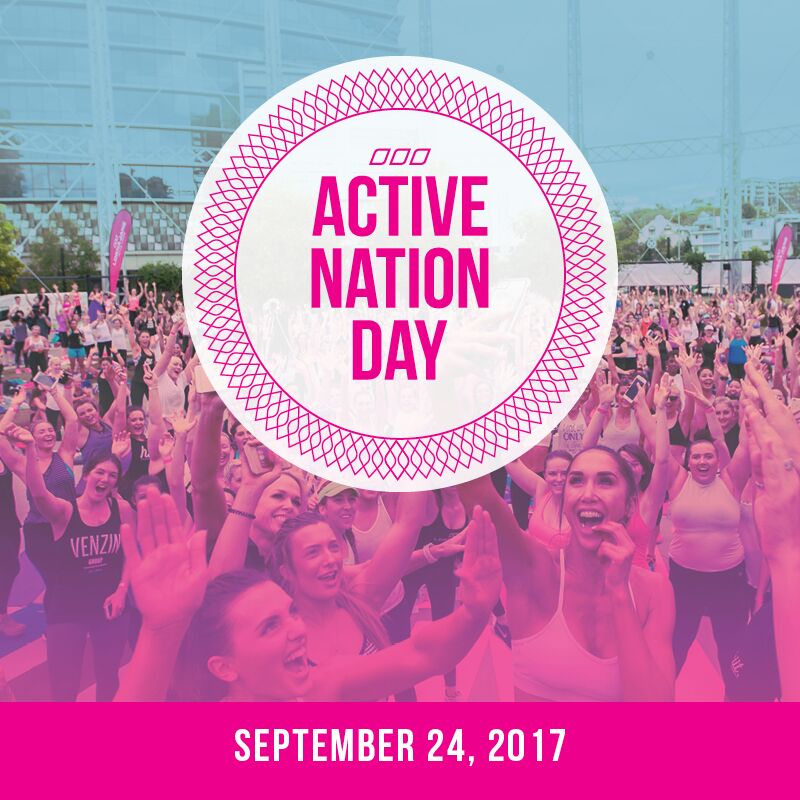 Active Nation Day - HK
Please either choose Hit45 or Barre2barre in Vol.2 so more people can take part in our Active Nation Day! We welcome you all to join Vol.1 Move with Chrissy Denton.
We heard your feedbacks on our Hollywood circuit with F45 last week! We know you all enjoyed and loved the workshop! That's why we add Vol.4 Sweat with F45 on our Active Nation Day!!! Come and join Vol.3 Sweat with F45 at their newly opened studio at Central!
Vol.3 Sweat with F45!
(11:45 - 12:45 @ 15th Floor Li Dong Building, 9 Li Yuen St E, Central, Hong Kong)

Vol.1 Move with Chrissy Denton
(10:00 - 11:00 @ Tamar Park )
Vol. 2A Hit45
(12:00 - 13:00 @ 1/F, Abdoolally House, 20 Stanley Street, Central, Hong Kong)
Vol. 2B Barre2Barre - BarreAmped
(15:00 - 16:00 @ 4/F Cheung Hing Commercial Bldg.37 Cochrane Street, Central, Hong Kong)
WHAT TO BRING:
Towel

Yoga mat ( For Vol.1Move with Chrissy Denton)

Water Bottle

Smiles and good vibes!
We are happy to have Chrissy Denton, F45, Hit45 and Barre2barre in our Active Nation Day 2017.
Vol.1 Move with Chrissy Denton (10:00 - 11:00)
Total body circuit - join Chrissy for a dynamic & interactive circuit class on Lorna Janes 'Active Nation Day'!

Vol. 2A Hit45 (12:00 - 13:00)
At HIT45 you will be warmed up by our professional trainers using a mix of cardio, body weight, and flexibility exercises. We'll get you nice and warmed up and ready to smash the workout before you know it! Be prepared to burn lots of calories in just 45 minutes - a mix of cardio, free weightsand body weight exercises to help you burn fat, build strength, tone up and improve your fitness levels.

Vol. 2B Barre2Barre - BarreAmped (15:00 - 16:00)
Shake to change with us on Active Nation Day 2017! This BarreAmped Mixed Levels class will allow you to learn the fundamentals of BarreAmped. Regulars will be challenged with modifications. Suitable for beginners. Expect a challenge and prepare to leave feeling calmly energized with this hands on personal group training session.

Vol.3 Sweat with F45 (11:45-12:45)
The fixed, 45 minute duration of our workouts exists to provide a timing structure to maximize your growth and progress. F45 daily workouts vary the amount of exercise stations, the Work Time / Rest Time ratio and the number of repetitions through the "Exercise Circuit" of each day. This provides a challenging workout for our clientele that is always evolving and never the same!!!!

Together we move toward a fit and fabulous future. Join the MOVEment and move with us on Sunday 24th September, 2017. Every attendant can get a gift and take part in the lucky draw! Three gift boxes will be giveaway in each workshop. Show your friends, your family and the world that moving matters! Join us this Active Nation Day and let's get moving!
Visit www.activenationday.com and discover how you can become involved no matter where you are. #ACTIVENATIONDAY #LORNAJANE
FAQs
I'm trying to book but it the event is listed as exhausted. Is that because it has already booked out?
If you were unable to select the date for this event, this does mean that this event is now unfortunately full.
I can no longer attend, how do I cancel my event registration?
Please follow the prompts in your confirmation email you received from EventBrite to change or cancel your event subscription.
Do I need to print out my ticket and bring it with me?
Yes, please bring this ticket at registration so we can mark your name off our list at registration. If you forget your ticket don't worry we can look you up and get your to sign the registration form :)
Are guys able to participate at these events?
Of course! We are encouraging everyone around Australia to join in and live their healthiest and most active life possible.
Where can I find out more about Active Nation Day?
Visit the official website activenationday.com
Why can I only register one ticket at a time?
All participants need to sign up individually, read and accept the event consent form. Share this link with your friends to invite them to register!
IMPORTANT:
By registering for this event you agree to the following Active Nation Day Move Class Consent Form For participants under the age of 18 years, this form must be signed by a parent or legal guardian of the participant and brought on the day :)
*Event program correct at time of publication. Subject to change without notice.