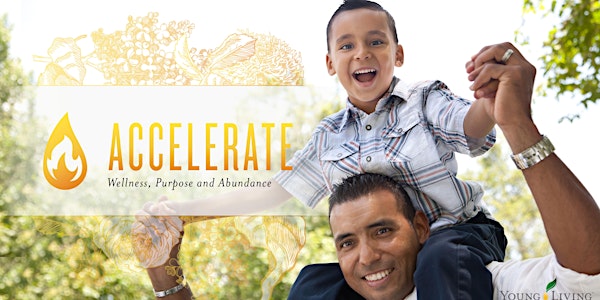 ACCELERATE: Wellness, Purpose and Abundance
When and where
Location
Training Room, 6/F, The Wellington 198 Wellington Road Central Hong Kong
Description
Imagine a life filled with wellness. Imagine a life filled with purpose. Imagine a life filled with abundance. A Young Living Accelerate event is a life-changing, hands-on training event officially sponsored by Young Living.
Accelerate event is an intermediate-level approach to essential oils and business building, and all are welcome to come learn and participate. Join Young Living trainers and go more in depth about building your business, how to support your wellness with Young Living and much more!
Join us at Accelerate for:
Presentation from Young Living global and local Trainers

Business-building techniques taught by Young Living

Sharing from the successful local leaders

Networking with an inclusive, like-minded community

An opportunity to accelerate you path to wellness, purpose and abundance
Details & Registration
Please kindly register for the session according to your rank as topics may vary to suit rank/level:
ACCELERATE for Silver and Gold
Date
25 April, 2016
Time
7:00-9:00 P.M.
ACCELERATE for Platinum and Diamond
Date
26 April, 2016
Time
3:00-5:00 P.M.
ACCELERATE for New Builders (Distributors, Star, Senior Star, Executive)
Date
26 April, 2016
Time
7:00-9:00 P.M.
Venue: 6/F training room, Young Living Customer Centre, The Wellington, 198 Wellington Road, Central
Ticket sales start at 00:00, 6th April and end at 23:59, 22nd April (Limited seats)
Ticket price: HKD$80 each per person per session
Terms and Conditions
-Limited seats available for each session. Tickets are available on first-come-first-serve basis.
-Tickets are not refundable. Tickets can be transferred to others before on or before 20th April. We do not accept any name change after 20th April.
-Tickets cannot be transferred to a different session once purchased.
-Please print out the ticket or show electronic ticket on your mobile device upon entering the classroom.
-In order to provide a good learning environment to all of the attending members, we will not accept latecomers after 30 minutes after class starts.
-Handouts will only be given to those who attend the meeting.
Please click here to know more about the
If you have any questions about this event, please email: HKEvents@youngliving.com
For more event information, please click here.
---
想擁有健康、有意義及豐盛的人生嗎?踏出您的腳步,一起參與我們Young Living【Accelerate加速邁向】的活動吧!
此活動將可能是改變人生的轉捩點,喚發您的新思維,讓您開展擁有健康、成就夢想、享有豐裕富足人生的目標!參與我們Young Living導師的分享,從中學習如何建立您的事業,以及更多!
從活動中您更能深入體驗我們的純淨精油加何讓您的家人與朋友獲得健康以外的益處。
於這次【Accelerate加速邁向】活動,您會:
認識Young Living 國際及本地導師
學習Young Living建議的建立成功事業之技巧及秘訣
從本地成功領袖身上學習,與志趣相投的會員互相分享及交流經驗
獲得一次加速邁向健康、夢想方向及豐盛人生的機會!
詳情及報名
由於各環節的主題是為不同級別的會員而設,請根據您的會員級別選擇適合自己的活動環節:
ACCELERATE加速邁向 - 適合:銀級及金級會員
日期
2016年4月25日
時間
晚上7時至9時
ACCELERATE 加速邁向 - 適合:白金級及鑽石級會員
日期
2016年4月26日
時間
下午3時至5時
ACCELERATE 加速邁向 - 適合:新或初級會員(經銷商、星級、高層星級及總監級別會員)
日期
2016年4月26日
時間
晚上7時至9時
地點:中環威靈頓街198號THE WELLINGTON 6樓客戶中心培訓室
門票由4月6日香港時間凌晨12時正開始發售,並於4月22日晚上11時59分載止。(座位有限)
票價:每位每節港幣80元
條款及細則
-每節的名額數量有限。門票先到先得。
-所有門票一律不得退款。門票持有者可自行於4月20日或之前於網上將門票轉讓給他人。任何於4月20日後的門票轉名一概不獲接受。
-該環節的門票一旦購買,則不能轉換其他環節的門票。
-進入課室前,請出示已列印的門票或透過智能手機顯示電子門票。
-為了確保所有參加的會員擁有更佳的學習環境,所有在活動課程開始30分鐘後的遲到人士,一律不得進入。
-所有課程講義將只會給予持票出席的人士。
如有對是此活動有任何疑問及查詢, 歡迎電郵致: HKEvents@youngliving.com
如欲閱讀活動詳情(中文版本),請按此連結