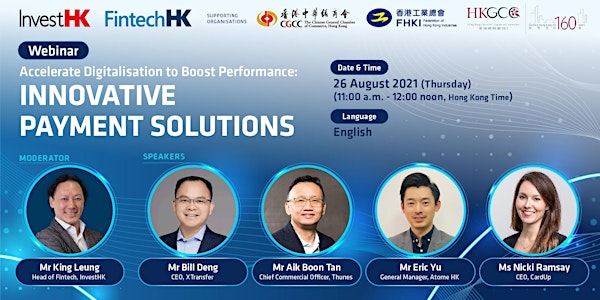 Accelerate Digitalisation to Boost Performance: Some Payment Technologies
Accelerate Digitalisation to Boost Performance : Innovative Payment Technologies
About this event
As intra-Asia trade and investment flows continue to increase, Hong Kong remains an important regional trade and logistics hub, especially for the Mainland Chinese firms, to trade and settle payments with ASEAN and other major markets. Reportedly, while the global merchandise trade shrank by 5.3 per cent as a result of the pandemic, bilateral trade between the Mainland China and ASEAN increased by 6.7 per cent from 2019.
This webinar invites speakers to share the latest trends and insights on digital payments. It also explores a few hot trends among the Fintech and investment community – cross-border B2B payments (powered by a robust digital compliance process), BNPL (Buy Now Pay Later), innovation in optimal use of credit cards, available in Hong Kong or in other areas. The speakers will help audience better understand how innovations help reduce cost, improve cashflow, and more.
************************************************
Organiser
InvestHK
************************************************
Supporting Organisations
The Chinese General Chamber of Commerce, Hong Kong (CGCC)
Federation of Hong Kong Industries (FHKI)
Hong Kong General Chamber of Commerce (HKGCC)
************************************************
Agenda
11:00 – 11:05 Welcoming Remarks and Introduction
11:05 – 11:55 Discussion
11:55 – 12:00 Q&A Session
**************************************************
Moderator
Mr King Leung, Head of Fintech, InvestHK
Speakers
Mr Bill Deng, CEO, XTransfer
Mr Aik Boon Tan, Chief Commerical Officer, Thunes
Mr Eric Yu, General Manager, Atome Hong Kong
Ms Nicki Ramsay, CEO, CardUp
Company Background
XTransfer
XTransfer is a one-stop cross-border financial and risk management service company that partners with international banks and financial institutions. Its unified global multi-currency clearing network and data-based, automated, Internet-powered and intelligent anti-money laundering risk management infrastructure centers on serving small and medium-sized enterprises (SMEs). XTransfer helps SMEs enjoy the same level of cross-border financial services as multinational corporations. XTransfer has branch offices in UK, US, Australia, Japan and Singapore and has teams in cities such as Shenzhen and Yiwu. It is a licensed Money Service Operator in Hong Kong.
Thunes
Thunes is a B2B company that powers payments for businesses. Corporates and financial institutions can move funds seamlessly, securely, and cost-effectively with Thunes' well-established, reliable and far-reaching network. Thunes is used by global banks, money transfer operators, platforms, and many other businesses to make payments to bank accounts, mobile wallets and cash pick-up providers around the world. Using Thunes' services, businesses and customers can send payments to and get paid quickly. Thunes is headquartered in Singapore with regional offices in London, France, Shanghai, New York, Dubai, and Nairobi.
Atome
Atome is a BNPL (buy now pay later) platform in Asia. It currently partners over 3000 online and offline retailers in nine markets (Singapore, Indonesia, Malaysia, Hong Kong, Taiwan, Vietnam, Philippines, Thailand and Mainland China) to increase conversions and grow average orders and customer segments. For consumers, Atome offers choice, convenience and flexibility in how they choose to shop and pay. Atome is part of Advance Intelligence Group, an AI-driven technology company headquartered in Singapore and has presence across Southeast Asia, India and Greater China.
CardUp
CardUp's mission is to provide individuals and businesses with a better way to pay and get paid. Its payment platform simplifies the business flow, bringing both payments and collections into one easy-to-use digital platform. CardUp's no-code solutions improve cash flow management, unlock rewards on existing credit cards and save time through automation, all with no software implementation or setup time. CardUp supports cards from major banks and issuers. CardUp operates regionally across Singapore, Hong Kong and Malaysia, and is a licensed Money Service Operator in Hong Kong.
Enquiries
Please send your enquiries by email (fintech@investhk.gov.hk)