Location
WMA Space
8/F, Chun Wo Commercial Centre
23-27 Wing Wo Street
Hong Kong, HKI
Hong Kong
在情況尚不明朗的當下,造像的意義是甚麼? What does it mean to make images in an uncertain present?
About this event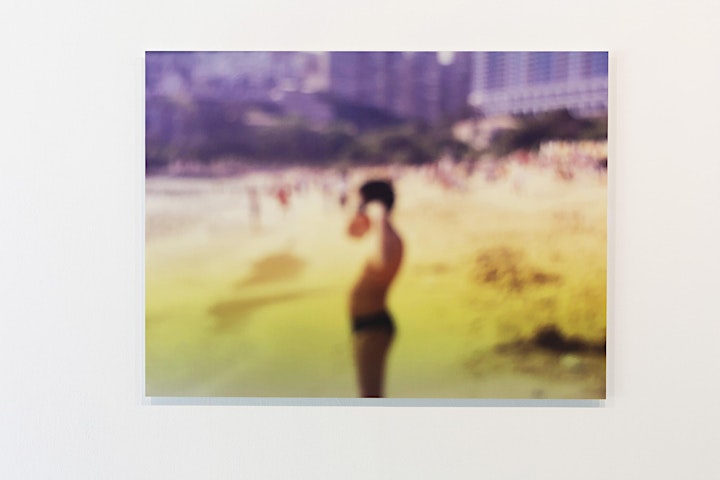 「Abridge」透過攝影、錄像和聲音作品,思索影像和媒介的物理性質,從而緊捉既牢固又脆弱的個人和集體歷史。這些新作以鄭瑋玲昔日的作品為本位,創作時期橫跨 2018 年至 2021 年,呈現其自省和自我探索的旅程。這裏展示的大部分攝影作品,都是她檢視自己在 1999 年至 2015 年間於香港居住和工作期間留下的菲林底片和相辦後,重新以手提電話拍攝和數碼 C-Print 印刷而成。鄭瑋玲藉此表現自己視這些傳統攝影物料為實體物件,而非只是影像。整個攝影系列反映了攝影技術和鄭氏自身藝術創作的轉變,同時詰問現今觀看影像和與之互動的方式。這些照片亦包圍着展覽唯一的單頻道錄像裝置。錄像以港珠澳大橋為核心,看似連綿不斷的旅程,彷彿把時間凝固,使觀者逐漸迷失方向。是次展覽置換影像和物件的概念,刻意揭露影像生成的過程,以及多層次和反光的物理性質。藝術家持機拍攝的手被反射到照片中,從而置入當刻的狀態。這些作品拒絕以懷舊的方式還原昔日的歷史,零碎地觸碰歷史不同的面向,使之超越原先記載的時空。
Through photography, video and sound, 'Abridge' reflects on the materiality of images and media, grappling with the vital yet tenuous presence of personal and shared pasts. Developed between 2018-2021, the project reflects a process of introspective, instinctive exploration, in which Tay's previous work becomes the subject. The central series comprises photographic prints made by digitally re-photographing analogue images Tay made while living and working in Hong Kong from 1999-2015. Transformed by her mobile phone and printed as C-Type photographs, Tay registers their presence as more than images — as artefacts. This series reflects on shifts in technology and Tay's artistic practice, against the broader question of how we see and interact with images today. The photographs orbit a single-channel video installation, in which time seems suspended by the sense of endless movement along the bridge to Zhuhai, a liminal space in which one loses a sense of direction. The image-objects in 'Abridge' intentionally reveal their making and are conscious of their layered, reflective surfaces, registering Tay's hand in their current state – in their currency. No longer informing as they once did, they reflect a past as only so many fragmentary glimpses, stubbornly refusing to form a nostalgic whole.
藝術家簡介 About the Artist
藝術家鄭瑋玲(生於1978 年,新加坡)以攝影、錄像和聲音為主要創作媒介,透過造像過程詰問我們可以怎樣觀看和表現自己處身的世界。她的創作手法主要受個人和他人家庭歷史、文獻資料和社會環境啟發,加上曾經從事新聞攝影,使她在處理議題時不忘歷史背景,同時兼顧其盛載的複雜情感和回憶,其作品因而建立出獨特的視覺語言,涵蓋事物的多重性質。鄭氏擁有巴德學院米爾頓艾弗里藝術研究生院的藝術碩士學位,作品獲新加坡國立大學博物館、國立台灣美術館、日本福岡市亞洲美術館、香港文化博物館及日本清里攝影藝術博物館收藏。她曾獲多個獎項,包括新加坡國家藝術委員會Art Creation Fund(2009 年)和耶魯大學藝術學院Poynter Fellowship(2015 年)。
Cross-disciplinary artist Wei Leng Tay (b.1978, Singapore) works closely with photography, video and audio, interrogating the ways we see and present the world we live in through the practice of image making. Often inspired by her personal as well as other's family histories, archival materials, and social environments, her photojournalistic background allows her to contextualise an issue while dealing with its complex emotions and memories, and establishes a distinctive visual language to encapsulate such multiplicity. Tay received her MFA from Bard College's Milton Avery Graduate School of the Arts. Her works have been collected by museums including National University of Singapore (NUS) Museum; National Taiwan Museum of Fine Art; Fukuoka Asian Art Museum, Japan; Heritage Museum, Hong Kong, and Kiyosato Museum of Photographic Arts, Japan. She has received awards including the Art Creation Fund from National Arts Council Singapore's (2009) and the Poynter Fellowship from Yale School of Art (2015).
策展人簡介 About the Curator
Olivier Krischer兼藝術史學家、策展人和翻譯者於一身,目前是悉尼大學藝術史學系榮譽副教授,亦為Sydney Asian Art Series召集人。其研究涉及東亞藝術和社會參與。最近著作包括《Shades of Green: Notes on China's Eco-civilisation》(與 L. Tomba 合編,2021 年)和《張培力:從繪畫到錄像》(2019 年)。 除了研究和寫作,Krischer 還策劃了多個展覽,包括「Wei Leng Tay: Abridge」(悉尼,2021年)、「找路:1970–80年代的臺灣攝影」(與陳淑霞聯合策展,2021年)及「張培力:從繪畫到錄像」(與金曼聯合策劃,2016年)。
Olivier Krischer is an art historian, curator and translator and currently an Honorary Associate in Art History at The University of Sydney, and convenor of the Sydney Asian Art Series. His research regards art and social engagement across East Asia. His recent publications include: 'Shades of Green: Notes on China's Eco-civilisation' (co-edited with L. Tomba, 2021) and 'Zhang Peili: from Painting to Video' (2019). In addition to his research and writing, Krischer also curated exhibitions including, 'Wei Leng Tay: Abridge' (Sydney, 2021), 'Wayfaring: Photography in 1970s-80s Taiwan' (co-curated with Shuxia Chen, 2021) and 'Zhang Peili: from Painting to Video' (co-curated with Kim Machan, 2016).
會員詳情 Membership Details
WMA Space為私人場所,訪客須成為WMA會員方能進場參觀。一經登記參加是次活動,你將自動註冊成為WMA會員。
WMA Space is a private venue for WMA Members only. By registering for this event, you will be automatically signed up as a WMA member.
訪客須知 Rules for Visitors
參觀前請細閱有關展覽場地須知。
Please read the exhibition rules for visitors before visiting.