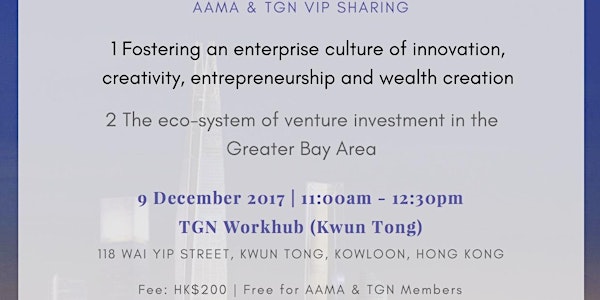 AAMA x TGN VIP Sharing
When and where
Location
TGN Workhub (Kwun Tong) 118 Wai Yip Street Kowloon Hong Kong
Description
This is our honor to invite the Founder of Eagles Fund Steve Lau, Chairman of Hong Kong Applied Science and Technology Research Institute (ASTRI), Chairman and Director of InnoLink Investments Limited, Ex-officio Member of the Committee on Innovation, Technology and Re‑industrialization of the Hong Kong SAR Ming-yam Wong, Managing Director of Dell Technologies Sean Lee & Managing Director of TGN Joanna Cheung to do the sharing on their point of view of
1) How to foster an enterprise culture of innovation, creativity, entrepreneurship and wealth creation, and;
2) The Eco-system of Venture Investment in the Greater Bay Area
Steve Lau
Managing Director of DFJ Dragon China Fund
Founder of Eagles Fund
Founder and CEO of Fortune Telecom (0110.HK)
Hutchison Whampoa Group
Mr. Lau is the pioneer of introducing Nokia mobile phone to China, and successfully brought his company to IPO in Hong Kong. In year 2003, Fortune Telecom was ranked sixth of China Top 100 Technology companies.
He is listed in China Hurun 500 Rich Entrepreneurs and the most popular China angel investor in 2015 and 2016. He gradurated from Chinese University of Hong Kong (Bachelor of BBA) , National University of Ireland ( Msc in IT) and Harvard Business School.
Wong Ming-yam
Chairman of Hong Kong Applied Science and Technology Research Institute (ASTRI)
Chairman and Director of InnoLink Investments Limited
Ex-officio Member of the Committee on Innovation, Technology and Re‑industrialization of the Hong Kong SAR
Mr. Wong Ming Yam is currently the Chairman of InnoLink Investments Limited. He also serves as a Director or Non Executive Director for a number of technology companies. Prior to this, he was the Senior Vice President of Royal Philips Electronics.
Mr. Wong has served as a member of several Government Boards and Committees for more than 35 years. He was a member of Innovation and Technology Fund Vetting Committee, member of Assessment Panel of SERAP of ITC Hong Kong SAR, Council member & Deputy Chairman of Hong Kong Productivity Council, Director of Hong Kong Science & Technology Parks Corporation, At present, he is the Chairman of the Create Smart Initiative Vetting Committee of Create Hong Kong, an ex-officio member of the Committee on Innovation, Technology and Re-industrialisation of the Hong Kong SAR, and Chairman of Hong Kong Applied Science and Technology Research Institute Company Limited.
Sean Lee
Managing Director of Dell Technologies
Sean is a sales and marketing executive with extensive professional experience working with start - ups and global technology companies in North America and Asia. He is also a frequent conference speaker, focusing on digital innovation, Internet of Things and industry domains.
Currently he works for Dell Technologies (DT), a trusted leader in enabling glob al 2000 enterprises to undergo modern digital, IT and workforce transformation. As the Managing Director within the DT Select group, Sean has global responsibilities serving DT's most strategic clients. This includes providing thought leadership and mana ging CxO level client relationships, while also acting as the unified lead across all 7 subsidiaries (DellEMC, VMware, Pivotal, Dell, RSA, SecureWorks, Virtustream) within the Dell Technologies family.
Prior to Dell Technologies, Sean was regional director for Pivotal, a Silicon Valley based start - up focusing in modern software development. He managed both global accounts sales and field marketing in the Asia Pacific regions. Sean holds an Executive MBA from the Chinese University of Hong Kong, and a Doubl e Major in Computer Science and Mathematics from the University of Waterloo in Canada. He is bilingually fluent in English, Cantonese and Mandarin.
Joanna Cheung
Managing Director of TGN
Ms. Wai Sze Cheung, also known as Joanna co-founded City Champion Int'l Limited in 2014 (later renamed to TGN Innovation Limited) and has grown its core business of co-working spaces to become one of the largest operators in Hong Kong under the Tuspark brand. Prior to that, she worked at Nomura International (HK) Limited in Fixed Income Sales and Trading Department, as well as at 8 Securities, a leading Fintech startup founded in Hong Kong. Ms. Cheung also co-founded two technology companies, both of which were participated in e-commerce business. She has been Executive Director of Jinheng Automotive Safety Technology Holdings Ltd. since June 2015. Ms. Cheung serves as a Director of Nikkin Lifts & Escalators Limited. She holds a Bachelor of Arts degree in Economics from Brown University.
COME and LEARN from them NOW!


Ticket Fee:
AAMA & TGN Member - Enjoy the event for FREE (Please login on tgnglobal.com to get the ticket [For TGN Members])
Non - AAMA & TGN Member - HK$200 (Original Price) / HK$150 (Early Bird before December 2, 2017)