About this Event
The Crown呈獻首屆婚禮展《空中宣言》- 您的華麗精緻婚禮體驗將於2019年9月22日(星期日)舉行。由張敬軒先生親自主理、英皇駿景酒店最新空中音樂花園及酒廊The Crown,以Art Deco風格華麗裝潢顯赫,貴族氣息迫人。高雅別緻的雙層私人空間,最適合為您打造獨一無二的反傳統婚禮。配合The Crown團隊的婚禮籌備服務、美酒佳餚伴隨演唱會級的音聲享受,搖身一變打造城中炙手可熱的空中婚禮場地。9月22日婚禮體驗當日,The Crown即場展示婚禮佈置、餐飲服務選項、品味洋溢的婚禮籌備夥伴,屆時更有手作坊、婚禮餐飲試菜等活動。立即登記留座,為您的簡單而隆重的婚禮走出籌備的第一步!
《空中宣言》- 您的華麗精緻婚禮體驗
日期:2019年9月22日(星期日)
時間:下午1時至晚上7時
門券:網上登記免費入場 ;自助試菜每位HK$100
地址:香港灣仔皇后大道東373號英皇駿景酒店25樓
查詢:電話(852)2961 3399 / 電郵 operations@thecrownhk.com
The Crown presents its ever first wedding showcase "A Vow Above All" – Your Splendid Intimate Wedding to be taken place on 22th September 2019 (Sunday). A new addition to The Emperor Hotel and directed by artiste Mr. Hins Cheung, The Crown is the latest sky-high lounge & rooftop garden in town, designed in the fashion of art deco that gives away an imperial tasteful flair. An exclusive 2-storey private space that easily hosts 50 to 100 guests, the lounge is your perfect spot for a unique alternative wedding. Together with our catering, entertainment and in-house wedding services, The Crown instantly becomes the most sought-after venue for a rooftop wedding. At the event, our wedding experts will showcase our wedding décor, an array of dining options and menu customisations, and our handpicked tasteful wedding vendors. Bridal & groom collection showcase, workshops, tasting sessions and more activities will also be available. Register now and save your spot, kicking start your wedding planning with us!
Theme: "A Vow Above All" – Your Splendid Intimate Wedding
Date: 22 September 2019 (Sunday)
Time: 1pm – 7pm
Entry: Free admission through online registration; HK$100/pax for food tasting
Address: 25/F, The Emperor Hotel, 373 Queen's Road East, Wan Chai, Hong Kong
Enquiries: (852) 2961 3399/ operations@thecrownhk.com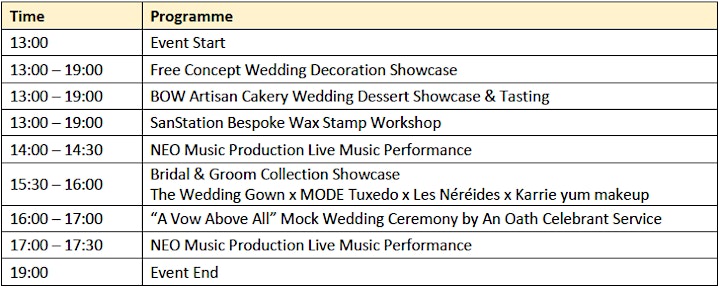 關於The Crown
The Crown如時光倒流般奧妙地降臨於皇后大道東上,座落英皇駿景酒店的頂層25樓及露天空中花園。這是一個共享生活藝術的專屬空間,大廳設有華麗舞台,場內設有包廂雅座、台前座位及陽臺雅座,另設5間不同大小的多用途貴賓室。與大廳樓層相連的空中音樂花園更可以270 度環迴城市景觀作背景供證婚、聚宴之用,迎合客人不同需要。這裡匯聚各界精英,除了可以成為您拓展商機、人脈的社交平台,也能讓您在繁忙之中,陶醉於悠揚樂曲和美酒佳餚,締造良辰片刻人生。完善的娛樂設施配套、由張敬軒先生親自主理的Art Deco室內裝潢概念,以及豪華私人電梯,直達夢想之地。品味細緻講究,正是The Crown的非凡氣派。
地址: 香港灣仔皇后大道東373號英皇駿景酒店25樓
訂座電話: (852) 2961 3399
營業時間: 星期一至日;每日晚上7時 – 翌日凌晨2時
電郵:reservations@thecrownhk.com
Facebook:The Crown Hong Kong
Instagram:thecrown.hk
Weibo:冠冕会
About The Crown
Secretly sits on the 25th floor and rooftop of The Emperor Hotel is the definition of glamour and luxury in town. The Crown is your art-of-living lounge shared among talents and professionals, your indulgent getaway where class, music, entertainment are all under – and above – one roof. In the fashion of refined decor and exuberant glamour, the full floor with performance stage and velvet booths, 5 multipurpose private rooms and rooftop terrace brings on sky-high sophistication and top-notch intimate luxury, swinging straight from the ninety-twenties. Directed by artiste Mr. Hins Cheung, piecing every detail of the art deco aesthetics together is what maps out The Crown's redefined Golden Era.
Address: 25/F, The Emperor Hotel, 373 Queen's Road East, Wan Chai, Hong Kong
Booking Number: (852) 2961 3399
Opening Hours: Monday – Sunday; every night 7pm – 2am of the next day
Email: reservations@thecrownhk.com
Website: www.thecrownhk.com
Facebook: The Crown Hong Kong
Instagram: thecrown.hk
Weibo: 冠冕会