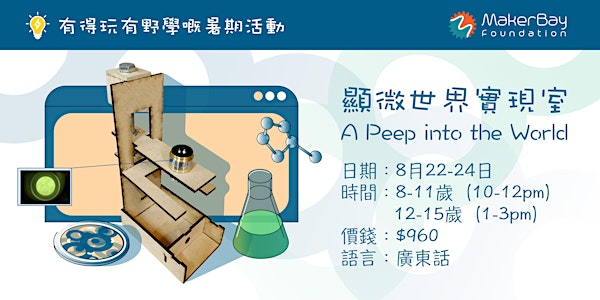 顯微世界實現室工作坊 A Peep into the world workshop
主題: 設計個人化的顯微鏡
When and where
Location
MakerBay Central 35 鴨巴甸街 #h508 Central, HKI Hong Kong
Refund Policy
Contact the organiser to request a refund.
About this event
在疫情期間,科學家運用顯微鏡發現了表面呈皇冠狀刺突蛋白的新冠變種病毒——Omicron!除了病毒,你有沒有想過每一件物件放大後,樣子跟你平日所見的並不一樣?以樹葉為例,肉眼只能看到表面的葉脈,放大後就能看到細胞結構呢!一起來設計個人化的顯微鏡,探索身邊的微小事物,以一個全新的角度了解這個社區吧!
工作坊學習內容包括:
顯微鏡的原理:進行簡單的科學實驗,了解顯微鏡的結構
創客基本技能:學習基本的木工技巧及使用與項目相關的工具
探索社區:在探索社區的過程中收集不同的物件
設計思維:根據個人用途定制並改善顯微鏡設計
解決問題:找出問題,構思解決方案
工作坊學習重點包括:
訓練創客技巧,探索解決問題的不同方法
培養創意思維,並應用於日常學習中
激發參加者對身邊事物的好奇心,增強學習動機
日期:2022年8月22-24日
時間:8-11歲(10am-12pm)/ 12-15歲(1pm-3pm)
地點:MakerBay(中環鴨巴甸街35號元創方H508室)
語言:廣東話
價錢:每人港幣960元
如有任何查詢, 歡迎透過rain@makerbay.org 或 WhatsApp +852 63531884 與我們聯絡.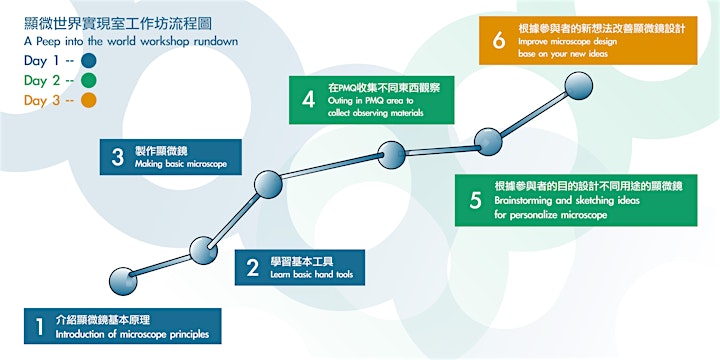 Coronaviruses are viruses whose particles look like crowns. And how did scientists find out the structures of the viruses? That's right - by using a microscope! Actually, objects may look different after magnification under the microscope. Take leaves as an example, we can only observe leaf veins on the surface with the naked eye, but after zooming in, you can see the cell structure! Join us to make your own microscope and explore the tiny objects around! You may discover a brand new perspective on the community afterward.
The content of the program include:
Principles of microscope: participants will be guided to have simple scientific experience so as to understand the structure of microscope
Basic maker skills: participants will acquire basic woodworking skills and the use of basic tools relevant to the project
Explore the community: participants will explore different objects collected in the community
Design thinking: participants will be able to customize and improve the microscope based on the purpose and usage
Problem solving: participants will find solutions to sort out the design problems
The scope of the program include:
Train maker skills and explore different ways to solve problems
Develop creative thinking and apply it to daily life setting
Stimulate participants' curiosity about the things around them and enhance their learning motivation
Date and Time:
22nd, 23rd, 24th Aug 2022
8-11yo(10am-12pm)/ 12-15yo(1pm-3pm)
Venue: MakerBay (Unit H508, Block B, PMQ, 35 Aberdeen Street, Central, Hong Kong)
Language : Cantonese
Cost per session: $960 per person
For any inquiries, please feel free to email rain@makerbay.org or message +852 63531884.