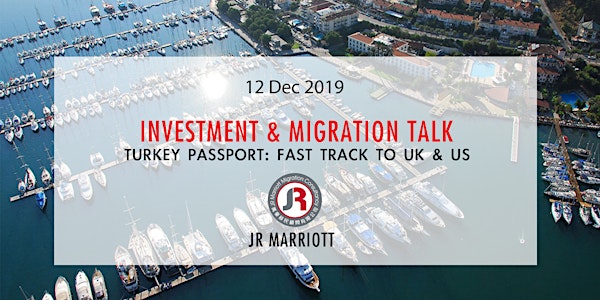 萬豪移民:土耳其投資移民講座
Turkey has reduced the investment requirement for citizenship acquisition from US$1 million to US$250,000. Learn to gain entry to UK & US.
When and where
Location
JR Marriott Unit A, 29/F, CNT Tower No.338, Hennessy Road, Wan Chai Hong Kong, HKI Hong Kong
About this event
【12月萬豪移民:投資移民講座】
.
傳統英語國家如美加移民條件高,花費時間長,想拿到身份的話,移民家庭還需要等待漫長的排期。
.
土耳其是目前世界上唯一一個「英國+美國」的雙跳板。2018年爆發的里拉危機觸發土耳其政府以低價吸納海外資金,投資移民門檻由US$1 million大幅減至US$250,000,護照申請人數激增。
.
把握時機趁早入場,享受物業升值及通往英美護照。
———————————————
項目優勢
• 目前世界上唯一一個「英國+美國」的雙跳板
• 可享受英國或美國護籍
• 申請速度快、6-8個月完成申請
• 一步到位取得無條件永居
• 一人申請,全家移民
立即報名:
🇹🇷土耳其投資移民講座 ➥ https://bit.ly/2rRP8vJ
12 Dec 2019 | 7pm
➥更多講座
1) 馬爾他投資移民講座 https://bit.ly/2DFODYt
2) 加拿大投資移民講座 https://bit.ly/362zKLT
———————————————
Follow us on 萬豪移民 JR Marriott Facebook
#加拿大移民 #美國移民 #澳洲移民
#移民 #投資 #移民講座 #migration #investment
#投資移民 #僱主擔保 #技術移民
#移民顧問 #免費諮詢