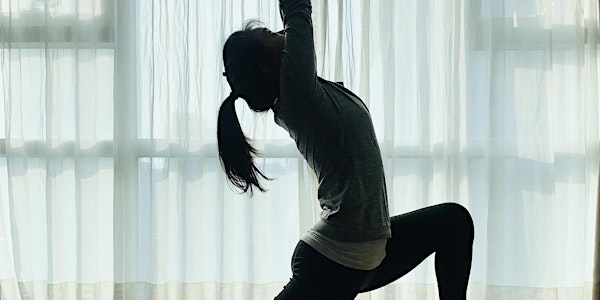 60-min Morning Sun Salutations
Meditative Movement, Foundation of Flow: 8-9am
When and where
Location
2-min to Sheung Wan MTR exit A2 78 Bonham Strand (Room No. upon confirmation) Sheung Wan, HKI Hong Kong
About this event
☀️ Meditative Movement, the Foundation of Flow ☀️
Beginners & all levels welcome! Let's kick-start the day with a Sun Salutation/ Surya Namaskar practice.
Experience a meditative breath-body movement to create circulation, sharpen your focus, and support wellness for mind & body. Every person can enjoy the benefits of this yoga practice!
♥ RSVP ♥
Small group space; exact address shared at registration confirmation.
📍 Indoor Location: 78 Bonham Strand, 2-min to Sheung Wan MTR exit A2
🧘‍♀️ Bring: small towel, water
🌟 Mats & props are available for use
Package offers also available! Every person can practice & cultivate mind-body balance. Reach out on IG w/ questions :)
----
TAKE CARE:
By signing up, you agree that the group nor its instructor is liable for any injuries incurred. You confirm that to have read and understood the terms and risks detailed in the Release of Liability Waiver below.
RELEASE AND DECLARATION WAIVER:
As a condition of participation in Yoga with Tiffany and any ancillary event or function (collectively the 'Event'), the participant confirms as follows:
The participant is medically and physically fit to participate in the yoga activity and have not been otherwise advised by a qualified medical practitioner.
The participant understands that by participating in the Event there are risks of injury. The participant acknowledges that yoga is not a substitute for medical attention, diagnosis or treatment, and that yoga and/or specific poses are not recommended or safe for certain health conditions.
The participant is entering the Event at his/her own risk and responsibility. The participant is responsible for appropriate modifications. The participant will discontinue the activity upon pain or discomfort and seek support.
The participant hereby discharges the Event Organizer and any other individual or organization connected directly or indirectly with the Event from any responsibility in the event of injury, loss of property and/or damage incurred during or as consequence of the Event.
By signing up for Yoga with Tiffany the participant has read and fully understands and agree to the RELEASE AND DECLARATION stated above. The participant agrees to irrevocably release and waive any claims or liability that he/she has now or may have hereafter against the instructors and event organizers.