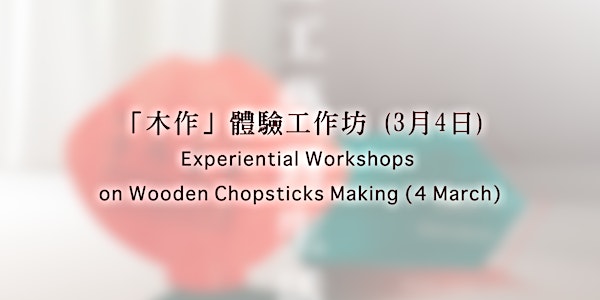 「木作」體驗工作坊
「⼿作確幸」將於展覽其間舉辦公眾⼯藝體驗⼯作坊,讓年輕⼯藝導師帶領參加者製作⼀雙「本地 ⽊筷」或 ⼀個「⼿捏陶碗」,讓⼤眾親⾝體會⼿作⼯藝之樂趣,歡迎18歲或以上⼈⼠參加。 ⼯作坊費⽤全免,名額有限,先到先得。
Date and time
Sat, 4 Mar 2023 11:00 - 17:00 HKT
Location
元創方 35 鴨巴甸街 Central, KOW Hong Kong
About this event
「木作」體驗工作坊
內容:運用本地生長樹木,製作一雙「本地木筷」*
日期:2023 年 3 月 4 日(星期六)
時間:
「木作」第一節(11:00 – 13:30)或;
「木作」第二節(14:30 – 17:00)
地點:PMQ元創⽅地⾯廣場,香港中環鴨巴甸街35號
*備註:
⼯作坊只限18歲或以上⼈⼠參加
每位參加者只可選擇參加其中⼀節⼯作坊
製作過程將會接觸⽊材和⾦屬⼯具,請聽從講解指示,避免受傷
製作過程會有⽊材碎屑⾶揚,請穿著合適服裝,有需要可⾃備圍裙
活動進⾏中必須全程帶上⼝罩,並且不能進食
請束起長頭髮以避免受傷
請勿穿著露趾鞋以避免受傷
主辦⽅保有最終修改、變更、活動解釋及取消本活動之權利
參加者必須遵守⼤會防疫措施及安排,活動有機會因應疫情及政府防疫措施⽽更改,請密切留意Facebook 或 Instagram 專頁(@handmade.wellbeing)有關最新情況
⼯作坊費⽤全免,名額有限,先到先得。
Experiential Workshops on Wooden Chopsticks Making
Date: 04-03-2023 (Sat)
Time:
• Woodwork 1st Session (11:00-13:30) OR;
• Woodwork 2nd Session (14:30-17:00)
Venue: PMQ, Courtyard, G/F, 35 Aberdeen street, Central, HK
Content: To make a pair of wooden chopsticks with local wood
*Participant has to be 18 years old or above.
Remarks: Please refer to Chinese version for details.
Free admission, first-come, first-served.