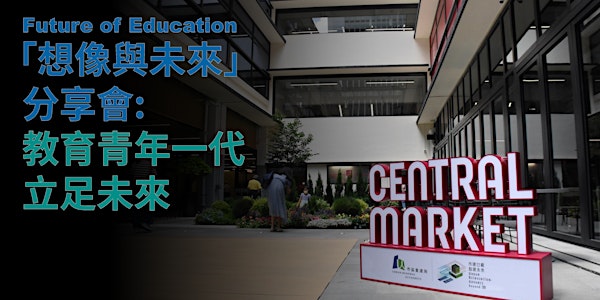 「想像與未來: 教育青年一代立足未來」分享會
Fireside chat on "Future of Education: Developing the Youth to be Future Ready" 此分享會將以廣東話進行 / This Chat will be conducted in Cantonese
By LPCUWC & UWC Hong Kong Committee
Date and time
Monday, February 6 · 6 - 8pm HKT
Location
Central Market 80 Des Voeux Road Central, HKI Hong Kong
About this event
此分享會將以廣東話進行 / This Fireside Chat will be conducted in Cantonese
Digitalization has been pushed to the limits in the past few years with Covid, social distancing and the work/study from home movement. From government policies and the economy's standpoint, there is no doubt that there is no stopping the continued rise of adoption and prevalence of digital solutions that is coming to our lives.
But this has also created a drastically different world for HK's young generation. On what's ahead of these students, aside from spoken language, there is increasingly a demand for every young person entering the workforce to have some sort of a coding language skill. Meanwhile, as they are increasingly immersed in the digital world even with classes being taught digially, many kids are growing up in an environment that lacks human interaction, and thus less chance for them to develop social skills. These circumstances particularly affect the average HK kid and the less privileged kids, which, if not being tackled, will just continue to widen the social gap.
------------------------------------------------------------------------------------------------------------
Our young generation might need different education focus to help them succeed in the fast changing future. Celebrating the 50th anniversary of when the UWC movement has begun in Hong Kong, Li Po Chun United World College of Hong Kong is organizing a set of industry fireside chats at the Central Market for interested industry stakeholder and the public to come learn more about interesting discussions hosted by our alumni and joined by friends of the school.
On Feb 6th Monday from 6-7pm at Central Market, we will be hosting a fireside chat on "Future of Education: Developing the Youth to be Future Ready ", led by Mr. Kenneth She (LPCUWC '06), COO of Preface Coding, also our very own Selections Director on the UWCHK Committee Board.
Joining him will be Ms. Claire Tsui, Managing Director of Credit Suisse and an active board member on ARCH Community Outreach, the philanthropic organization and non profit arm of ARCH Education and part of the CTF Education Group.
Also joining is Mr. William Chan from Esquel-Y.L. Yang Education Foundation, one of the leading foundations in HK and China that supports and promotes an effective and continuous learning opportunity so that children may grow to become responsible and successful members of their communities.
The trio will discuss about this topic from 6-645pm, followed by an open Q&A session till 7pm. Attendees are welcomed to grab drinks from ION (cafe & bar next door) and mingle at our site until 8pm.
About the organizer
The UWC Scholarship Scheme is inviting applications to study at one of 18 UWCs around the world, including Li Po Chun United World College (LPCUWC) in Hong Kong.
UWC makes education a force to unite people, nations and cultures for peace and a sustainable future. Students are selected purely on merit and personal qualities, regardless of their ability to pay.
To qualify as a Hong Kong applicant through UWC HK Committee, you will need to be:
a) Holding a Hong Kong Permanent ID Card or dependent visa; and
b) Studying in Secondary 4 / Secondary 5 (or its equivalent) as at September 2019.
More on UWCs around the world: http://hk.uwc.org/. (Facebook: https//www.facebook.com/UWCScholarshipsHK/).
More on Li Po Chun United World College of Hong Kong: http://www.lpcuwc.edu.hk/. (Facebook: https://www.facebook.com/lpcuwc/)