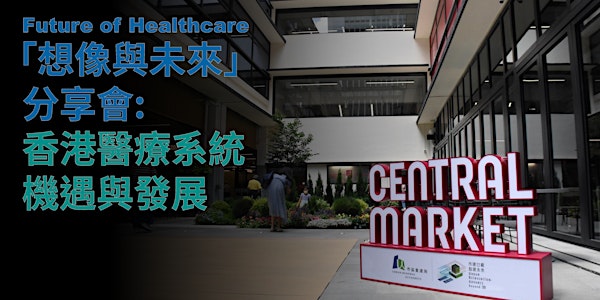 「想像與未來: 香港醫療系統機遇與發展」分享會
Fireside chat on ""Future of Healthcare: HK's Focus for the Next Decade"" 此分享會將以廣東話進行 / Discussion will be conducted in Cantonese
By LPCUWC & UWC Hong Kong Committee
Date and time
Friday, February 3 · 6 - 8pm HKT
Location
Central Market 80 Des Voeux Road Central, HKI Hong Kong
About this event
此分享會將以廣東話進行 / Discussion will be conducted in Cantonese
With Covid, over the past few years, Hong Kong's public healthcare system has been put to test. Despite us now slowly emerging from the Covid pandemic, the pressure on our healthcare system is still immense given macro circumstances, from an aging population that is prone to chronic diseases, disabilities and dementia, to higher prevalence of early onset cancer.
Luckily, many entities have been contributing towards this emerging social issue from various fronts. The Government has recently released the Primary Healthcare Blueprint to formulate the direction of development and strategies for strengthening Hong Kong's primary healthcare system to address the challenges brought about by an ageing population and chronic diseases, with the view to enhance the overall health and quality of life of citizens. Meanwhile, there are social innovation initiatives dedicated to healthcare. How should industry leaders in the healthcare sector and inter-disciplinary work together to shape the future of healthcare in Hong Kong?
-----------------------------------------------------------------------------------------------
Celebrating the 50th anniversary of when the UWC movement has begun in Hong Kong, Li Po Chun United World College of Hong Kong is organizing a set of industry fireside chats at the Central Market for interested industry stakeholder and the public to come learn more about interesting discussions hosted by our alumni and joined by friends of the school.
On Feb 3rd Friday from 6pm - 7pm at Central Market, we will be hosting a fireside chat on "Future of Healthcare: Focus for the Next Decade", led by Prof. Hong Fung (Pearsons UWC '76), Executive Director and Chief Executive Officer at CUHK Medical Centre, and a key figure in the HK's healthcare system both from the government and the academic side. https://hk.linkedin.com/in/hong-fung-2774b114
Joining him will be Mr. Peter Poon, Chief Program Officer of the D.H. Chen Foundation, a Hong Kong family philanthropic trust established by Dr. Din Hwa Chen, an ardent philanthropist and a devout Buddhist who also found the Nan Fung Group. https://hk.linkedin.com/in/kk-peter-poon-0a12b61a5
Also joining is Ms. Jenny Chiu, General Manager from Phase Scientific, the company behind "Indicaid", one of the leading and globally recognized Rapid Antigent Test biotech firm headquartered in Hong Kong. https://hk.linkedin.com/in/jennychinyuchiu
The trio will discuss about this topic from 6pm - 6:45pm, followed by an open Q&A session till 7pm. Attendees are welcomed to grab drinks from ION (cafe & bar next door) and mingle at our site until 8pm.
About the organizer
The UWC Scholarship Scheme is inviting applications to study at one of 18 UWCs around the world, including Li Po Chun United World College (LPCUWC) in Hong Kong.
UWC makes education a force to unite people, nations and cultures for peace and a sustainable future. Students are selected purely on merit and personal qualities, regardless of their ability to pay.
To qualify as a Hong Kong applicant through UWC HK Committee, you will need to be:
a) Holding a Hong Kong Permanent ID Card or dependent visa; and
b) Studying in Secondary 4 / Secondary 5 (or its equivalent) as at September 2019.
More on UWCs around the world: http://hk.uwc.org/. (Facebook: https//www.facebook.com/UWCScholarshipsHK/).
More on Li Po Chun United World College of Hong Kong: http://www.lpcuwc.edu.hk/. (Facebook: https://www.facebook.com/lpcuwc/)