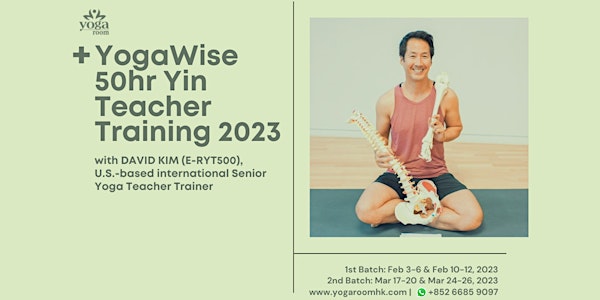 50HR Yin Yoga Teacher Training with David Kim
Yoga Room is Excited to Welcome David Kim Back to Hong Kong In 2023 to Lead 50 HR Yin Yoga Teacher Trainings at the Studio.
When and where
Location
The Yoga Room 104 Jervois Street 4th Floor Hong Kong, HKI Hong Kong
About this event
David Kim will also be leading an RYT200 foundational teacher training during his visit.
Level 1: (30 hours)
Materials Covered:
The YogaWise Yin Yoga Teacher Training (Level 1) is designed for students and teachers who wish to develop a deeper knowledge of this multifaceted yoga style, and emerge with a working definition and basic teaching methodology for Yin Yoga. There will be a strong emphasis on Anatomy, highlighting skeletal variations, the role of connective tissue, and the nervous system. An introduction to mindfulness meditation will address the non-physical nature of this profoundly quieting practice.
Key Features of the YogaWise Yin Yoga Training (Level 1) include:
What's Your Style? Defining Yin Yoga as a Theory & Practice
Daoist perspective – Essence of Yin/Yang applied to Asana & Anatomy
Key Yin Postures: Variations on a Shape
Yintegration: Introducing Yin to Varied Student Populations
"Assessment" Postures: Finding an Appropriate Edge for Different Bodies
Specific Highlights:
Defining Target Areas: A Functional Approach to Asana
Understanding Soft-Tissue Tension vs. Structural Compression
What is Fascia? Exploring the Global Nature of the Extra-Cellular Maitrix
Skeletal Variations: "Asanalysis" of Our Unique Bones
Beginner's Mindfulness: Focusing Attention on Purpose
Level 2: (20 hours)
Materials covered:
The YogaWise Yin Yoga Teacher Training (Level 2) is designed for current Yin teachers or those already familiar with the basic orientation and language of Yin Yoga. This 20-Hour Level 2 course offers a closer examination of upper-body anatomy , and integrates the concept of myofascial meridians with practical sequencing strategies for both Yin and Yang classes. The course will also explore creative solutions and variations of Yin postures for students with limitations.
Key Features of the YogaWise Yin Yoga Training (Level 2) include:
Upper-Body Anatomy: Mapping the Shoulder Girdle
What Limits Our Movement? Movement Tests for Shoulder Girdle
Targeting Myofascial Tracks: From Mandalas to Meridians
Posture Orientation: Creative Solutions to Postural Limitations
Mindfulness in Practice: Incorporating Meditation In Yin
Specific Highlights:
Introduction to Myofascial Meridians
Yin + Yang Sequencing Themes: Stimulating the Myofascial Tracks
Functional Anatomy for Yin
Mapping the Shoulder Girdle: Identifying MyoFascial Groups
"Asanalysis": Tension vs. Compression at Shoulder Girdle
Postural Variations:
Change the Pose, not the Student: Working With Postural Limitations
Mindfulness in Practice:
Yin Yoga: Gateway to Meditation Practice
Location: The Yoga Room 4/F
Rates:
Level 1: $7,000 HKD
Level 2: $4,600HKD
Level 1+2: $10,800HKD
SCHEDULE
FEBRUARY COURSE (1ST BATCH)
Level 1:
Feb 3-6, 2023 (Fri-Mon)
8:30am-5pm
Level 2:
Feb 10-12, 2023 (Fri-Sun)
Time: 8:30am – 4:30pm (Friday & Saturday)
Time: 8:30am – 3:30pm (Sunday)
MARCH COURSE (2ND BATCH)
50hrs Yin training 2nd batch:
Level 1:
Mar 17-20, 2023 (Fri-Mon)
8:30am-5pm
Level 2:
Mar 24-26, 2023
Time: 8:30am – 4:30pm (Friday & Saturday)
Time: 8:30am – 3:30pm (Sunday)
About David Kim:
DAVID KIM (E-RYT500) is a U.S.-based international Senior Yoga Teacher Trainer, who teaches both Yin and Vinyasa (YogaWorks) styles, and has led numerous 200- and 300-Hour Teacher Trainings, workshops, and retreats across the globe. David's passionate embrace of Yin Yoga owes a deep debt of gratitude to his mentors Paul & Suzee Grilley; to Sarah Powers's meditative grace; to the cumulative wisdom of cutting-edge anatomy and movement teachers; and to the dedicated students who have accompanied him along this path towards personal and spiritual awareness.
David is a registered Continuing Education provider with Yoga Alliance (USA), and taking this course will allow you to receive 20, 30 or 50 Hours of Continuing Education credit with YA.
Enquire now!
Please drop us an email at info@yogaroomhk.com / call 2544-8398 / WhatsApp 6685-9097 for details.
Booking can also be made directly through our office, please contact us.
T&C:
Please note that once paid, no refund will be offered on trainings and workshops.
Full participation of training hours is required to obtain certification.