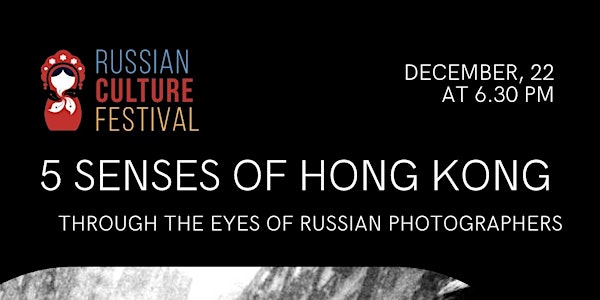 '5 Senses of Hong Kong' through the eyes of Russian Photographers
'5 Senses of Hong Kong' through the eyes of Russian Photographers, Joint Photo Exhibition & Cocktail
When and where
Location
Cafe 8 Cafe 8 Rooftop of Hong Kong Maritime Museum, Central Hong Kong, HKI Hong Kong
About this event
Dear friends
We kindly invite you to the Photo Pop-up Exhibition & Cocktail '5 SENSES OF HONG KONG' through the eyes of Russian Photographers.
All the proceeds from the exhibition will be donated to charity "Society for Community Organization (SoCO)", Elderly rights project to benefit the elderly cardboard collectors.
8 Hong Kong based Russian photographers will tell love to Hong Kong though expressing it with 5 senses: taste, smell, touch, sight and hearing.
Photographers:
Aleksandr Semenov,
Anastasia Kudriavtceva,
Anastasia Vavilova,
Egor Lyfar,
Juris Uzegovs,
Katerina Kubrakova,
Ludmila Pujol and
Pasha Wais.
All the proceeds from the exhibition will be donated to charity
Date: 22nd of December 2021
Time: 6.30 pm to 9.30 pm
Venue: Cafe 8, Rooftop of Hong Kong Maritime Museum, Central
On that date we will offer you the whole range of events:
CHARITY SALE - The photo exhibition will offer the photo on sale on a charitable cause.
BOOK CROSSING: bring one Russian book and grab a new one from your mate!
PHOTO LIVE: RISC youth group will be taking your portraits with polaroid for best memories & Photo Booth will be installed for all guests
COCKTAIL: To celebrate the end of the Russian Culture Festival and coming holidays!
The Russian Culture Festival in Hong Kong thanks IRC Limited, sponsor of the festival 2021 and the Consulate General of the Russian Federation in the Hong Kong SAR of the PRC for the official support.
Save the date and more details to go soon!