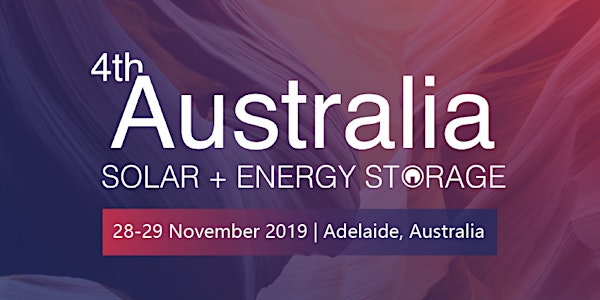 4th Australia Solar + Energy Storage 2019
business platforms to anticipate and manage the changes of Australia's immense solar & energy storage markets.
When and where
Location
Hotel Grand Chancellor Adelaide 65 Hindley Street Adelaide, SA 5000 Australia
About this event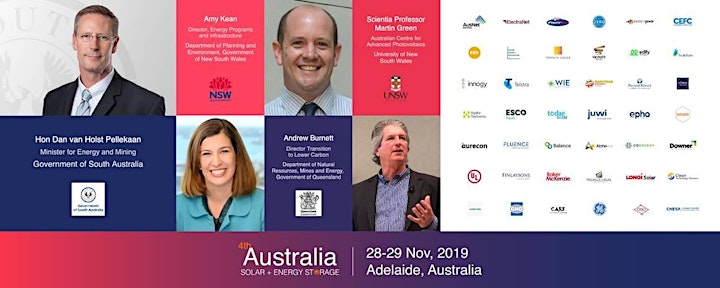 Event Overview
Australia Solar + Energy Storage (AuSES) is entering its 4th year, following the previous successful editions in Perth, Brisbane and Sydney since 2015. As the leading renewable energy event and premier business platforms in Australia, theevent anticipates and manages the updates of Australia's immense renewable energy markets, aiming to expedite the further development, investment and partnership in the sectors of solar, storage and renewables.
Market Overview
Solar PV:
Australia is high-ranked solar PV market in terms of both total installation and growth through 2017 and 2018. It is featured that there is a solar boom in 2018 for large projects. In following four years, at least 19.0GW solar PV will be added in Australia, based on Global Solar Council. Even without refreshed federal investment policy on large projects, this country still has 179GW residential solar PV potentials.
Energy Storage:
Australia is becoming the world leader in the installation of utility battery storage in terms of power capacity as well as its residential storage. More than 1000MW large storage will be operational within 2-3 years, based on Clean Horizon. To be highlighted, energy storage will be crucial in the transformation of the Australian electricity network, sourced from Office of The Chief Scientist.
White paper Free Download: Solar Market in Australia
In this report, the current situation of the Australian electricity market andsolar PV market will be discussed. Then we will talk about some policies and instruments which the Australianstates governments implemented for renewable energy. Last but not least, this report will show the future of Australian solar PV.
Download link: https://www.leader-associates.com/australia-solar-energy-white-paper
2019 Confirmed Speakers:
Hon Dan van Holst Pellekaan MP, Minister for Energy and Mining, Government of South Australia
Scientia Professor Martin Green, Australian Centre for Advanced Photovoltaics, University of New South Wales
Richard Day, Director Low Carbon Industry Development, Department for Energy and Mining, Government of South Australia
Andrew Burnett, Director Energy Consumer and Pricing, Department of Natural Resources, Mines and Energy, Government of Queensland
Amy Kean, Director, Energy Programs and Infrastructure, Department of Planning and Environment, Government of New South Wales
Nick Smith, Director Energy Programs and Services, Department for Energy and Mining, Government of South Australia
Cameron Mathie, Manager - Economic Analysis, Clean Energy Regulator
Kate O'Carroll, Vice Chair, Women in Energy
Margot Hammond, Stand Alone Power Manager, Western Power
Gloria Chan, Large-Scale Solar co-lead and Director, Corporate and Project Finance, Clean Energy Finance Corporation
Ben Woodman, General Manager Infrastructure, AusNet Services
Vanessa Petrie, Chief Executive Officer, Beyond Zero Emissions
Rainer Korte, Group Executive Asset Management, Electranet
Clint Purkiss, Head of Development, juwi Renewable Energy
Simon Taylor, Manager Customer Connections, Powerlink Queensland
Darryl Flukes, Chairman, ESCO Pacific
Liam Reid, Head of Business Development and Energy Markets, FRV Energy Australia
Chris Wilson, Co-Founder & Managing Director, Terrain Solar
Ben Birch, Commercial Manager - Zero Cost Energy Future Program, Enerven
Pippa Williams, Strategic Analyst, Future markets, Hydro Tasmania
Stephen Cook, Sustainable Development Manager, Pernod Ricard Winemakers
Rod Hayes, Group Chairman, Balance Services Group
Danin Kahn, Chief Executive Officer, Todae Solar
John Cole, Chief Executive Officer, Edify Energy
Jaad Cabbabe, Senior Manager Business Development, Fluence
Darren Docking, General Manager Growth & Development - Renewables & Power Systems, Downer
Sam Reynolds, Managing Director, Octopus Australia
Ian McLeod, Director Smart Energy Centre of Excellence, Enzen
Alba Ruiz Leon, Managing Director, innogy SE
Gerald Arends, Director, Pegasus Legal
Lily Habib, Director of Projects, Pacific Hydro
Renae Sambrooks, Head of Integrated Energy, Vicinity Centres
Grant Muller, Head of Telstra Energy, Telstra
Matt Scaddan, Head of Business Development, Epho Commercial Solar Power
Ric Darley, Technical Director, Aurecon
Aylin Cunsolo, Special Counsel, Baker McKenzie
Robert Ceic, Service Line Leader, Power Generation & Renewable Energy, GHD