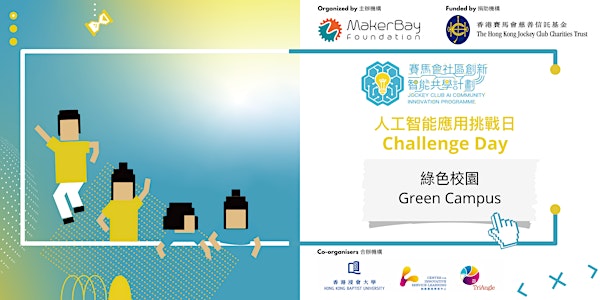 賽馬會社區創新智能共學計劃—人工智能應用挑戰日
你有想過你也可以應用人工智能解決身邊的社會及環境問題嗎? How would you make use of Artificial Intelligence to solve the socio-environmental challenges around us?
When and where
Location
Hong Kong Baptist University 224 Waterloo Rd Kowloon Tong, KOW Hong Kong
About this event
學習、實踐、應用,透過「人工智能應用挑戰日」讓你將看似艱深的人工智能新科技融入日常生活,為浸會大學建立綠色校園出謀獻計。
參賽者將在小組導師的帶領下,和組員一起逐步經歷孕育創新點子的過程。
第一步:參觀浸會大學校園、與用家傾談,決定你要在校園哪個地點實施方案
第二步:發揮創意!探索不同方案的可行性
第三步:運用不同的人工智能工具及應用程式,測試並改善你的想法
第四步:最後,向評判介紹你的點子吧!
這將不僅是學習人工智能,更是強化跨學科知識,訓練分析、解難和表達等能力的機會。大會更會支援中學及高小組的優勝隊伍將意念實踐,製作更完善的產品,並在活動中展出。現在就報名參加吧!
挑戰日主題:綠色校園
回顧歷史,科技通常被視為破壞環境的原因之一,消耗自然資源,污染環境。 但我們可以運用科技,帶動可持續發展嗎?
原來不同企業正運用人工智能,實現環境永續。 例如Google使用人工智能模型,改善其耗用能源的數據中心,將能源成本降低 40%; IBM 亦將 AI融入天氣預報,將準確度提高30%,協助再生能源公司更有效地管理工廠,提供生產力同時減少碳排放。
除了這些大型科技公司,你也可以使用 AI,為環境出一分力。請即報名參加1月7-8日舉行的挑戰日,設計人工智能方案,打造綠色校園吧。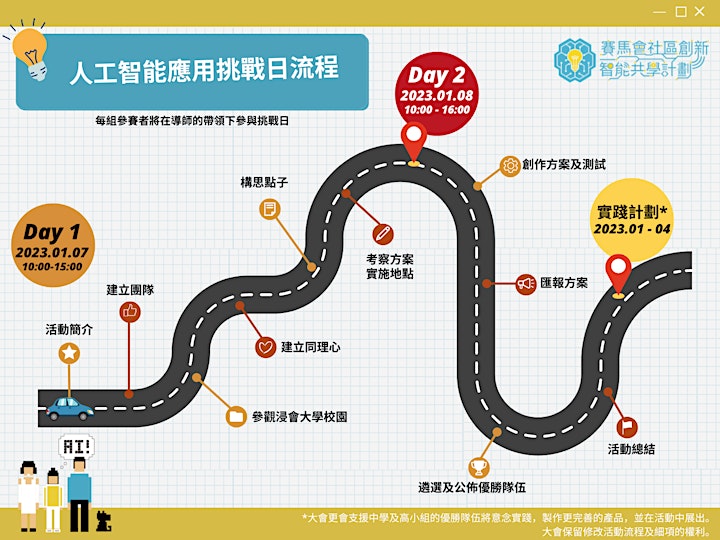 挑戰日詳情
日期:2023年1月7日及8日(星期六及日)
時間:10:00am - 3:00pm
地點:浸會大學
語言:廣東話
對象
比賽分為高小組(8至11歲)及中學組(12至18歲)兩個參賽組別,歡迎全港高小及中學生參加,接受政府資助或曾參加本計劃社區工作坊的學生可優先獲取錄。
>> 社區工作坊報名:https://bit.ly/AI_Programme <<
參賽
挑戰日接受以3人團隊或個人報名。主辦單位會根據個人報名的參加者的年齡等,分配並組成3人的隊伍。參賽組別將根據團隊中最年長成員的年齡而定。
成功報名的團隊或學生將會收到由MakerBay Foundation發出的確認電郵,請留意完成Eventbrite的登記並不代表成功報名。
獎項
優勝隊伍可獲獎狀及HK$6000的資金及導師支援將意念實踐,製作更完善的產品,並在活動中展出。所有參賽學生可獲參賽證書。
Learn, practice and apply Artificial Intelligence (AI) to create solutions that contribute to a green campus for Hong Kong Baptist University on the Challenge Day!
What to expect?
You will go through a journey of developing innovative ideas with your teammates gradually under the guidance of a dedicated mentor.
Step 1: Have a campus tour and interview the users to identify the problem and where you want to implement the idea on the campus
Step 2: Let your creativity flow and explore different solution ideas
Step 3: Make use of AI tools and applications to test and modify your idea
Step 4: Finally, present your idea to the judges!
It is not only an opportunity to learn about artificial intelligence, but also a rewarding experience to strengthen interdisciplinary knowledge, train analytical, problem solving and presentation skills. We will support winning teams to develop their idea into an actual product which may be displayed at future events. Sign up now!
Why Choose Green Campus
Throughout history, technology was often considered as a villain to the environment and has had a negative impact on our world such as polluting the environment and the depletion of natural resources. However, is there any win-win situation where we can use technology to achieve environmental sustainability?
The answer is Yes, we can use AI to help achieve environmental sustainability. For example, Google is using AI models to optimize its energy-intensive data centers, reducing the energy cost by 40%. IBM also uses AI to improve weather forecasting to be 30% more accurate. Those better predictions help renewable energy companies to manage their plants, optimizing the renewable energy production and reducing carbon emissions.
Beside big tech companies like Google and IBM, you can also use AI to help achieve environmental sustainability. For our upcoming challenge day on the 7th-8th January, students will be challenged to develop an AI solution that improves the sustainability of a campus.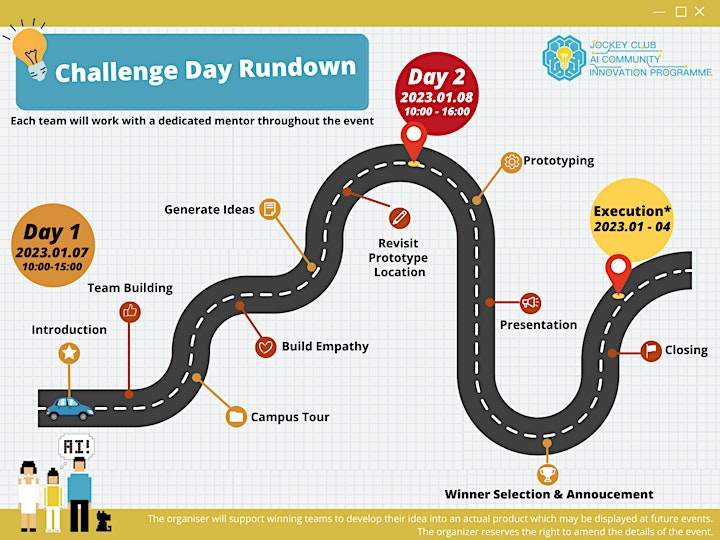 Practical Details
Date: 7 & 8 January 2023 (Sat & Sun)
Time: 10:00am - 3:00pm
Venue: Hong Kong Baptist University
Language: Cantonese (English interpretation can be provided if needed)
Target Audience
The participants will be divided into Senior Primary (for 8 - 11 years old students) and Secondary (for 12 - 18 years old students) divisions. It welcomes all senior primary and secondary school students to apply while priority will be given to those receiving Government assitance or have attended our Community Workshops.
>> Community Workshops Registration: https://bit.ly/AI_Programme <<
Application
Participants may sign up for the Challenge Day either individually or as a team. If registering as a team, 3 participants will be allowed. Individual registrations will be paired with other students of approximately the same age to form a team of 3 participants. Your team will be placed in either the Senior Primary, or Secondary division to compete, based on the age of the oldest member of your team.
Successful applicants will receive a confirmation email from Makerbay Foundation outlining the details. Please note that completing registration in Eventbrite does not imply the application is successful.
Prizes
Winning teams will receive certificates, mentor support and a budge of HK$6000 for implementation. They will further develop their idea into an actual product which may be displayed at future events. All participating students can receive a Certificate of Participation.

「人工智能應用挑戰日」為「賽馬會社區創新智能共學計劃」的核心活動之一,計劃由香港賽馬會慈善信託基金損助,MakerBay Foundation主辦,透過匯集青少年、家長、學校、社區組織和不同行業的專才參與,以活動方式學習、交流及運用所學的東西去解決社區問題。
As a core activity of the Jockey Club AI Community Innovation Programme, a programme funded by The Hong Kong Jockey Club Charities Trust and organised by MakerBay Foundation, the Challenge Day will bring together participants from schools, communities, and the industry to learn, play and solve real-world problems with artificial intelligence.