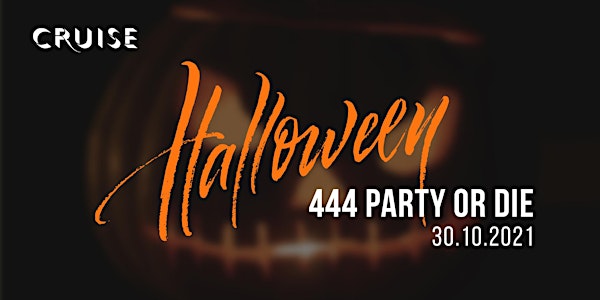 444 Party or Die Halloween Party @ Cruise Restaurant & Bar
Location
Cruise, 23/F West Tower, Hyatt Centric Victoria Harbour Hong Kong
1 North Point Estate Lane
Hong Kong, HKI
Hong Kong
Cruise Restaurant & Bar 444 Party or Die Halloween Party
About this event
Halloween cannot be completed without a haunted makeup party. Cruise Restaurant & Bar is playing the game of luck by hosting a 444 Party or Die makeup party on October 30, 2021; from 9 PM to 1 AM.
Guests are invited to dress-up in different costumes. Attractive prizes will be given to the party's best costume (man, woman and group). All dress-up guests will have a chance to win the lucky draw too!
Partnering with G.H.Mumm, free-flow drinks including Mumm Cordon Rouge NV, signature cocktails & wines will be served during the party. Ticket is at HK$444+10% per person.
萬聖節當然不可以沒有變裝派對,Cruise空中餐廳及酒吧將於2021年10月30日舉行444萬聖節變裝派對,時間由晚上9時至凌晨1時,邀請各位客人「扮鬼扮馬」變裝出席。派對設有最佳女士、男士及組合服裝獎,而當晚所有客人均可參加抽獎,獎品豐富!派對期間將與 G.H.Mumm 合作,無限供應Mumm Cordon Rouge NV 、招牌雞尾酒和葡萄酒等飲品,務求滿足一眾貪玩嘩鬼,入場費為每位港幣$444+10%。