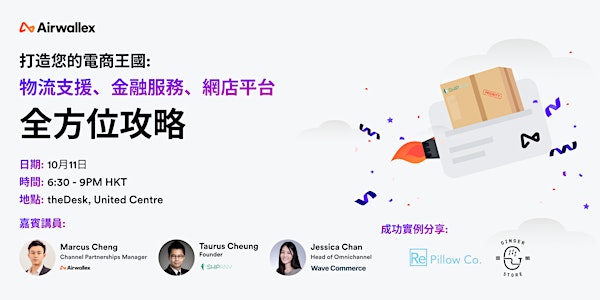 打造您的電商王國:物流支援、金融服務、網店平台全方位攻略
Join our informative fireside chat with Airwallex, ShipAny, and Wave Commerce, a Shopify agent, and network with our industry leaders!
When and where
Location
theDesk United Centre 95 Queensway #5/F Admiralty, HKI Hong Kong
About this event
eCommerce has played a crucial role in Hong Kong, a world city where consumption power is thriving. The Hong Kong eCommerce market size was estimated to be worth US$6.3 billion in 2020, with an annual growth rate of 13 percent for the next five years.
After the hit of the pandemic, the increasing trend of online shopping also encouraged more and more Hong Kong retailers to adopt the online-to-offline (O2O) business model, in order to capture more business opportunities and to provide a better shopping experience to their customers.
In this seminar, Airwallex, ShipAny and Wave Commerce will share the latest eCommerce trends in Hong Kong, the main challenges they are facing, and the tips on how to utilise different eCommerce platforms to build your own successful online business! We have also invited several successful online businesses —Ginger, Repillow, and Travelpop — , to share their experiences in adopting the digital transformation during the pandemic, as well as how they saved costs and enhanced business operations efficiency by utilising different eCommerce platforms.
在香港這個消費主義盛行的世界級商業城市中,電子商務擔當著愈來愈重要的角色。香港電商市場規模於2020年估值約63億美元,未來五年的年增長率預計為13%。
自從疫情來襲,網上購物愈趨流行,驅使愈來愈多香港零售商採用「線上到線下」(O2O)的商業模式捕捉商機,同時為客戶提供更完善的購物體驗。
這次研討會中,Airwallex、ShipAny 與Wave Commerce將詳盡分析香港最新的電子商務趨勢,並分享各自正面臨甚麼重大挑戰,以及借助不同電子商務平台建立線上業務的心得。研討會更邀請到Ginger、Repillow及Travelpop三家成功電商企業代表出席,分享他們在疫情期間數碼轉型的經驗,以及他們如何利用不同電子商務平台節省成本及提升運營效率。
Event highlights:
Useful tips on setting up eCommerce business in Hong Kong 在香港建立電商業務的實貼士
How to utilise different eCommerce services 使用各類型電子商務服務的心得
Getting started with eCommerce on Shopify 如何透過使用Shopify服務開展電商務業
Successful case sharing from eCommerce businesses: how they got started, their experience in running their e-com business, and how the partner's solution helped them 電商企業成功個案分享:如何起步、經營電商業務累積了甚麼經驗,以及怎樣透過合作夥伴獲得具體幫助
Networking session with industry experts plus complimentary drinks and refreshments 與行內專家交流 + 免費享用小食及飲料
*The event will be conducted in Cantonese.
Rundown:
6:30 - 7pm Registration and networking
7 - 7:25pm Opening + introduction
7:25 - 7:50pm Fireside chat (AWX + ShipAny + Wave)
7:50 - 8pm Case Sharing - Ginger
8 - 8:10pm Case Sharing - Repillow
8:10 - 8:20pm Case Sharing - Travelpop
8:20 - 8:30pm Closing + Networking
Special offers to all participants:
1. Airwallex 6-months free expense management
2. Up to $1,000 cash rebate for ShipAny account top up*
3. 20% off an annual plan of OMNI by Wave Commerce - Shopify omnichannel customer loyalty solution
*Only applicable to Airwallex's new customer.
Speaker bio:
Jessica Chan: Jessica is the Head of Omnichannel at Wave Commerce, a leading Shopify Plus partner. She works closely with retailers to drive digital transformation, accelerate business growth, and enable omnichannel experiences with online & offline customer experiences across marketing and digital technology. Jessica previously worked in brand marketing at L'Oréal where she developed innovative omnichannel strategies to drive product and brand growth for category-leading brands like Lancôme and shu uemura.
Marcus Cheng: Marcus is the Hong Kong Partnerships Manager at Airwallex, assisting with the go-to-market strategy and partner marketing initiatives. Prior to Airwallex, he's been a founding and early member of startups including Atome, Qupital, and Pakpobox.
Taurus Cheung: Taurus is the Co-founder of ShipAny Limited located at Hong Kong Science Park. Taurus graduated from The Chinese University of Hong Kong (CUHK) with M.Phil. in Computer Science and Engineering. Before founding Appcider, he held leadership positions in technology companies in North America and with over 10-year experience in enterprise software and cloud-based solutions. Taurus has accumulated years of IT experience before embarking on his entrepreneurial journey.
In 2019, Taurus saw a huge demand in e-commerce logistics service and thus developed ShipAny, the first smart logistics gateway for the e-commerce market in HK, now serving over 3,300 e-commerce merchants in HK. ShipAny one-stop logistics platform interconnects multiple e-commerce platforms to multiple logistics service providers with the capability to enhance and streamline logistics operations which disrupts the manual logistics process and brings e-commerce to the new generation.
Case Sharing:
Repillow: In early 2020, Ryan Leung, whose grandfather started a bedding business years ago in Hong Kong, has trouble sleeping. After failing to find a pillow that is comfortable, durable, and quality on the market, he decided to take the matters to his own hands, utilising the experience from his cousins. By the end of 2020, he came out from the factory in Kwai Chung, with what he called the "Re Pillow", the perfect pillow.
At first he only intended to produce this pillow for himself and his friends that need the pillow. However it was not long when more and more friends found love for this particular pillow and encouraged him to put it out to the market. In October 2020, the first generation Re Pillow was made available to the public. Even though the 1st generation Re Pillow was not a mass marketed product, the feedback was unbelievingly good. He has been working full time on this project after graduating from the university in 2022.