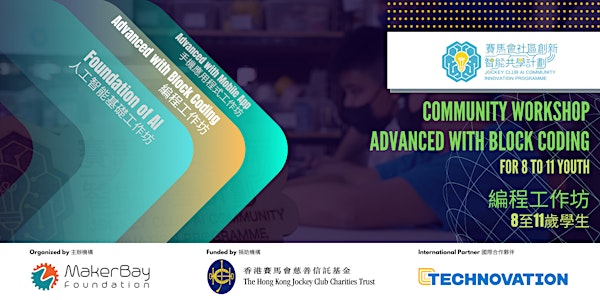 賽馬會社區創新智能共學計劃 - 編程工作坊(高小班) 廣東話 - 網上工作坊
網上工作坊為兩節各3小時的活動,將8月25日及26日舉行,參加者需參與兩節。 The online workshop will be conducted in 2 sessions (3 hr each) on 25 and 26 Aug. Please join both
About this event
賽馬會社區創新智能共學計劃由香港賽馬會慈善信託基金資助,讓每個人都有機會接觸到AI 的實踐教育計劃。匯集不同背景的參加者,當中包括青年、家長、學校、社區組織和創科行業專才,讓大家可以了解人工智能,並以活動學習方式、交流及運用所學的去嘗試解決社區問題。
社區工作坊 : 編程工作坊
(接受政府資助的學生可優先參加)
學習AI知識比你想像中簡單!如果你年齡介乎8至11歲,咁你就可以參加我地嘅高小班!對新事物充滿好奇,想走在潮流嘅尖啄嘅你又點可以錯過呢個免費學野嘅機會呢!
喺呢個編程工作坊入面我地會同你一齊探討四大重點:
📌人工智能種類
📌機器學習方式
📌編程入門及認識Micro:bit
📌認識解決問題的不同步驟
只要掌握以上幾點,你就可以有穩固嘅基礎。正所謂「萬丈高樓從地起」,日後仲可以同我地一齊運用所學整手機應用程式添!
*成功報名的朋友將會收到MakerBay Foundation發出的電郵或Whatsapp訊息確認。請留意於Eventbrite完成報名後並不代表成功報名。
*完成工作坊後將獲發證書
------------------------------------------------------------
社區工作坊共有三堂, 包括:
(一) 人工智能基礎
(二) 編程工作坊
(三) 手機應用程式工作坊
報名參加其他工作坊:https://bit.ly/AI_Programme
Funded by the Hong Kong Jockey Club Charities Trust, the Jockey Club AI Community Innovation Programme is a 2.5-year hands-on education programme, bringing together participants from schools, communities, and the industry to learn, play and solve real-world problems with artificial intelligence (AI).
Community Workshop : Advanced with Block Coding
(*A higher priority will be given to students who are receiving assistance scheme from the government)
Learning AI knowledge is easier than you think! If you are aged 8 to 11, you can join our workshop for senior primary school students! If you are curious about new things, this is a chance to learn for free!
In this Advanced with Block Coding workshop, you will learn:
📌Types of artificial intelligence (AI)
📌Machine learning approaches
📌Introduction to Block Coding and Micro:bit
📌 Steps of problem solving
*Successful applicants will receive a confirmation email or Whatsapp message sent out from Makerbay Foundation and please note that completing the registration on eventbrite does not imply enrolled in the workshop automatically.
*A certificate will be issued after the workshop.
__________
Community Workshop has 3 lessons
A.Foundations of AI
B.Advanced with Block Coding
C.Advanced with Mobile App
Register for other workshops: https://bit.ly/AI_Programme