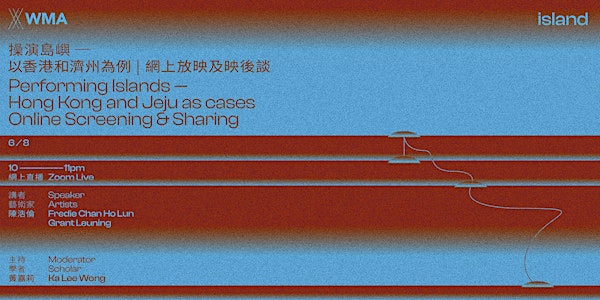 操演島嶼 ── 以香港和濟州為例 | 網上放映及映後談
Explore how an island-based perspective could lead to new, and perhaps unexpected, ways of looking at and thinking about Hong Kong
About this event
基於軍事或經濟發展的原因,島嶼與海岸社群往往在歷史書寫和政策釐訂中被遺漏忽略。是次網上放映活動將放映陳浩倫的《漁民與海》(2013) 與Grant Leuning的《목요일:敵意之物 ── 一個主體化的實驗戰術》及《線、聚、路中之石》(2021),為觀眾帶來兩種截然不同的介入和紀錄方式。我們透過並置韓國濟州島和香港島的影像,反思亞洲島嶼的殖民性。Grant Leuning來自美國與墨西哥鄰接的聖地牙哥,他透過其於邊境和島嶼生活的在地經驗出發,關注地方的閾限性。他亦曾居於濟洲島,研究由當地島民策劃的反美國海軍基地運動,並嘗試以詩歌加以介入。而現正於英國深造的香港紀錄片導演陳浩倫,則走訪坪洲和銅鑼灣避風塘一帶,實地展示填海對漁民帶來的影響。放映輔以討論環節,由黃嘉莉博士主持,與兩位創作者一同從亞洲的語境出發,審視操演性 (performativity) 及聲音如何呈現及批判那些與島民相關的社會議題。
Islands and coastal communities are often omitted in history writing and policymaking because of different reasons, including economic and military developments. This online screening programme aims to create a juncture with two diverging methods of intervention and documentation in presenting these communities. Through juxtaposing media about Jeju Island in South Korea and Hong Kong Island, we interrogate critical issues related to the coloniality of islands in Asia. Grant Leuning, a San Diego native, studies the territorial liminality through his local experience living in border cities and on islands. Having lived on Jeju Island, Leuning researched the anti-US naval base protests organised by the islanders while delving into these issues through poetry. Currently studying in the UK, Fredie Chan Ho Lun, who is a documentary maker from Hong Kong, interviewed fishermen from Peng Chau and the Causeway Bay typhoon shelter, exploring how land reclamation affected their everyday life. The screening will be followed by a discussion with the two documentarians led by Dr. Wong Ka Lee, where they will discuss the strategic role of performativity and sounds in critically presenting various social issues related to the islandic populations in Asia.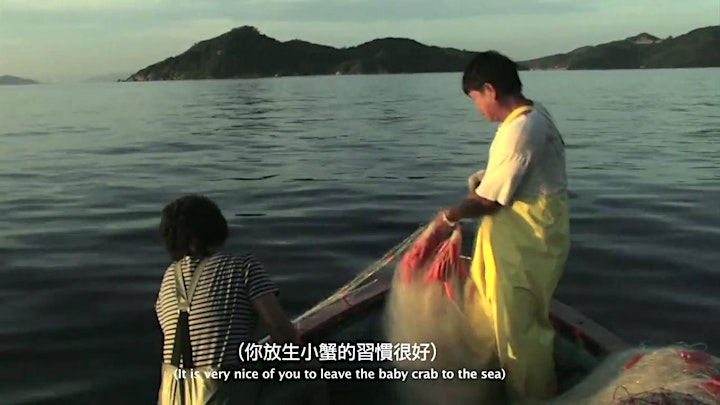 作品簡介 Synopsis
《漁民與海》The Fishermen's Discourse
> 監製 Producer:黎穎詩 Chloe Lai | 導演 Director : 陳浩倫 Chan Ho Lun Fredie | 攝影 Photographers:陳浩倫 Chan Ho Lun Fredie、馬智恆 Ma Chi Hang | 收音 Sound:何天瀛 Ocean Ho
> 香港 Hong Kong / 2013/ 彩色 Colour / 15 min
> 粵語對白,中英文字幕 In Cantonese with Chinese and English subtitles
> 出品 Work by:城市日記 Urban Diary
曾在一片爭議中動工的中環及灣仔繞道經已落成。有人說交通暢順有利經濟發展,但維港再次被陸地入侵,越填越窄了。而對漁民和水上人來說,卻是生存環境受到破壞,生計受損。《城市日記》用錄像記錄兩名漁民的生活,嘗試從他們的視角出發,坐在船上,看填海、看香港 。
Talking to two fishermen made me realise I have never looked at Hong Kong from their perspective. Urban Diary tries to look at Hong Kong and see our shoreline from the sea. We filmed the two fishermen in action, getting on their fishing boat, experiencing fishing and looking at the ongoing reclamation from the harbour with them.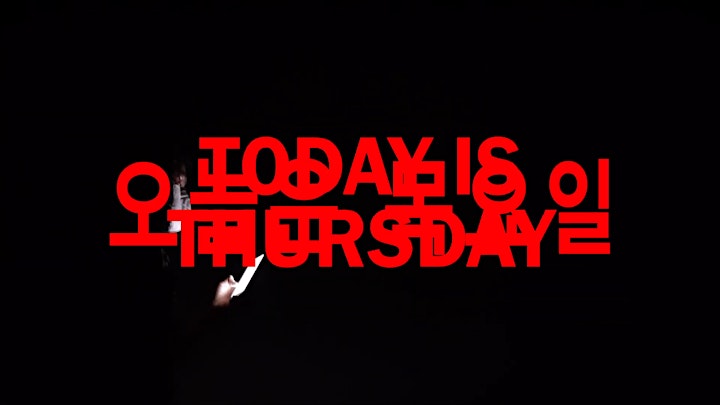 作品簡介 Synopsis
《목요일 星期四:敵意之物 ── 一個主體化的實驗戰術》與《線、聚、路中之石》
목요일: An Experimental Subjectivation Tactic for Use on Hostile Objects & Line, Gather, Rock-in-the-Way
> 創作者 Artist:Grant M Leuning
> 濟州島 Jeju / 2021 / 彩色 Colour / 9 min
> 韓語及英語對白 In Korean and English
《主體化實驗戰術》系列始自美國與墨西哥之間的地界──亦即間隔聖地牙哥及蒂華納的城牆。這些實驗旨在輕微撼動那些敵視人類的空間和物件的主體性,對其存在製造時空上的斷裂。這兩部短片呈現了強行加諸於韓國江汀濟州島海軍基地上、不穩而具侵略性的主體意識。
在一系列名為《목요일 (星期四) 》共11場的表演裏,多條於2021年9月2日 (星期四) 錄下的聲音從不同角度投至海軍基地的不同空間中。這些環繞的聲音,最後被編匯成一曲眾聲,於最終的表演《線、聚、路中之石》中投放至整個基地。
The Experimental Subjectivation Tactics series was developed at the border wall between San Diego and Tijuana in the California Edgelands. It is designed to provoke the minimal spatial or temporal disjunction of subjectivity in objects or spaces which are hostile to human beings. These two films show part of the imposition of this unstable and corrosive subjectivity onto the Jeju Naval Base, in Gangjeong, South Korea.
In a series of 11 performances, called "목요일", audio recordings taken on Thursday September 2nd in 2021 were projected at the Naval Base from different angles and in different spatial arrangements. After surrounding the base, the collective recordings were layered together and projected at the base during a final performance, "Line, Gather, Rock-in-the-way".
講者簡介 Speakers bio:
陳浩倫 Fredie Chan Ho Lun
國際獲獎的紀錄片工作者,現於愛丁堡大學修讀電影導演碩士課程。創作題材以社區草根階層與香港鄉郊生活為主,其中包括《稻米是如何鍊成的》(2013)、《收割,開路!》(2015) 及《水口婆婆的山歌》(2017)。曾先後獲得多個國內外獎學金。
International award-winning documentary filmmaker, scholarship recipient, now studying MA Film-Directing at the University of Edinburgh. His films cover urban grassroots activism and Hong Kong rural cultures, including The Way of Paddy (2013), Open Road After Harvest (2015) and Rhymes of Shui Hau (2017).
Grant Leuning
來自加州聖地牙哥的藝術家及作者。他的作品以詩歌、集體製作及實驗電影的方式去詰問邊界和軍事設施的置換。他亦是聖地牙哥加州大學的候選博士生,正在撰寫有關濟州島美學和政治的論文。
Grant Leuning is an artist and writer in San Diego, California. His work uses poetry, collective production, and experimental film to confront the dis-places of borders and military installations. He is also a PhD Candidate at the University of California, San Diego, writing a dissertation on aesthetics and politics on Jeju Island.
黃嘉莉 Ka Lee Wong
黃嘉莉是南加州大學東亞語言和文化系的 Dornsife 研究員。她在該校獲得其博士學位。其研究關注跨國中文媒體中語言和身份的辯證關係。
Ka Lee Wong is a Dornsife Fellow in the Department of East Asian Languages and Cultures at the University of Southern California. She earned her PhD in USC. Her research interests include the dialectic relationship between language and identity in transnational Chinese media.