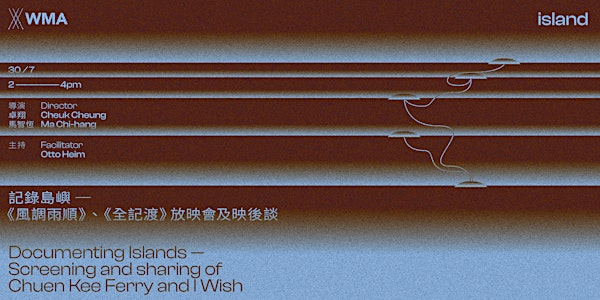 記錄島嶼 ──《風調雨順》、《全記渡》放映會及映後談
《風調雨順》及《全記渡》均為《南丫說:》公共藝術計劃委約作品。
When and where
Location
WMA Space 8/F, Chun Wo Commercial Centre 23-27 Wing Wo Street Hong Kong, HKI Hong Kong
About this event
紀錄片《風調雨順》(2021) 及《全記渡》(2021)的導演卓翔和馬智恆均從物件的角度出發,在各自的作品中分別以天后神像和街渡作為切入點,審視祂/它們如何維護島嶼的生活方式。前者以神像的視角,傾聽和俯視信眾的願望、廟宇周遭的地景變化。後者則以局內人的角度,近觀街渡的日常運作如何連繫社區對內對外的交通。兩套影片均以觀察式進行紀錄 (observational approach),讓觀者融入其中。本節目特設映後談(英語),邀請島嶼研究專家Otto Heim教授與兩位創作者,與觀眾分享觀後感。
Adopting the perspectives of objects', directors Cheuk Cheung and Ma Chi Hang selected the Tin Hau statue and kaito ferry in I Wish and Chuen Kee Ferry as their vantage points into the investigation of how objects navigate the islands alive. Through the Tin Hau statue's eyes and ears, I Wish observes the believers' prayers and the changing landscapes adjacent to the temple. Chuen Kee Ferry, on the other hand, tells the story of kaito ferry daily operations and how it serves as a connector in and out of the island. Both films were shot with an observational approach, allowing viewers to become part of the environment. The programme will be followed by a post-screening talk led by island studies researcher Dr. Otto Heim, with two filmmakers.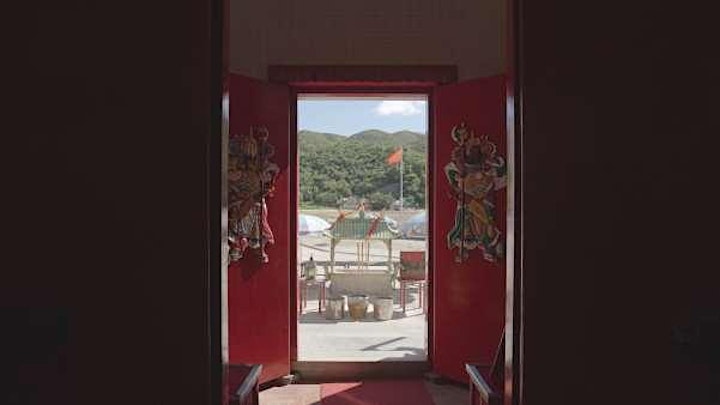 作品簡介 Synopsis
《風調雨順》 I Wish
導演 Director : 卓翔 Cheuk Cheung
香港 Hong Kong / 2021/ 彩色 Colour / 23 min
粵語,中英文字幕 In Cantonese with Chinese and English subtitles
香港有逾百座天后廟,單是南丫島這小島上,也座落了三座。為什麼民眾會供奉天后?祂/他們的關係又如何隨着時代改變?卓翔延續其上一部作品《戲棚》(2019)對酬神活動的好奇,於此部短片透過凝視水上人、島民及市區民眾日常於天后廟內之行為,摸索其中的脈絡。
With over a hundred Tin Hau temples in Hong Kong, there are three on Lamma Island alone. Why do people worship Tin Hau? How has their relationship with Tin Hau temples evolved over the years? Extending his interest in the god-worshipping activities and festivals in his last documentary Bamboo Theatre (2019), Cheuk Cheung, this time in this short film, continues to observe and document the states of Tin Hau temples on the island and beyond, as an attempt to contextualise the everyday practice of the fishing community, islanders and city dwellers visiting the temples.
Director bio: 卓翔 Cheuk Cheung
電影工作者,「映像先驗」聯合創立人。曾執導三部有關戲曲的紀錄片:《乾旦路》(2012) 、《一個武生》(2015)及《戲棚》(2019),另亦曾聯合導演劇作《肖像曲》(2018) 及舞蹈影像《一棵樹》(2019)。作品曾於歐亞各地公映,並獲提名金馬獎最佳紀錄片。
Filmmaker and Co-founder of A Priori Image. Cheuk directed three documentaries about Chinese Opera, including My Way (2012), My Next Step (2015) and Bamboo Theatre (2019). He also co-directed a theatre piece Songs of Portrait (2018) and a dance film Someday I Will Become a Rock (2019). His works have been screened in Europe and Asia and nominated for the Best Documentary at the Golden Horse Awards.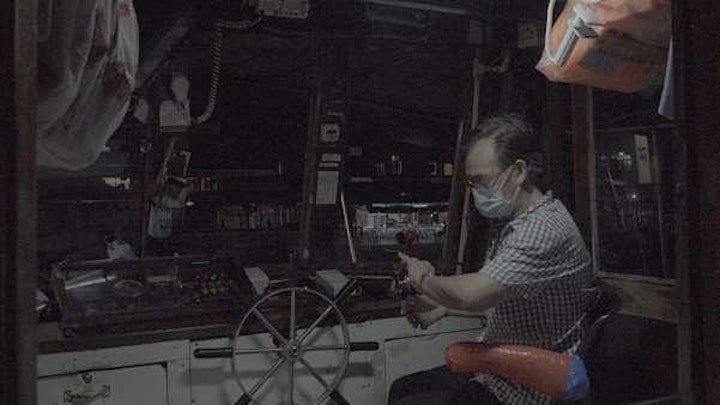 作品簡介 Synopsis
《全記渡》Chuen Kee Ferry
導演 Director : 馬智恆 Ma Chi-hang
香港 Hong Kong / 2021/ 彩色 Colour / 22 min
粵語,中英文字幕 In Cantonese with Chinese and English subtitles
渡輪是南丫島居民日常往返市區唯一的交通工具,船艙則是他們重要的生活場所,無數的交流就在每天的航程中發生。馬智恆以觀察式紀錄捕捉渡輪上的日常,窺探南丫南豐富多元的社區面貌及獨有人情味。半小時的航程,流動的場景,也成了調適生活節奏的時空。
The ferry is the only means of transportation for islanders to travel between Lamma Island and the city. Its cabin is an important social space where countless exchanges are made daily on the commute. Adopting an observational approach, documentary director Ma Chi-hang records the everyday interactions among local commuters inside the ferry, offering insights into the rich and diverse social landscape of Lamma and the quintessential affability of its residents. During the half-hour commute, the scenery changes several times, it is also where the pace of life becomes more relaxed.
Director bio: 馬智恆 Ma Chi-hang
獨立電影導演,另亦從事寫作、文化策劃及藝術教育工作。作品包括瑪連箂的凝視(2014) 及《岸上漁歌》(2017) 等,後者曾獲英國皇家人類學學會電影節兩項殊榮。
Independent film director and practitioner in writing, cultural management and art education. Ma's recent work includes Malinois' Gaze (2014) and Ballad on the Shore (2017). The latter received two awards from the 16th RAI Film Festival.
Facilitator bio: Otto Heim
出生於瑞士,自2001年起定居香港,於香港大學教授英語文學研究。他對島嶼研究的興趣源於他對大洋洲土著和後殖民文學和文化的研究。他是《島》雜誌的編委,曾於2016年3月在香港大學協辦過第二屆「島嶼城市和都市群島會議」,和「空間之間:近代島嶼社會裡的創意、表現和影響」研討會,於2018年12月中香港大學英語學院主辦。現居於梅窩。
Born in Switzerland, Otto Heim has lived in Hong Kong since 2001, teaching English literary studies at the University of Hong Kong. His interest in island studies evolved from his research on indigenous and postcolonial literature and culture in Oceania. He is a member of the editorial board of the journal Shima and co-organized the second Island Cities and Urban Archipelagos conference, held at HKU in March 2016, and the symposium "The Space Between: Creativity, Performance and Impact in Contemporary Island Societies", hosted by the School of English at HKU in December 2018. He lives in Mui Wo.