你有想過你也可以應用人工智能解決身邊的社會及環境問題嗎? How would you make use of Artificial Intelligence to solve the socio-environmental challenges around us?
About this event

學習、實踐、應用,透過「人工智能應用挑戰日」讓你將看似艱深的人工智能新科技融入日常生活,為長者構思解決方案,提升他們的生活質素。
參賽者將在小組導師的帶領下,和組員一起逐步經歷孕育創新點子的過程。
第一步:與用家傾談,認識問題,決定你要解決什麼問題
第二步:發揮創意!探索不同方案的可行性
第三步:運用不同的人工智能工具及應用程式,測試並改變你的想法
第四步:最後,向評判介紹你的點子吧!
這將不僅是學習人工智能,更是強化跨學科知識,訓練分析、解難和表達等能力的機會。現在就報名參加吧!
挑戰日主題:利用人工智能技術改善長者護理
長者時常面對大大小小的身心健康挑戰,需要特別照顧及支援以確保他們可安全、有尊嚴及健康地生活。而人工智能正正可用於減少照顧者的工作量、與長者互動、提供健康資訊等,有助提升安老行業的服務質素和效率。
學生將於挑戰日圍繞這個主題,了解長者的需求,並運用人工智能設計有效又實用的解決方案。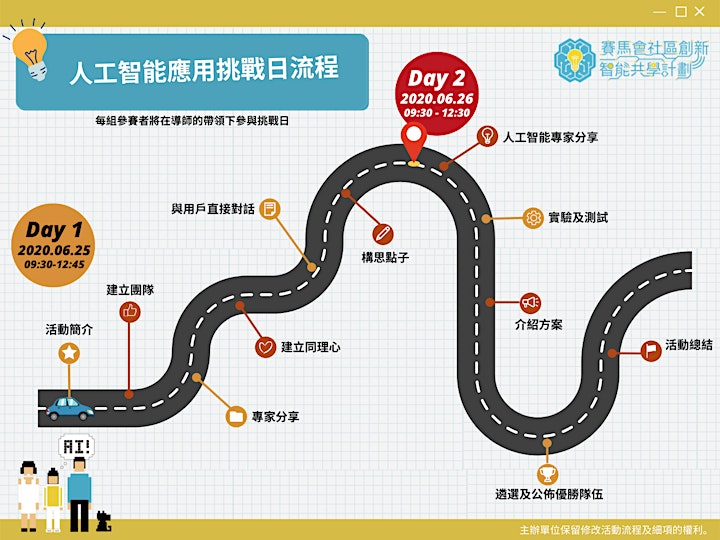 挑戰日詳情
日期:2022年6月25日及26日(星期六及日)
時間:9:30am - 12:45pm (6月25日) | 9:30am - 12:30pm (6月26日)
形式:網上
語言:廣東話(如有需要可提供英語傳譯)
對象
比賽分為高小組(8至11歲)及中學組(12至18歲)兩個參賽組別,歡迎全港高小及中學生參加,曾參加本計劃的社區工作坊的學生可優先獲取錄。
>> 社區工作坊報名:https://bit.ly/AI_Programme <<
參賽
挑戰日接受以3人團隊或個人報名。主辦單位會根據個人報名的參加者的年齡等,分配並組成3人的隊伍。參賽組別將根據團隊中最年長成員的年齡而定。
成功報名的團隊或學生將會收到由MakerBay Foundation發出的確認電郵,請留意完成Eventbrite的登記並不代表成功報名。
獎項
優勝隊伍可獲人工智能學習工具、獎盃及獎狀。所有參賽學生可獲參賽證書。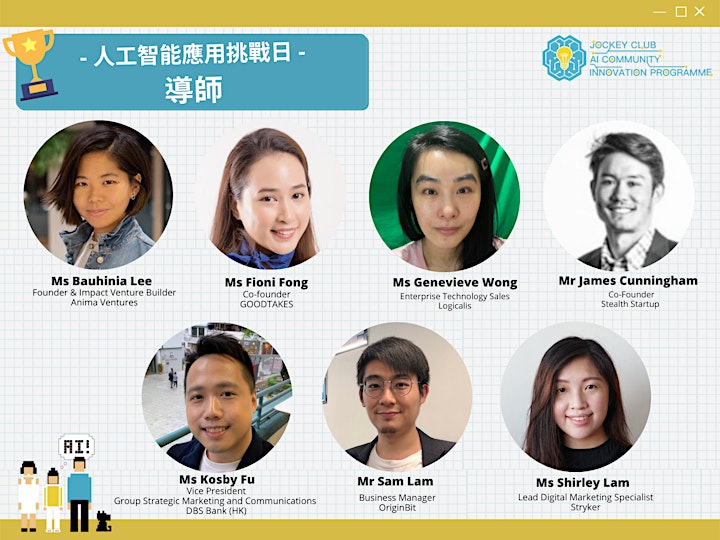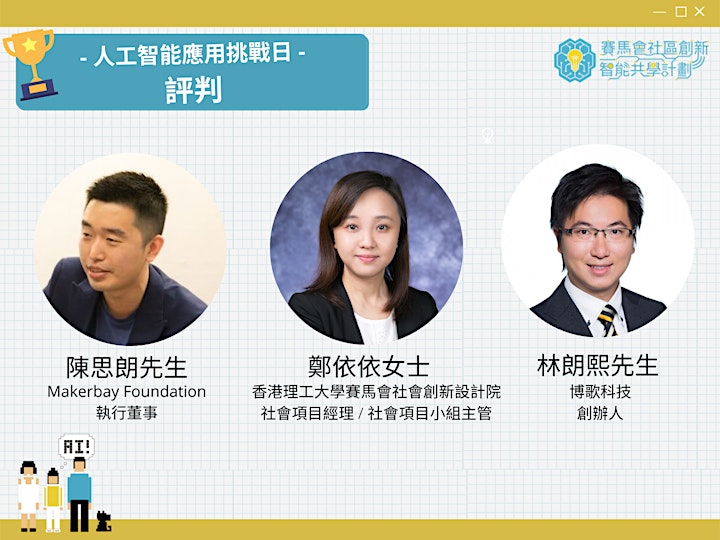 陳思朗先生
Makerbay Foundation執行董事
Makerbay Foundation相信每個人都可以學習動手製作東西。我們一直致力培養大眾的創客技能和思維,以便應對社會和環境挑戰。陳思朗先生在Makerbay Foundation領導「賽馬會社區創新智能共學計劃」,幫助基層家庭的青少年應用人工智能技術和硬件,配合創客技能及思維,解決社會和環境問題。
鄭依依女士
香港理工大學賽馬會社會創新設計院 社會項目經理 / 社會項目小組主管
鄭依依,香港理工大學賽馬會社會創新設計院社會項目小組主管,負責帶領社會設計項目,以應對人口老化的挑戰。鄭女士有多年非牟利項目管理經驗,加入賽馬會社會創新設計院之前,曾積極倡導勞工權益及糧食公義等議題,並引領緩減及調適氣候變化的社會創新項目。
鄭女士本科畢業於香港中文大學人類學系,後取得全球政治經濟學碩士學位。任職公民社會組織之前,鄭依依為報章社會專題記者。
林朗熙先生
博歌科技創辦人
林朗熙先生是東興自動化副董事長和博歌科技的創辦人。公司開發了尖端技術產品,包括人工智能拋光機,自動導航機器人科技,為全球幾萬個不同行業客戶提供服務。其2012成立的L2F自動化,亦曾在2017年讓Middleby以接近1億港元收購。

Learn, practice and apply Artificial Intelligence (AI) to create solutions that will improve the life quality for elderly people on the Challenge Day!
What to expect?
You will go through a journey of developing innovative ideas with your teammates gradually under the guidance of a dedicated mentor.
Step 1: Interview the users, identify the problem and decide which area you want to address
Step 2: Let your creativity flow and explore different solution ideas
Step 3: Make use of AI tools and applications to test and modify your idea
Step 4: Finally, present your idea to the judges!
It is not only an opportunity to learn about artificial intelligence, but also a rewarding experience to strengthen interdisciplinary knowledge, train analytical, problem solving and presentation skills. Sign up now!
Why choose Eldercare?
Elderly people face many physical and mental health problems, and often require special support to ensure their safety, dignity and wellbeing.
Artificial Intelligence has the potential to greatly impact the eldercare sector, by reducing the heavy workload of healthcare professionals, interacting with the elderly, providing access to health information, etc.
The students will be challenged to work within this theme, understand the needs of the elderly, and develop ideas for an effective and responsible AI solution.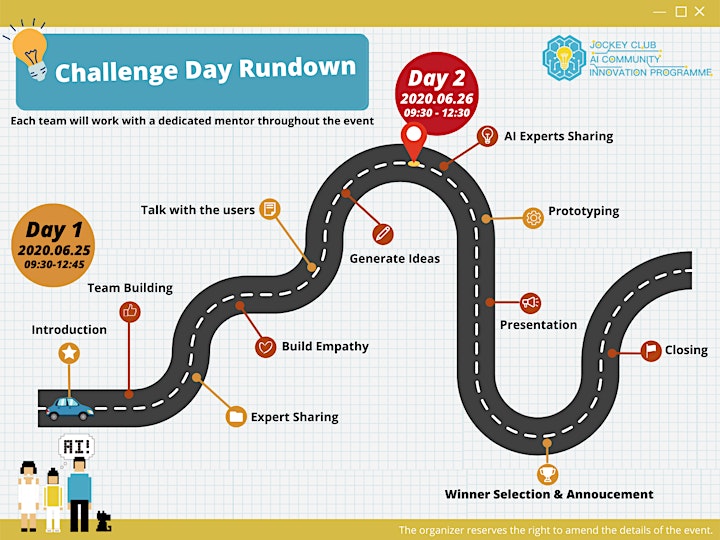 Practical Details
Date: 25, 26 June 2022 (Sat & Sun)
Time: 9:30am - 12:45pm (25 Jun) | 9:30am - 12:30pm (26 Jun)
Format: Online
Language: Cantonese (English interpretation can be provided if needed)
Target Audience
The participants will be divided into Senior Primary (for 8 - 11 years old students) and Secondary (for 12 - 18 years old students) divisions. It welcomes all senior primary and secondary school students to apply while priority will be given to those who have attended our Community Workshops.
>> Community Workshops Registration: https://bit.ly/AI_Programme
Application
Participants may sign up for the Challenge Day either individually or as a team. If registering as a team, 3 participants will be allowed. Individual registrations will be paired with other students of approximately the same age to form a team of 3 participants. Your team will be placed in either the Senior Primary, or Secondary division to compete, based on the age of the oldest member of your team.
Successful applicants will receive a confirmation email from Makerbay Foundation outlining the details. Please note that completing registration in Eventbrite does not imply the application is successful.
Prizes
Winning teams will receive educational gifts, trophies and certificates. All participating students can receive a Certificate of Participation.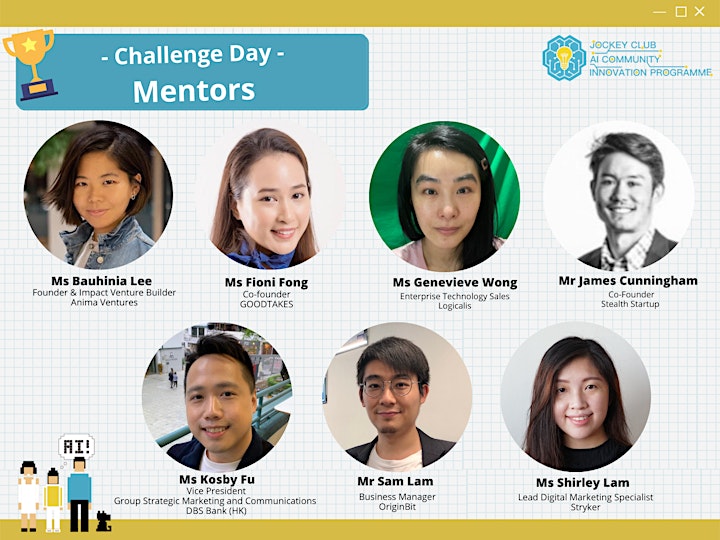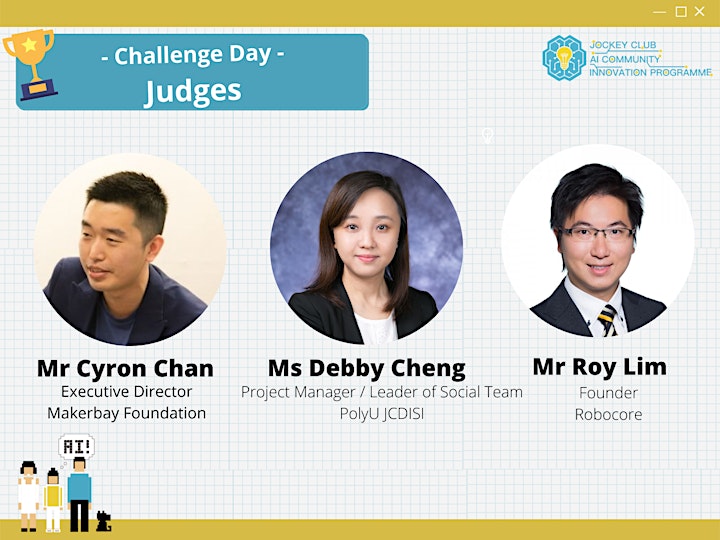 Mr Cyron Chan - Executive Director, Makerbay Foundation
At Makerbay Foundation, we believe that everyone can learn to make something. We strive to develop people's maker skills and mindsets so that they can address social and environmental challenges. Cyron leads the Jockey Club AI Community Innovation Programme that aims to empower underserved youth & their family to tackle social and environmental problems with A.I. technology & hardware. Of course, with the maker mindset and skillset.
Ms Debby Cheng - Project Manager / Leader of Social Team, PolyU JCDISI
Debby is an experienced non-profit projects manager. As a journalist in her early career, Debby has been trained to be intellectually-sensitive to social justice issues. She then changed her path to work in non-profit sector. Before joining Jockey Club Design Insitute for Social Innovation (JCDISI), Debby was an active social advocate for labour rights, food justice, mitigation and resilience of climate changes.
Debby is now leading Social Design projects to tackle Population Ageing issues. She received her Bachelor Degree in Anthropology and Master Degree in Global Political Economy from The Chinese University of Hong Kong.
Mr Roy Lim - Founder, Robocore
Roy Lim is the founder of Tung Hing Automation and Robocore Technology. His companies create Robotics and AI solutions for tens of thousands of customers globally. The products include pressure-controlled polishing machine, medical rehabilitation robots, free-forming metal pressing robots, autonomous mobile robot solutions and other robotics solutions.
Roy founded L2F in USA in 2012. L2F's grit and high-flying profile have earned challenging contracts from customers such as Tesla, SpaceX and Apple, and its revenue has multiplied by 17 times in 3 years. The company was acquired by L2F for nearly HK$100 million in 2017.

「人工智能應用挑戰日」為「賽馬會社區創新智能共學計劃」的核心活動之一,計劃由香港賽馬會慈善信託基金損助,MakerBay Foundation主辦,透過匯集青少年、家長、學校、社區組織和不同行業的專才參與,以活動方式學習、交流及運用所學的東西去解決社區問題。
As a core activity of the Jockey Club AI Community Innovation Programme, a programme funded by The Hong Kong Jockey Club Charities Trust and organised by MakerBay Foundation, the Challenge Day will bring together participants from schools, communities, and the industry to learn, play and solve real-world problems with artificial intelligence.