After years of discovering your dream and working toward living your dream, do you ever feel like something is still missing?
About this event
After years of working toward living your dream, do you ever feel like something is still missing? Do you ever wonder if you're really headed in the right direction, and if you are, why you haven't gotten "there" yet?
If this sounds familiar, I've got great news for you.
I am offering a F.R.E.E. session on Zoom, in which I'll give you 3 Secrets to Discovering and Building Your Dreams…
If you feel frustrated and restless because you know you could be doing so much more – living such a bigger life – then you've got to get in on this ground-breaking session.
As a professional trainer and certified coach, I'll give you the proven strategies for stopping your self-doubt and fear so you can have the faith, self-love, and confidence that will carry you toward your dream and your bigger life.
Here's what you'll learn in the session:
• Simple thinking-strategies that will guard you from fear, doubt and worry (and 3 types of thinking that can stop your dream in its tracks).
• The BIG step most people miss when building a dream (miss any of these and you may never see your dream come true).
• The Number One factor that causes people to lose steam when going after a dream, and how to stay motivated and override it.
• The 1 critical thing you must give up in order to reach your dream.
• And much more.
So if your dream seems out of reach right now, whether it's because you've been working towards it with limited success or because you just aren't sure if you're going in the right direction, then you've got to listen in – your shortened learning curve starts on the day you participate fully in this one-hour free online session.
Hi, I am Elizabeth Ng, a fulltime professional life coach based in Hong Kong and the founder of Fulfilling Life Coaching Services. My intention is that you leave the session knowing the 3 tools that can help you achieve your goals and dreams even faster than you imagined, and that you'll have greater clarity on what those dreams are. And, you'll feel even more confident in the power that lives within you to achieve your goals and dreams.
I offer this session because I love personal development and I am fortunate enough to do what I love for over 25 years as a career, and now in my dream career as a life coach. I want to give you this opportunity to possibly change the course of your life too.
One day before this event, you'll receive the Zoom online session link in your mailbox. I'm feeling excited and looking forward to meeting you soon!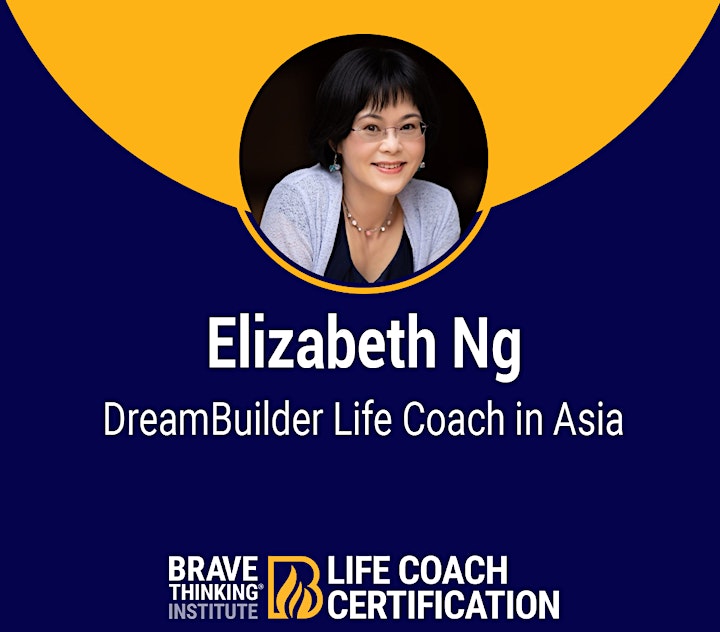 Organiser of 3 Keys to Discovering and Building Your Dream Life