[FREE] Join now to enjoy family time at home! Create your digital comic with family!
About this event
承蒙平等機會委員會贊助,本會將舉辦「電繪故事創平等」系列-多媒體兒童及青少年電繪漫畫創作比賽,希望透過電繪漫畫創作,推廣殘疾歧視條例和種族歧視條例,加強兒童及青少年對種族歧視及殘疾歧視的理解。同時發掘同學們於藝術科技上的創作潛能,提高他們對藝術科技的興趣,發揮團體精神及解難能力。
With the sponsorship of the Equal Opportunities Commission, HKMMDA will organise Multimedia Youth Digital Comic Creative Competition.
The aims are:
to promote the Disability Discrimination Ordinance and the Race Discrimination Ordinance through digital comic creation;
to enhance children and youth's understanding of racial and disability discrimination;
to explore students' creativity in art tech ;
to enhance their interest in art and technology;
to develop their team spirit and problem-solving skills.
主題 Themes
比賽以「殘疾歧視條例」或「種族歧視條例」為主題,作品須具備推廣殘疾歧視條例或種族歧視條例、尊重與平等的元素。
With "Disability Discrimination Ordinance" or "Race Discrimination Ordinance"as the theme of the Competition, entries should contain elements of promoting Disability Discrimination Ordinance or Race Discrimination Ordinance, respect and equality.
所有作品必須是以電腦繪畫之四格/六格/八格漫畫。
All entries must contain 4/6/8 panels of cartoons either in the form of computer printouts.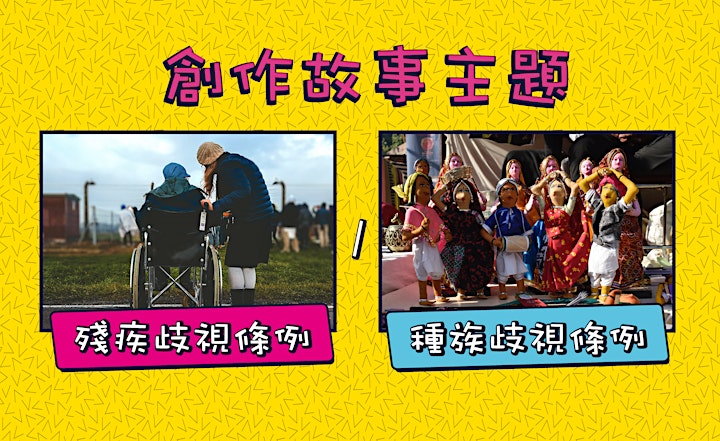 報名及提交作品
參賽者需介乎6-15歲,並有一位家長/監護人陪同參加;
報名表格填寫參加者和陪同者的個人資料,並上載港幣200元按金繳交證明;
並在創作完成後上傳參賽作品至表格。
Participants must be aged between 6-15 years old and accompanied by a parent/guardian ;
Enrol online via this Google Form with participant and accompanying person particulars and upload proof of HKD 200 deposit payment;
Upload entries to the submission form.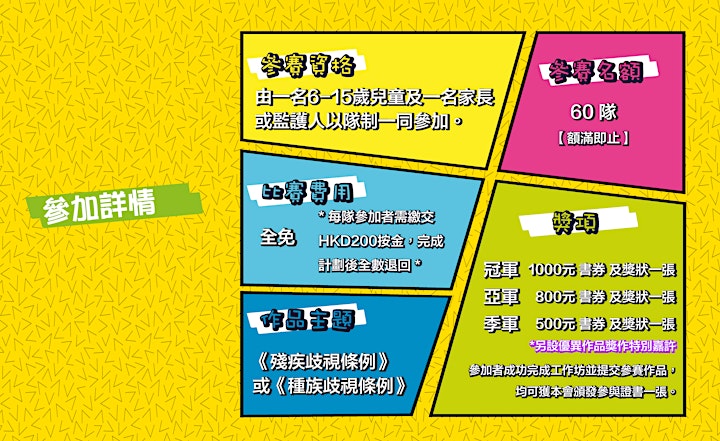 日程 Timeline
截止報名:2022年4月30日
工作坊日期:2022年 5月下旬
截止提交比賽作品 :2022年 6月中旬
比賽活動閉幕禮:2022年 8月上旬
Enrolment deadline : 10 March 2022
Workshops dates: late May 2022
Deadline of Submission: mid June 2022
Closing ceremony: early August 2022
免費工作坊 Free Workshop
本計劃將為參加者提供免費工作坊,參加者必須參與一場。工作坊邀請了專業插畫師Momo Leung親身教導參加者創作技巧,在教授電子繪圖技巧及漫畫創作基礎的同時,分享平等資訊。
The programme will provide free workshops for participants, who must attend one. Professional illustrator Momo Leung has been invited to teach participants the fundamentals of digital illustration and comic creation. The workshop will also share important of equality。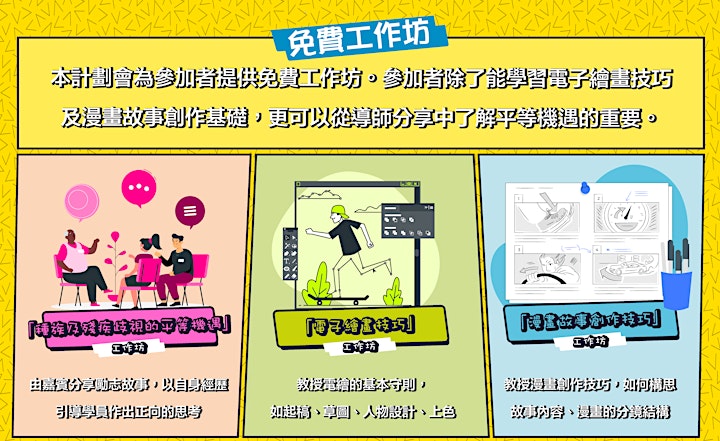 主辦機構 The organiser : 香港多媒體設計協會 Hong Kong Multimedia Design Association (HKMMDA)
比賽網站 Website : https://www.hkmmda.org/digitalcomic2022
查詢 Enquiry
請致電 黃小姐 3543 0700 或電郵至 info@hkmmda.org
For enquiry, please contact Ms Wong via 3543 0700 or email to info@hkmmda.org
Follow us on Facebook | Instagram |Website for latest events.