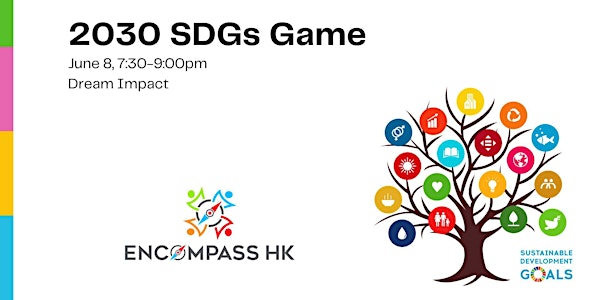 2030 SDGs Game
來體驗在2030年時將成就什麼樣的世界!
Date and time
Thu, 8 Jun 2023 19:30 - 21:00 HKT
Location
Dream Impact 夢創成真 4/F, 760 Cheung Sha Wan Road #Unit C Lai Chi Kok, KOW Hong Kong
Refund Policy
Contact the organiser to request a refund.
About this event
1 hour 30 minutes

Mobile eTicket
Learning the Sustainable Development Goals doesn't need to be boring! 2030 SDGs Game a multiplayer, card-based game that simulates taking the "real world" into the year 2030. Created in Japan now rolling out to the rest of the world, you will be able to understand more about the purpose of the SDGs and reflect the impact of your individual choices with this card game. You will be working together and in groups, exploring how to create a prosperous, fair and sustainable world.
After the simulation, we have time to reflect and have meaningful conversations. What did we experience? What difference can we make? How can we make an impressive impact? How do we want to apply and reflect what we learned in our design journey?
The game encourages participants' working together in a fast-paced and competitive environment, which is a fun and engaging way to enhance team cohesiveness and learn about SDGs with first-hand experience.
The game is facilitated in English with Cantonese supplement.
聯合國於2015年提出永續發展目標SDGs,期望我們能夠擁有一個更永續、更加美好的未來。 基於這樣的世界性議題,日本Imacocollabo公司於2016年推出2030 SDGs Game桌遊,玩家透過在遊戲中各種經濟、推廣、消費活動的進行,模擬到了2030年世界可能的樣貌。它是一個可以容納眾多玩家一起參與的桌遊,在日本,目前為止約有五萬多人曾經參與, 分別來自企業、政府單位、教育單位及非營利單位與社區等,可以說是有關SDGs的桌遊中最受歡迎且最具影響力的互動式遊戲。
本次活動為工作坊形式,促導師Kwong將帶領大家一同進行一場「世界級」的桌遊,與會的10幾位成員都是本模擬世界上的成員,利用金錢、時間卡,來完成專案卡與個人目標,在目標導向之下,模擬出世界發展之過程,並從中了解到永續發展目標(SDGs)之內容。我們透過遊戲來體驗在2030年時將成就什麼樣的世界,並反思在真實生活中,我們可以如何實踐 SDGs來翻轉我們的世界。歡迎跟我們一起共創未來。
永續發展目標(Sustainable Development Goals, SDGs)為聯合國於2015年提出之一系列國際發展目標,是接續2000年提出的「千禧年發展目標」(The Millennium Development Goals,MDGs)。內容包含三大面向、17項永續發展目標,並於每個目標之下設有總計169項的追蹤指標,將持續至2030。
費用包括小食。有關遊戲的更多信息,請訪問此視頻 或這個2030 SDGs Game桌遊網站。
About the organiser
Encompass HK is a social enterprise that advocates for the Sustainable Development Goals (SDGs) by offering training and consultancy services to support organisations to be more diversified and inclusive.  True to the nature of the enterprise, we commit to reinvesting at least 60% of net profits into achieving our social mission. Our clients include SWIRE Properties, Manulife, ANZ Bank, Jardine Matheson, Schroders, Freshfields and many others.