About this Event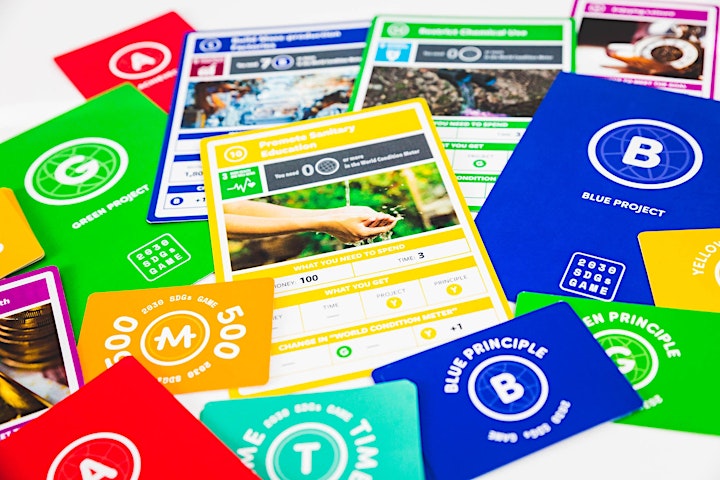 Will you create a prosperous, fair and sustainable world?
Press Start Hong Kong is delighted to host a public workshop with the 2030 SDGs Game in collaboration with iNNOVGoals.
Designed in Japan in 2016 by Imacocollabo, the 2030 SDGs Game is a multiplayer, card-based game that simulates taking the "real world" into the year 2030. by having participatants working together and in groups to explore how the world can achieve the U.N. Sustainable Development Goals.
The Game has become a powerful and impactful social phenomenon in Japan and earned extensive media coverage and reached over 30,000 participants in 2018 alone. The 2030 SDGs Game is played in corporate, governmental, educational, and community settings, and has now been played on 5 continents by more than 100,000 people, including at the United Nations Headquarters in New York in April 2019.
Expect to learn more about the U.N. SDGs and to come away feeling energized about how we can make a change in this world. The whole experience takes 2.5 hours, including playing and reflection, plus some extra time for networking, so we can get right down to idea formulation.
This game session will be facilitated by Carol Yeung, founder of iNNOVGoals and her founding team facilitators. Carol is the first Certified 2030 SDGs Game Facilitator in Hong Kong. The event will be run in English.
Join us for an interactive, inspiring and important discussion on sustainable development.
Date: Friday, August 2nd 2019
Time: 7 - 9:30 pm (doors open at 6:30 pm)
Venue: Press Start Hong Kong, 11C-E, Golden Sun Centre, 59 Bonham Strand West, Sheung Wan, Hong Kong S.A.R.
Light refreshments will be provided. Feel free to bring your own dinner.
About Press Start Hong Kong
At Press Start Hong Kong, we change the world through play.
We are a first-of-its kind play consultancy that builds bridges between people and within organizations by adding an engaging, interactive and stimulating layer through games; that explores personalities and interactions by interpreting them through games and driving thought-provoking conversations; and that unlocks the potential of games by looking at them not merely as fun activities, but as a platform for inspiration and education.
Our portfolio is diverse and flexible, ranging from curriculum and program design to teacher training, from game-based corporate innovation challenges to communication and diversity training via pioneering game experiences.