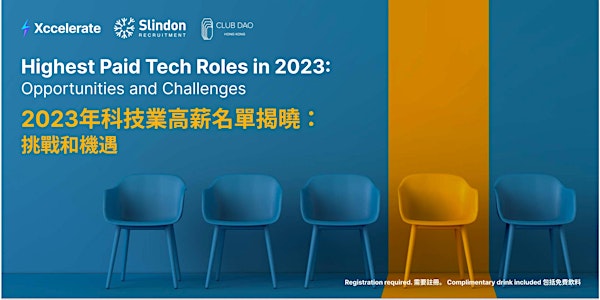 2023年科技業高薪名單揭曉 Highest Paid Tech Roles in 2023
科技業人才短缺,導致職位有高需求和競爭。
When and where
Location
CLUB DAO 21/F, Gold Union Commercial Building 70-72 Connaught Road West Hong Kong Hong Kong
Refund Policy
Contact the organizer to request a refund.
About this event
香港係主要嘅國際金融和科技中心,因此,香港可能會有好多高需求嘅科技職業。 以下係香港可能對科技專業人才有強烈需求的一些特定領域:
金融科技:隨住越嚟越多嘅金融服務轉向線上,對具有金融科技經驗嘅專業人士嘅需求可能會好大,包括支付系統、區塊鏈同數字貨幣。
數據科學:隨著所有行業生成和收集大量數據,對具有數據分析和機器學習技能嘅專業人員的需求將繼續上升。
網絡安全:隨著對科技嘅日益依賴,對能夠防範網絡攻擊嘅專業人員嘅需求都將繼續增長。
雲計算:隨著企業和組織依賴基於雲嘅系統,對具有雲計算和虛擬化經驗嘅專業人員嘅需求都將保持強勁。
人工智能同機器學習:人工智能( AI )同機器學習( ML )嘅使用迅速擴大緊,預計喺語音識別、自然語言處理、電腦視覺和預測分析等領域將繼續增長。
物聯網( IoT ):預計連接設備和物聯網的增長將繼續,具有物聯網科技和數據分析技能嘅專業人員將受到好大需求。
如果您正在考慮從事以上職業最緊要係要記住,科技係一個快速發展領域,隨著科技嘅進步,可能會出現新嘅需求領域。
Hong Kong is a major international financial and technology center, and as such, there are likely to be many high-demand technology careers in the city. Here are some specific areas that are likely to have strong demand for technology professionals in Hong Kong:
FinTech: As more financial services move online, there is likely to be strong demand for professionals with experience in financial technology, including payment systems, blockchain, and digital currencies.
Data Science: With large amounts of data being generated and collected in all industries, the demand for professionals with skills in data analytics and machine learning will continue to rise.
Cybersecurity: With the increasing reliance on technology, the need for professionals who can protect against cyberattacks will also continue to grow.
Cloud Computing: With businesses and organizations relying on cloud-based systems, the demand for professionals with experience in cloud computing and virtualization will also remain strong.
Artificial Intelligence and Machine Learning: The use of artificial intelligence (AI) and machine learning (ML) is expanding rapidly and is expected to continue to grow in areas such as voice recognition, natural language processing, computer vision, and predictive analytics.
Internet of Things(IoT): The growth of connected devices and IoT is expected to continue, and professionals with skills in IoT technologies and data analysis will be in high demand.
It's important to keep in mind that technology is a rapidly evolving field, and new areas of demand are likely to emerge as technology advances. If you are considering a career in technology, it will be beneficial to stay updated with the latest trends and developments in the field.
我哋將討論:
-目前對科技人才的需求,點解技能提升呈上升趨勢
-目前收入最高嘅科技工作
-缺乏科技人才如何導致高薪職位
- Web 3、DAO同元宇宙。 它們在職業發展方面是否仍然相關? 求職者應該注意乜嘢
We'll discuss
- The current demand for tech talent, why is upskilling is on the rise
- Top paid tech jobs at the moment
- How the lack of tech talent is resulting in higher paid roles
- Web 3, DAOs and the Metaverse. Are they still relevant in terms of career development? What should job seekers watch out for.
依個活動適合大學生、應屆畢業生、已經喺科技行業嘅求職者以及轉工嘅人。🎓
This event is suitable for university students, fresh grads, job seekers already in the tech industry and people looking for a career change. 🎓
主持 Moderator:
Lok Yuen | Business Development Executive at Xccelerate
嘉賓 Guest speaker:
Jerry Wong | Human Resources Manager at Slindon (Gogochart)
Details:
需要註冊 Registration required
📅 Thursday 9 February
⏰ 6:30 - 7:00pm Welcome | 7:00 - 7:30pm Fireside Chat | 7:30 - 9:00 pm Networking
🌐 廣東話 Cantonese
📍 CLUB DAO, 21st floor, Gold Union Commercial Building, 70-72 Connaught Road West, Hong Kong
如果您對我們的課程有任何疑問或Xccelerate如何幫助您實現目標,可以聯絡我哋嘅招生同事,請Whatsapp(+852 6883 8583)。
Reach out to our admissions staff Whatsapp (+852 6883 8583) if you have any questions on our courses or how Xccelerate can help you achieve your goals.
Slindon is a brand new HR transformation and solution provider in Hong Kong, Slindon is well positioned to assist organizations in building successful teams and to help individuals progress in their careers.
We are experts in HR consultancy and solutions covering all sectors Hong Kong-wide. We offer the best-class HR service.
Our consultant and expert provide the best staffing solutions for over 10 years already.