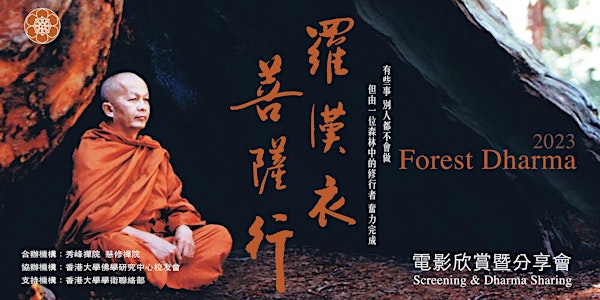 《羅漢衣 菩薩行》電影欣賞暨分享會2023 | "Forest Dharma" Screening & Dharma Sharing 2023
有些事別人都不會做 但由一位森林中的修行者奮力完成
Date and time
Sat, 17 Jun 2023 14:30 - 17:30 HKT
Location
香港大學陸佑堂 | Loke Yew Hall, The University of Hong Kong 94 Bonham Road Hong Kong, HKI Hong Kong
Refund Policy
Contact the organiser to request a refund.
About this event
泰國「山僧」— 老和尚「法顯長老」冒著性命危險,救活了清邁山區的水源和森林。他成功團結政府官員、僧侶和居民一同保育樹林,建設水利改善民生,是全國第一人。今天清邁美塞谷(Mae Soi Valley)的淙淙流水與茂密叢林,就是他留下來的珍貴禮物;他並因此獲得聯合國環境規劃署的嘉許。這部影片細述老和尚燃亮人心的故事。| Phra Pongsak Techadhammo was a Thai forest monk who risked his life to save the forests of Chiang Mai. He was the first monk to bring together the government, the monastics, and the local people for forest conservation and rural development. The flowing rivers and lush forests of the Mae Soi Valley in Chiang Mai are his legacy — for which he was recognized by the United Nations Environmental Programme. This documentary tells his incredible story.
講者:大觀禪師及本順指導法師 | Speaker: Zen Master Dae Kwan & Bon Sun Sunim JDPS
協辦:港大學佛學研究中心校友會 | Co-orgainzed: BSAA
支持機構:香港大學學術聯絡部 | Supporting Organization: HKU Academic Liaison Office
語言:節目以粵語進行(提供現場即時英語翻譯)| Language: The event will be conducted in Cantonese (with simultaneous English translation)
座位安排:不設劃位 | Seating Arrangement: Free seating
* 所有收益將撥捐鹿湖慧修禪院重修改善計劃之用。| *All proceeds will be donated to the Restoration Project of Hae Su Zen Center, Luk Wu.