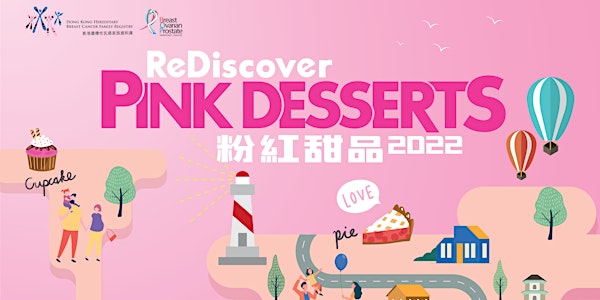 「粉紅甜品2022」慈善義賣 重新發現‧環球甜味 "Pink Desserts 2022"Charity Sale "ReDiscover"PINK
「粉紅甜品2022」慈善義賣 重新發現‧環球甜味 "Pink Desserts 2022"Charity Sale "ReDiscover"PINK DESSERTS at every corner of the city #pinkdesserts2022
About this event
由香港遺傳性乳癌家族資料庫主辦(下稱「資料庫」),年度城中最甜蜜、最有意義的活動 -「粉紅甜品2022」慈善義賣再度登場﹗今個夏天,於7月至9月期間,市民只須到參與義賣商戶,惠顧指定甜品或飲品,商戶將會撥捐全部或部份收益予「資料庫」,資助本地經濟有困難之高危家庭,進行基因測試、輔導及其他醫護服務。
今年活動主題為「ReDiscover重新發現‧環球甜味」,市民遊走港九新界,透過發掘和品嚐不同國家的特色甜品,幫助「資料庫」籌集善款,從而為基因突變癌症患者及其家族成員提供適切服務。今年的義賣活動獲超過35間商戶,包括五星級酒店、飲食集團、咖啡店、飲品連鎖店、網店等參與支持,有關商戶資料,請到「資料庫」網頁www.asiabreastregistry.com 瀏覽。
一起吃甜品做善事,為遺傳性癌症患者打打氣!
PINK DESSERTS 2022 Charity Sale is the sweetest charitable event in town organised by the Hong Kong Hereditary Breast Cancer Family Registry ("THE REGISTRY"). During the event period from July to September, part of the sales proceed of every designated PINK DESSERTS or products at the participating merchants will be donated to THE REGISTRY to support underserved high risk cancer patients with genetic mutations and their family members to undergo genetic testing, counselling and other clinical services.
With over 35 supporting merchants this year including five-star hotels, catering groups, coffee shops, beverage chains and online stores, THE REGISTRY invites you to "ReDiscover" PINK DESSERTS at every corner of the city from local popularities to exotic international delicacies. For more details, please visit THE REGISTRY website at www.asiabreastregistry.com .
Enjoy sweet treats and spread love to those in need!
關於我們 :
香港遺傳性乳癌家族資料庫(下稱「資料庫」)成立於2007年,為本港首間及目前唯一致力研究BRCA及其他基因突變及幫助因基因突變而患遺傳性癌症(包括乳癌、卵巢癌及前列腺癌)的高危家庭,進行基因測試、輔導及臨床醫護服務的慈善機構。「資料庫」是現時全球擁有最多專為華人病例作BRCA基因突變研究的基因樣本及臨床生物數據的資料庫,旨在進一步完善對華人患遺傳性癌症的醫學研究及制定合適的預防措施,以幫助基因突變患者及其家族成員,提供更全面及多元化的普查及支援服務,從而減低本地以至全球華人因基因突變導致的遺傳性癌症的風險。自成立以來「資料庫」得到各方慷慨支持,已成功資助逾4,900名本地經濟有困難的高危人士,當中包括3,700個家庭,進行基因測試及相關輔導服務。「資料庫」更創立了BOP三色絲帶,把國際認可代表乳癌、卵巢癌及前列腺癌顏色的絲帶連結一起,以代表對該三種遺傳性癌症的關注。
網址 : www.asiabreastregistry.com
About us:
Established in 2007, Hong Kong Hereditary Breast Cancer Family Registry ("THE REGISTRY") is the only and first-ever charitable organization dedicated to help the high-risk families who have hereditary risk of breast, ovarian and prostate cancer due to BRCA and other gene mutations. We also aim to advance and standardize clinical care by formulating preventative measures through data collection, research, public education, counseling and supportive care services in reducing the incidence of hereditary cancers in Chinese population. THE REGISTRY now has the largest database and bio bank of hereditary breast cancers specimens in Chinese which would facilitate better understanding and research of the disease locally and worldwide. THE REGISTRY has raised funds for financing the underserved high - risk families in the community to undergo genetic testing and counseling and has benefited over 4,900 individuals involving 3,700 families up to now. THE REGISTRY has designed a BOP triple colour ribbon, based on three interlacing ribbons in the international colours of Breast, Ovarian and Prostate Cancers Awareness respectively, emphasizing the interlink among these cancers due to hereditary causes.
Website: www.asiabreastregistry.com