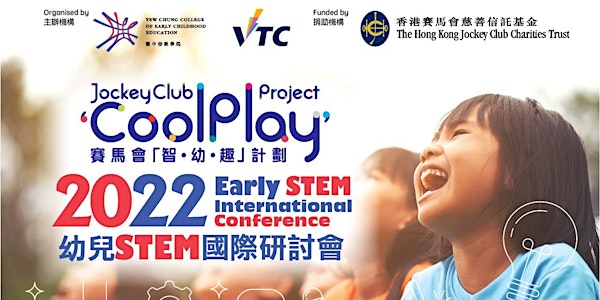 2022 Early STEM International Conference (2022幼兒STEM國際研討會)
2022 幼兒STEM國際研討會 Early STEM International Conference
About this event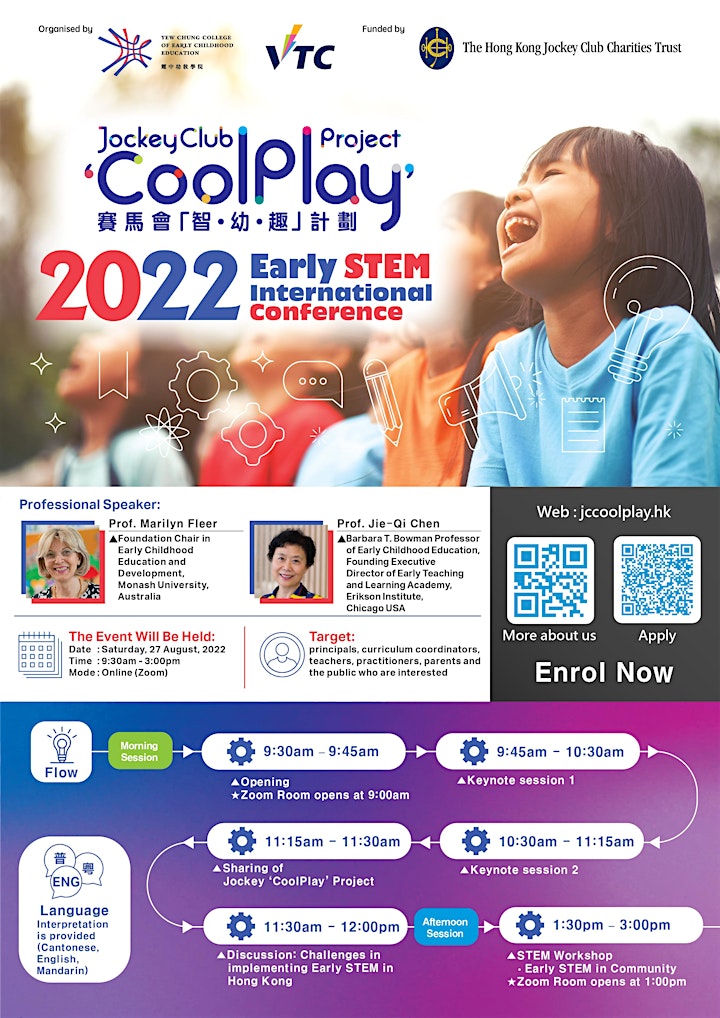 為開拓幼教工作者有關幼兒STEM的國際視野,賽馬會「智‧幼‧趣」計劃將於8月27日在ZOOM舉辦「2022幼兒STEM國際研討會」 ,加深校長和老師對幼兒STEM的理解。研討會邀得來自全球各地的知名學者擔任演講嘉賓,分享幼兒STEM教育的研究結果和提供具前瞻性的見解。參加者在會上可透過問答形式,共同探討進行幼兒STEM探索的挑戰,同時分享在香港實踐的經驗。
日期(HKT GMT+8): 27/08/2022
時間(HKT GMT+8)
上午時段:9:30 am - 12:15 pm
下午時段:1:30 pm - 3:00 pm
語言:
上午時段:英語 (設普通話及粵語即時傳譯)
下午時段:廣東話 (不設即時傳譯)
參與對象:幼稚園校長、職前及在職教師、幼兒教育工作者、幼兒相關專業人士、非牟利機構職員
費用:全免
形式: 網上 (ZOOM研討會)
其他:
1. 出席研討會或工作坊後,完成問卷的參加者可獲得出席證書
2. 我們將以電郵/WhatsApp訊息方式發出確認信,報名者須收到由本機構發出之確認信後,方代表其報名已被接受
3. 主辦方將就本研討會保留最終決定權。
查詢: (852) 3977 9840 / coolplay@yccece.edu.hk
關於我們:https://jccoolplay.hk/
Dear Partners and Friends,
2022 Early STEM International Conference is the first large-scale conference organised by Jockey Club 'CoolPlay' Project. With funding from The Hong Kong Jockey Club Charities Trust, Yew Chung College of Early Childhood Education (YCCECE) and the Vocational Training Council (VTC) are co-organising the three-year Jockey Club 'CoolPlay' Project hand in hand. In order to promote Early STEM exploration, guest speakers from the USA, Australia and Hong Kong are invited to provide ECE practitioners in Hong Kong and beyond a great opportunity to learn about the latest research results and achievements of STEM in ECE.
Date (HKT GMT+8): 27/08/2022 (Sat)
Time (HKT GMT+8):
AM 9:30 am- 12:15 pm
PM 1:30 - 3:00 pm
Language
AM: English (Cantonese & Mandarin interpretations are provided)
PM: Cantonese (No interpretation)
Target: Kindergarten principal, pre/in-service kindergarten teacher, ECE educator, ECE worker, NGO staff, etc.
Charge: Free
Mode: Online (ZOOM Webinar)
Remark:
1. A certificate will be given to the attendee
2. Upon successful application submission, you will receive an application acknowledgement via email or WhatsApp.
3. The Organizer reserves the right of final decision on the Conference
Enquiry: (852) 3977 9840 / coolplay@yccece.edu.hk
About us: https://jccoolplay.hk/en/