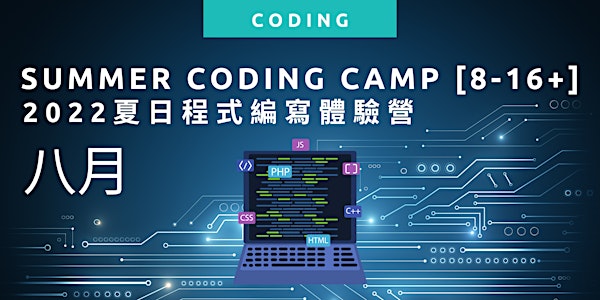 2022 August Summer Coding Camp [8-16歲]
未有編程概念的你都可以做Mario一樣的遊戲!一齊嚟體驗編程嘅樂趣,一齊解難!
When and where
Location
ICE Inter Cultural Education 16 Hung To Road #1208 Hong Kong, KOW Hong Kong
Refund Policy
Refunds up to 7 days before event
About this event
〔二人成班,最多八人〕 八歲或以上,大人亦可包堂體驗
📔學寫程式要數學好、英文好?
寫程式嘅領域好闊好闊,無程式碼嘅平台越嚟越多,連小學生都要學嘅程式又點會需要英文數學打底?
坊間有唔少教育中心開班,程度一般針對職業種類教學,就算有免費工作坊,都有機會聽到一頭霧水。
如果未有接觸過程式語言,或者心思思考慮未來職業路向,又想了解多啲程式概念,就趁住暑假了解編程概念、真實落手寫簡單程式,了解究竟自己鍾唔鍾意學程式語言。
Week1 AM- 8 月1-5 Gameboy Game Maker 遊戲設計師 (連證書)
Week2 AM- 8 月8-12 Animation Maker 動畫製作師
Week3 AM- 8 月15-19 Animation Maker + AI 動畫製作師 + 人工智能
Week4 AM- 8 月22-26 Mobile App Designer 程式設計師
時間 Time 10am-12pm
5堂 class 10小時hrs $1850
早鳥Early Bird / 二人同行 2 enrollments/兩課程 2courses $1350
Week1 PM- 8 月1-5 Web Designer 網頁設計師 (12+)
Week2 PM- 8 月8-12 Data Analyst 資料分析師(12+)
Week3 PM- 8 月15-19 Mobile App Designer 程式設計師
Week4 PM- 8 月22-26 Gameboy Game Maker 遊戲設計師 LV 2 (連證書)
時間 Time 2pm-4pm
5堂 class 10小時hrs $2250
早鳥Early Bird / 二人同行 2 enrollments/兩課程 2courses $1750
⬇July Online Summer Camp 2022
https://summercodingcamp2022icehongkong.eventbrite.hk
私人組班Private Class / 網上Online 課程 請 WhatsApp https://wa.me/85290912805
——————————
其他付款方式請輸入100% off優惠碼「EXPLORER」遞交申請,再傳送付款証明到 WhatsApp 56043139
https://api.whatsapp.com/send?phone=85256043139
恒生 Hang Seng: 788-002 681-883
Account Name: INTER CULTURAL EDUCATION LIMITED
FPS 轉數快
ice@icehongkong.com
主辦:互文教社
協辦:InterCode
贊助:無疆界文化教育基金
_________________
Organisation Introduction:
We are Inter Cultural Education (ICE), a social enterprise aiming to educate people to appreciate and be able to accept the cultural diversity of the world. ICE has helped more than 30,000 people in Hong Kong to connect and understand the world better through cross-cultural dialogues.
In the past 10 years, ICE has worked with people from more than 85 countries from all walks of life to promote the solidarity of a local community with the international community. Due to the situation under COVID-19, we are offering a special online programme called Explorers' Month, to bring the world to the public without leaving the city through a series of events.
Follow our social media to learn more about world cultures: