Come down on Jan 30 (Sat) to meet Puinam's beats of EDM & trap bass music!
About this event
📣 30/1 (Sat) Sponsored by RedBull , exclusive party with guest DJ Puinam 
🎧 Puinam , , a new raising star in Macau, favoured by many, including renowned disc jockey DJ LK, as well as the likes of Hong Kong-Macau electronic labels and artists - LY, Harrison C, Tenboy, KO and Chonwa, have created custom and tailor-made EDM dance covers just for her!
🔥Puinam is bringing in her EDM & trap bass music to Club Cubic! See you there!🤟Sign up now to get limited free tickets!🎟
📣30/1 (週六)  佩男Puinam x RedBull「嬌比」電音派對
佩男Puinam 熱愛打碟,一早受到著名DJ們(如DJ LK)以及各大電音品牌的青睞。LY、Harrison C、Tenboy、KO和Chonwa都為她量身定制了電音dance cover。30號當晚佩男將會帶來屬於她的電子音樂和陷阱舞曲🤟 仲等? 快啲把握機會拎免費飛入場同 Puinam度過一個好玩難忘嘅夜晚啦!
🎟
🎧 Supported by  Sesco , Spyzitrix
#Puinam #ClubCubic #EDM #Music #MacauNightlife
Event Details 活動詳情
Date 日期: 30 January 2021 (Saturday)
Doors Open 營業時間: 22:00 – 06:00 
Venue 地點: Club Cubic, City of Dreams
Admission 門票: $250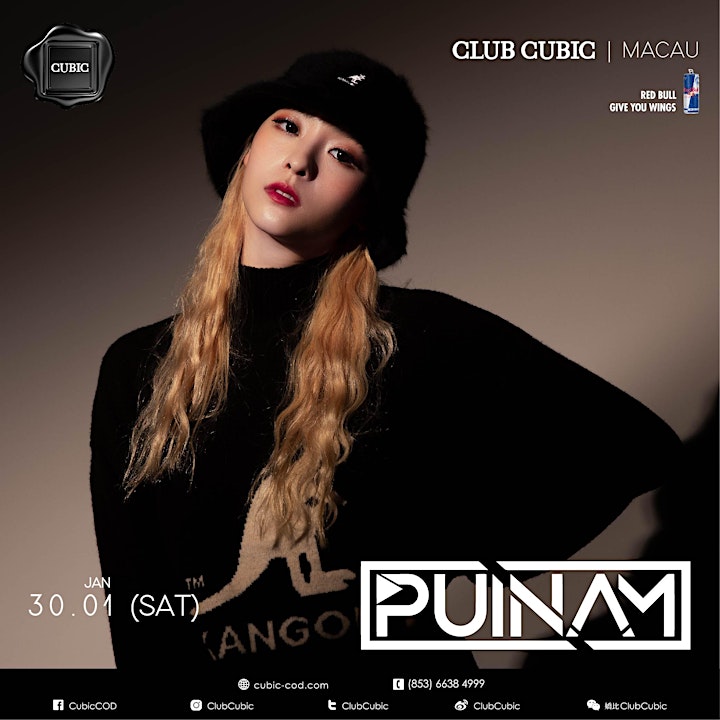 Organiser of 2021.01.30 Puinam
The most prestigious club in Macau. Situated within the City of Dreams, Club Cubic echoes the recent and exciting changes of Macau; this high-tech shrine of decadence and entertainment serves as a beacon for those seeking a place of indulgence and pleasure in one of Asia's most vibrant regions – it is a place where imaginations and dreams come together with a pop of a champagne bottle.
In celebration of a lifestyle that demands the best, Club Cubic has it all. With the best sound system set to international standards coupled with constant bookings of international acts, music lovers from across the world will find the ear candy they are looking for, at any given night.

Club Cubic is committed to presenting the foremost place for a sublime party experience.


Follow us!
Instagram - @ClubCubic
YouTube - youtube.com/ClubCubicCoD
Weibo - weibo.com/ClubCubic
WeChat - 嬌比ClubCubic