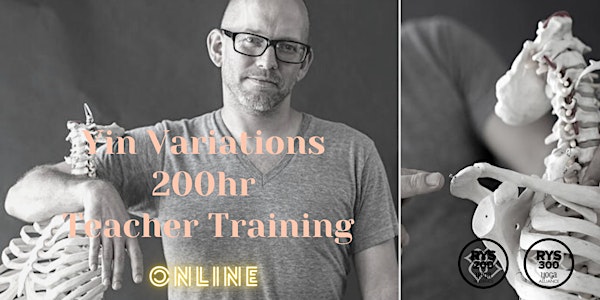 2021 YIN VARIATIONS TEACHER TRAINING with JOE BARNETT
The annual 200-hr RYT Program goes ONLINE for 2021! Learn from home to immerse yourself into the practice of Yin for 99 days.
Refund Policy
Contact the organizer to request a refund.
About this event
Welcome to Yin Variations with Joe Barnett!
Annual Yin Variations 200-hr training goes ONLINE for 2020!
A rare opportunity to study from home 2 days a week yet immerse yourself into the practice of Yin Yoga for 99 days of your life. Mostly, the course is offered LIVE on Zoom to enhance the interactive learning environment.
About the course: This three-month intensive, Yin Variations Teacher Training is specially designed to explore a hands-on approach in which the trainees learn to see, feel and most importantly dialogue about the variations of yin yoga poses and sequencing with fellow aspiring teachers. This dialogue leads to a sensitive and introspective approach that each budding Yin teacher will carry to their students on their path to find their unique shapes and techniques. The immersion will leave you with the ability to guide others on their yin yoga journey.
JOE BARNETT (E-RYT 500), a senior Yin Yoga teacher based in Arizona, USA. Joe was the first assistant to Paul Grilley, the pioneer of Yin Yoga. Over the last two decades, by contributing to systematize teacher training courses of Paul Grilley, Joe has helped over some thousand aspirational yoga teachers from all over the world in a comprehensive language and with a compassionate attitude. Joe travels internationally to offer workshop and training under the school name of "Yin Variations", the program that stays true to the most updated Grilley Method of Yin.
Note
This trainig will be offered bilingually. Original Language: English. Translation: Japanese.
Daily Schedule
As you would do in a face-to-face training, each day of ONLINE course begins with a chant followed by a yin yoga practice.
A typical training day is divided into 3 parts. 1st Practice, 2nd Lecture, and 3rd Practice/Workshop, including a total of 1-hr break in between. Lectures will cover theories and philosophies of yoga. Workshop will cover detailed movement and anatomy for the selected asanas and sequences, using Break-Out Room function of Zoom. During the training, there will be various practical sessions to learn teaching skills such as verbal communication, demonstration, and how to structure and sequence your class.
Who's this training for?
• yoga teachers
• aspiring to become yin yoga teachers
• other health, wellness and fitness professionals
• students seeking to enhance their practice and knowledge of yoga
Outcome of the training
Upon successfully completed the training, you would have• The ability and confidence to lead a safe and effective Grilley Method of Yin Yoga.
• The essential knowledge and teaching methodologies to sequence your own Yin Yoga classes.
• Strong personalized Yin Yoga and Yang Yoga practice.
• Personalized Chakra Meditation and Yin Nidra practice.
• A greater understanding of Yoga and its philosophy.
• Upon successfully completed the training, graduates earn a Yin Variations Yoga 200-hour certificate Yoga Alliance Accredited.
• 300-hour Track is ONLY open to teachers with an RYT Yoga Alliance 200-hour certification. In order to apply for RYT 300-hour, you will need to have total 300-hour certification from Yin Variations.
Please note that we support your learning by being there for you. Please also note;
-For self-study: Recordings of the classes will be available until the end of the year, 2021.
-Condition: You must be 20 years or above mentally and physically healthy. This training is a certification course; it asks for your active participation. You will be monitored to complete all the assignments and activities . If you fail to attend more than 30% of the course and fail to complete follow-up assignments, Yin Variations will not be able to promise your completion of the course.
Online learning is not for everyone. however, taking advantage of the technologies and tech team behind our screen, our Zoom course will be one of a kind! Hope you can join our journey!
Since Eventbrite does not refund the service charge, please do contact us to know your eligibility before proceeding to purchase the ticket.
Main Study Topics
PHILOSOPHY
Yoga Sutra of Patanjali
Meridian and Nidra Theories
Yin versus Yang
History of Yin Yoga
Meridian Theory by Dr. Hiroshi Motoyama
TEACHING METHODS
Sequencing Yin Asanas
Energy Curves
Verbal Cues
Adopt and Assist for Yin
Communicating Yin Yoga (Marketing Strategies)
ANATOMY/ PHYSIOLOGY
Functional Approach, The Grilley Method
Alignment and Yin Yoga
Yin Yoga Anatomy
​Yin Asanas
5 Archetypes of Yin
2 Archetypes of Yang
Yang Sequences
SPECIALITY: Themed Workshop
YIN NIDRA
YIN ANATOMY
CHAKRA MEDITATION
PRACTICAL
One-On-One Teaching Demo
Class Demo
Tips on how to make and promote ONLINE Yin Yoga classes.
DATES
TOTLA 28 days
6 hours a day, including total of 1 hour break in between.
Apart from live sessions, there will be recorded sessions to watch, assignments to submit. Recordings of the lectures will be available to watch before the end of 2020.
7am - 1pm JAPAN / 6am -Noon Singapore, Hong Kong, Malaysia
Week 1 | SEP 15 
Week 2 | SEPT 20, 22
Week 3 | SEP 27, 29
Week 4 | OCT 6
Week 5 | OCT 11, 13
Week 6 | OCT 18, 20
Week 7 | OCT 25, 27
Week 8 | NOV 1, 13
Week 9 | NOV 8, 10
Week10 | NOV 15, 17
Week11 | NOV 22, 24
Week12 | NOV 29, DEC 1
Week13 | DEC 6, DEC 8
Week14 | DEC 13, 15
Week15 | DEC 20, 22
How to Register
After you read all the above,
Secure your spot by Purchasing FREE ticket (REGISTRATION ONLY). We will get back to you to confirm your registration.
Only after we accept your application, you will be asked to make payment either by bank-transfer (less service charge) or by Eventbrite.
Please be mindful. Eventbrite does not refund service charges.
Talk to us for any questions you might have --> hello@calmiia.com