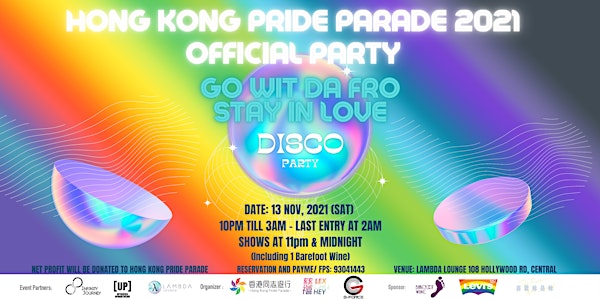 香港同志遊行2021派對 │ Hong Kong Pride Parade 2021 Official Party - Go Wit Da Fro
【#hkp2021】香港同志遊行2021派對 │ Hong Kong Pride Parade 2021 Official Party - Go Wit Da Fro 【相約別離 同見未來 Stay in Love】
When and where
Location
Lambda Lounge 108 Hollywood Road Central Hong Kong, HKI Hong Kong
About this event
【#hkp2021】香港同志遊行2021派對 │
Hong Kong Pride Parade 2021 Official Party - Go Wit Da Fro
(Scroll down for Eng)
【相約別離 同見未來 Stay in Love】
一齊嚟投入彩虹 🏳‍🌈 嘅 11月,參與一連串精彩活動同表演。未來無法預計,而我們可以約定,在未來不見不散,同時在今年亦希望可以好好把握每個機會,聚一聚,見一見!!!
日期: 2021 年11月13日 (六)
時間: 晚上10時至 3 時
地點: Lambda Lounge,108 荷李活道, 中環
門票 ( 包括 Barefoot Wine 1杯):
預售特別優惠: - 首 50 名 HK$100 (13th - 24th October, 2021)
- 第二輪 100 名 HK$150 (25th October - 3rd November, 2021)
- 第三輪 100 名 HK$200 (4th - 12th November, 2021)
- 即場 HK250
活動內容: 🎧 DJ Music, 變裝皇后表演,
幸運抽獎包括:
Upbodywear 口罩+毛巾套裝,
Levi's,
女女電影《喜歡妳是妳》換票證.
訂桌及其他支付方式 (Payme/FPS) 請聯繫 https://wa.me/85293041443
*活動扣除成本後,將撥捐入香港同志遊行營運用途。
📣根據現行的社交距離規定,所有進入場地的顧客必須掃描"安心出行"應用程序,並能夠出示在 2021 年 11 月 13日之前至少接種了第一次疫苗的相關證明。我們鼓勵尚未接種疫苗的顧客在活動之前接種疫苗。
立刻登錄我們的社交平台接收香港同志遊行的最新消息!
Facebook專頁: fb.com/hkpride ; fb.com/lexchillhey
Facebook Event: https://www.facebook.com/events/295023408855736
Instagram ID: hkprideparade; lexchillhey
Telegram Channel:https://t.me/hkpride
-----------------------------------
《Hong Kong Pride Parade 2021 Official Party - Go Wit Da Fro》
【Stay in Love】& Enjoy November the pride month, and the whole series of activities and performaces for this year's Pride Parade!!! 🏳‍🌈
Date: 13/11/2021 (SAT)
Time: 10 p.m - 3a.m
Venue: Lambda Lounge, 108 Hollywood road, Central
Entry Fee (Including Barefoot Wine 1 glass):
- Early bird special for first 50 customers HK$100 (13th-24th October, 2021)
- 2nd release 100 tickets HK$150 (25th October - 3rd November, 2021)
- 3rd release 100 tickets HK$200 (4th - 12th November, 2021)
Standard at door $250 (Last entry 2a.m)
Activities: 🎧 DJ Music, Drag Queens performance, Lucky Draw
For table reservation and other payment methods (Payme/FPS)
please contact https://wa.me/85293041443
*After deducting the event cost, all proceeds will be donate and used as the operation cost of Hong Kong Pride Parade
📣According to the current Social Distancing Rules, all customers entering the venue MUST scan the 'Leave Home Safe' app and show proof that they have received at least 1st Vaccination prior to 13th Nov 2021. We encourage anyone who has not yet receive their vaccine to get vaccinated prior to the event.
Stay tuned on our social media platforms to receive Hong Kong Pride Parade's latest news!
Facebook Page: fb.com/hkpride; fb.com/lexchillhey
Facebook Event: https://www.facebook.com/events/295023408855736
Instagram ID: hkprideparade; lexchillhey
Telegram Channel:https://t.me/hkpride
#香港同志遊行2021 #hkprideparade2021 #hkp2021 #LGBT+ #LGBTQ+ #LGBTTQQIAAP #相約別離 #同見未來 #StayInLove