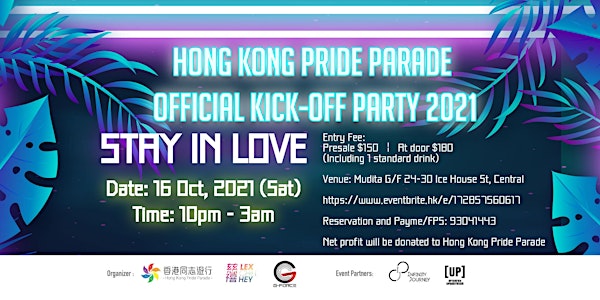 香港同志遊行 2021 開幕派對 | Hong Kong Pride Parade 2021 Kickoff Party
香港同志遊行2021開幕派對 【相約別離 同見未來 Stay in Love】 一齊嚟投入彩虹
When and where
Location
Mudita G/F 24-30 Ice House Street Hong Kong, HKI Hong Kong
About this event
【#hkp2021】香港同志遊行2021開幕派對 │
Hong Kong Pride Parade 2021 Kickoff Party
(Scroll down for Eng)
【相約別離 同見未來 Stay in Love】
一齊嚟投入彩虹 🏳‍🌈 嘅10月-11月,為今年遊行活動充定電、打打氣,約定大家走在一起。未來無法預計,而我們可以約定,在未來不見不散,同時在今年亦希望可以好好把握每個機會,聚一聚,見一見!!!
日期: 2021 年10月16日 (六)
時間: 晚上10時至 3 時
地點: Mudita, G/F 24-30 雪廠街,中環
門票: Standard HK180 (Standard Drink 1杯)
活動內容: 🎧DJ Music
訂桌及其他支付方式 (Payme/FPS) 請聯繫 https://wa.me/85293041443
*活動扣除成本後,將撥捐入香港同志遊行營運用途
📣根據現行的社交距離規定,所有進入場地的顧客必須掃描"安心出行"應用程序,並能夠出示在 2021 年 10 月 16 日之前至少接種了第一次疫苗的相關證明。我們鼓勵尚未接種疫苗的顧客在活動之前接種疫苗。
立刻登錄我們的社交平台接收香港同志遊行的最新消息!
Facebook專頁: fb.com/hkpride ; fb.com/lexchillhey
Facebook Event: https://www.facebook.com/events/378926870364267
Instagram ID: hkprideparade; lexchillhey
Telegram Channel:https://t.me/hkpride
-----------------------------------
《Hong Kong Pride Parade 2021 Official Kick-Off Party》
【Stay in Love】
Enjoy the pride month from October to November, and ready for the whole series of activities for this year's Pride Parade!!! 🏳‍🌈
Date: 16/10/2021 (SAT)
Time: 10 p.m - 3a.m
Venue: Mudita, G/F Ice house street, Central
Entry Fee: Early bird offer has ended
Standard $180 (1 Standard Drink)
Activities: 🎧DJ Music
For table reservation and other payment methods (Payme/FPS)
please contact https://wa.me/85293041443
*After deducting the event cost, all proceeds will be donate and used as the operation cost of Hong Kong Pride Parade
📣According to the current Social Distancing Rules, All customers entering the venue MUST scan the 'Leave Home Safe' app and show proof that they have received at least 1st Vaccination prior to 16th Oct 2021. We encourage anyone who has not yet received their vaccine to get Vaccinated prior to the event.
Stay tuned on our social media platforms to receive Hong Kong Pride Parade's latest news!
Facebook Page: fb.com/hkpride; fb.com/lexchillhey
Facebook Event: https://www.facebook.com/events/378926870364267
Instagram ID: hkprideparade; lexchillhey
Telegram Channel:https://t.me/hkpride
#香港同志遊行2021 #hkprideparade2021 #平權是公義 #咪漏咗同志 #EqualJustice #EqualRights #派對 #開幕 #KickOffParty #DJMusic #LGBT #LGBTTQQIAAP