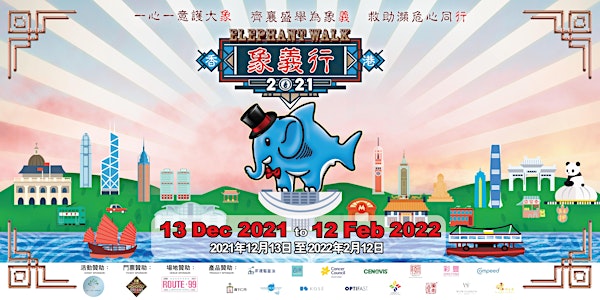 象義行 2021 Elephant Walk
象義行2021 今年轉為自發模式,零壓力,可自定活動時間及地點。而且每位參賽者將有近2個月的時間來完成整場慈善行,於香港的一些標誌性目的地、地區和著名的遠足路線行走,無論完成遊戲與否,報名登記即可獲贈慈善選手包總值超過$1500 ,更包括「大富翁夢想世界」門票乙張
When and where
Location
Multiple Location in Hong Kong Hong Kong Hong Kong Hong Kong
About this event
報名費用 (無論完成遊戲與否,報名登記即可獲贈慈善選手包總值超過$1500 ,更包括「大富翁夢想世界」門票乙張!)
成人價: $480 /位
雙人價: $380 /位 (同時兩人或以上報名)
學生價: $250 /位 (需持有有效學生証)
外傭價: $120 /位 (需持有有效香港身份証)(不接受順豐到付,不包括大富翁夢想世界門票及圍巾)
4人團隊價: $1200 /4位 (四人同時報名)
寵物價:$80/隻(參加者可額外為寵物登記,加購此將獲發寵物獎牌乙個, 不包括選手包及大富翁夢想世界電子門票)
***** 除網上登記外, 亦可於 星期一至五10am-5pm (公眾假期除外)親臨海峰環保教育寫字樓報名 *其餘時間歡迎WhataApp 9338 5555預約*
地址: 鰂魚涌海澤街28號東港中心705室
或直接入數至以下銀行
Name of Bank: 中信銀行(国际)
Account Name: AQUAMERIDIAN CONSERVATION & EDUCATION FOUNDATION LIMTIED
Account Number: 727-2-06280000
連同入數紙, 姓名, 電郵地址, T-shirt 尺寸 **註明"象義行2021報名" **
WhatsApp致 9338 5555
***領取選手包地點於海峰環保教育寫字樓***
重要日期
報名日期:2021年12月8日-2022年3月3日
選手包換領日期:2021年12月15日- 2022年3月3日
活動完結日期:2022年3月31日
攝影大賞結果公佈日期:2022年4月10日
立即讚好 海峰環保教育 Facebook 及 Instagram 專頁:
--------------------------------------------------------
2021 Elephant Walk
Our annual Elephant Walk Fundraiser is now opened for applications.
Join us this year with our unique version of the 2021 Elephant Walk. Each participant will have almost 2 months to complete a "race around a gameboard" and monopolize on some of Hong Kong's iconic destinations, properties and famous hiking routes.
Registration Cost
Adult : $480 person
Couple: $380 per person for two registrations at same time.
Student: $250 per person on presentation of a valid Student Identification
FDH : $120 per Foreign Domestic Helper on presentation of a valid HKID card. (SF Express is not accepted, E-ticket for MONOPOLY DREAMS™ and neck warmer is not included)
Group x4ppl: $1200 for a group. (Allows for four registrations at once.)
Pet : $80 per registered pet. (Participants can additionally register for their pets, and it will receive a pet medal. Race pack and E-Ticket for MONOPOLY DREAMS™ are not included)
Please click on for T-shirt sizes
In addition to online registration, you can also register at AquaMeridian Office on Monday to Friday 10am-5pm (Except public holidays) or by appointment - WhatsApp 9338 5555
Address : Suit705, Eastern Harbour Centre, 28 Hoi Chak Road, Quarry Bay
***Race pack Pick-up at AquaMeridian Office***
Key Dates:
Registration start - 8th December 2021
Race Pack redemption start - 15th December 2021
(Special weekend redemption dates for FDH's) - 15th & 16th January 2022
Registration end - 3rd March 2022
Rack pack redemption end -3rd March 2022
Race end - 31st March 2022
Photo prize results - 10th April 2022
Like / Follow our Facebook & Instagram Page: 
--------------------------------------------------------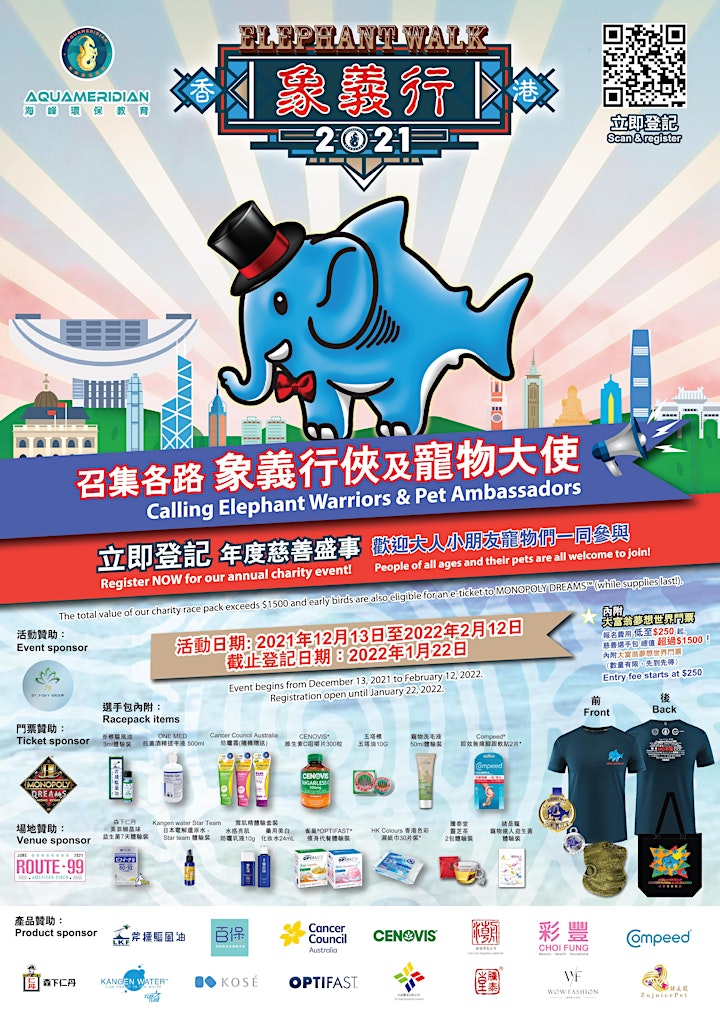 遊戲玩法:(*是次遊戲則為自發性參與; 不設限時及次數, 遊戲參加與否均可獲慈善選手包的。 )
1. 以個人或團體的名義在此頁面上註冊。
2. 付款後,您可自行到海峰環保教育的辦公室/ 由我們安排順豐速遞, 獲取您的"選手包"。 領取地址在遊戲指南中。
3. 下載遊戲指南(點擊藍色鏈接)。
4. 在遊戲板上從每個顏色組中選擇一個地點打卡,另外在五條步行路線選擇一條。
5. 歡迎於自選地點拍照,包括帶有標誌性標誌或景觀隨意打卡留念。
6. 同時邀請您參與額外攝影大賞,海峰將挑選最有創意的照片,獲得豐富獎賞! 遊戲及獎品詳情請參閱: https://www.facebook.com/AquaMeridianHK/posts/4713318008755660
攝影大賞分別為:
1. 生態綠悠遊回憶大賞(親親大自然美景的感人照片)
2. 大富翁夢幻大賞 (於大富翁夢想世界™ 主題館遊歷並拍下創意照片)
3. 親親地球大賞(行山同時清理路線垃圾的照片)
4. 浪漫動人大賞(情侶/ 親人配美景的浪漫照片)
5. 萬千"寵"愛大賞(與寵物同遊)
6. 濟濟一堂大賞 (家庭樂照 )
--------------------------------------------------------
How To Play
1.Register here on this page, as an individual or as a group.
2. After registration and payment you can collect your "Race Pack" from our office / choose Express service. Collection address is included in the downloadable Game Guide.
3. Download the Game Guide and Gameboard (Click on the blue links).
4. Select one location from each color group to visit, plus one of the five hiking routes. that is on the gameboard.
5. You must take a photo at each location, including a photo whilst you are on the hike with an iconic sign, view or place as evidence that you completed this location.
6. Additional points and prizes will be issued for the best and most creative photo. For game prizes and details. Please check in our Facebook page: AquaMeridianHK
Photo Prize Categories
1."Our Beautiful Ecology Image" Award - a touching photo which shows the beauty of nature.
2. " Amazing Monopoly Dreams™" Award - a artistic/creative photo within the MONOPOLY DREAMS™ exhibition at the Peak.
3. "Kiss the Earth" Award - a photo of your cleanup action whilst undertaking one of the specified hikes.
4. "Romancing the Walk" award - a romantic photo of your loved one (human or animal), or a lovely family photo at one of the destinations.
5. "We are Best of Friends" Award - best pet photo taken along the hiking route or at one of the nominated games destinations
6. "Grand Prize" - photo taken with family (must include whole family or group if a group/couple registration)
--------------------------------------------------------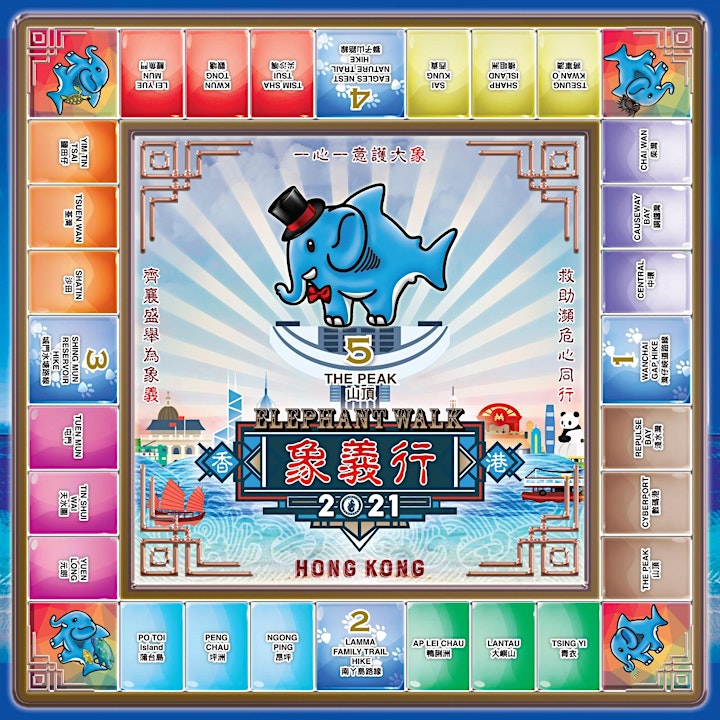 關於海峰
海峰環保教育(海峰)是香港註冊的非牟利機構,由熱心的環保人士郭秀雲於 2013 年創立。 Sharon是一名 美術專業,自 1987 年以來一直在香港的公共廣播和電影領域工作,她利用這一點在全球華人僑民中進行宣傳。
海峰旨在通過創意和跨文化教育項目,吸引大眾——尤其是在香港——關注動物保育和環境 問題 ,愛護動物及尊重大自然 。
我們希望香港能成為亞洲環境保護的管家。
香港,有"小漁港"之稱,是一座依海而建的城市。 它從一個小漁島發展成為世界上最繁忙的貿易港口之一,長期以來一直依賴於我們當地的自然財富。 但隨著我們的人口和資源需求的增長,我們忽視了我們作為地球守護者的角色,過度捕撈、海洋酸化和海洋污染。
此外,香港曾經是野生動物貿易蓬勃發展的的樞紐,象牙和魚翅的買賣是公開合法的。 香港長期以來一直是東西方之間多元文化的橋樑,也是通往中國的門戶,提高城市內環境問題的意識可以對亞洲其他地區產生深遠的影響。
我們相信教育是我們可持續地球未來的關鍵。
--------------------------------------------------------
About Aquameridian
AquaMeridian Conservation and Education Foundation (AquaMeridian) is a registered Hong Kong-based non-profit organization founded by celebrity and avid conservationist, Sharon Kwok in 2013. Sharon has worked in Hong Kong's public broadcasting and cinematic field since 1987, and she is also a fine art major and makes use of this throughout the global Chinese Diaspora for advocacy.
AquaMeridian aims to educate and engage the public – particularly in Hong Kong – about conservation and sustainability issues through creative and cross-cultural programs.
We envision Hong Kong as a steward for environmental protection in Asia.
Hong Kong, the "Fragrant Harbour", is a city built on its relationship with the sea. Growing from a small fishing island to one of the busiest trading ports in the world, it has long been dependent on our local natural riches. But as our population and demand for resources grew, we neglected our roles as caretakers of the planet, with overfishing, ocean acidification, and pollution happening in our own waters.
Furthermore, Hong Kong acted as a hub for a thriving wildlife trade, with ivory and shark fin being bought and sold openly and legally. With Hong Kong long having been a multicultural bridge between the East and the West, as well as the gateway to China, increasing awareness of environmental issues within the city can have a far-reaching impact in the rest of Asia.
We believe that education is the key to a sustainable future for our planet.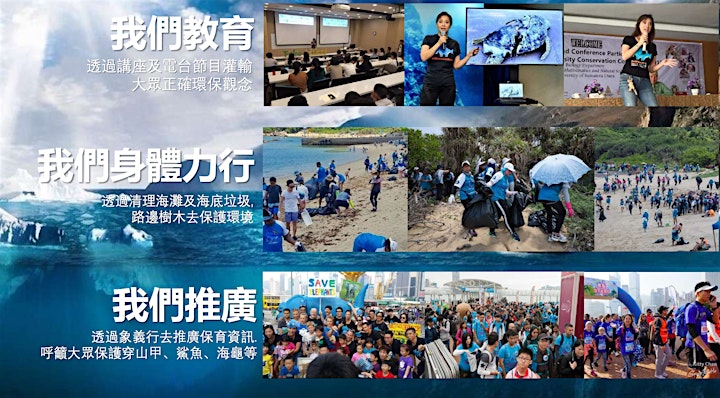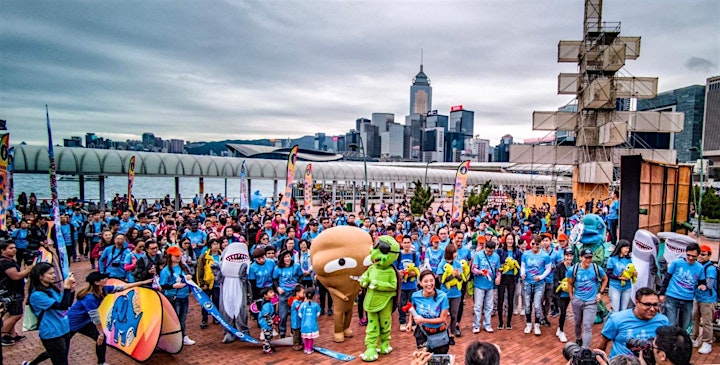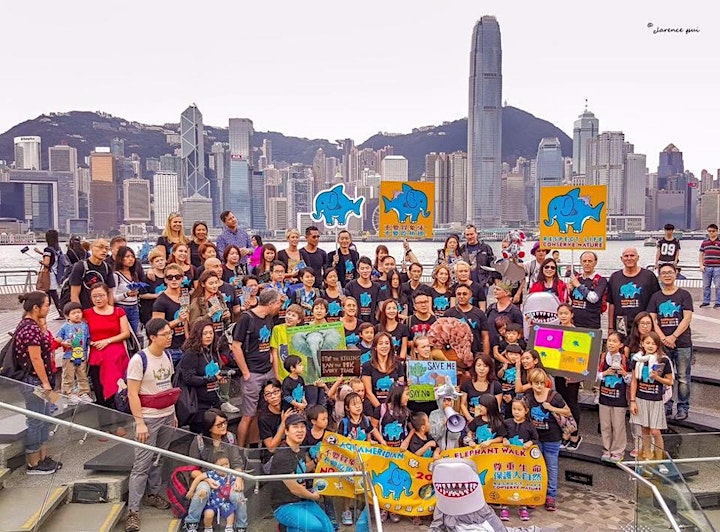 ****加推:寵物獎牌刻名服務 Pet Medal Engraving Service
以下優惠只適用於象義行的海峰寵物大使獎牌, 預約時請說明是象義行參加者
The following offers are only applicable to the Medal of Aquameridian Pet Ambassador, please specify that you are participant of Elephant Walk when making an appointment.
銀訊激光 Silverlaser
中環永吉街5號永宜商業大廈21樓A室
21A,Wing Yee Comm. Bldg, 5 Wing Kut St., Central
需預約 By appointment : 2850 5026 / 9282 6546
優惠價:$60 (原價:$90)Special price: $60 (original price $90)
心刻。刻印工作室 Heart Engrave Workshop
Room 31,9/F, Sing Wan Factory Building,15-17 Sing Yip Street, Kwun Tong
Office Hours: Mon - Fri 12:30-19:00
需預約 By appointment : 5540 8881
優惠價:$60 (原價$90)Special price: $60 (original price $90)
Laser Joe Workshop
旺角好景商業中心1樓15號鋪
需預約 By appointment :5198 8587
優惠價:$65 (原價$128)Special price: $65 (original price $128)