M&A and Private Equity Best Practice Sharing
About this event
This forum will focus on the hot topics of investment, cross-border M&A and private equity under the current economic environment, and in-depth discussions to help Chinese enterprises understand cross-border investment strategies, tax regimes, legal risks and potential cultural conflicts. Also proven solutions will be demonstrated that help Chinese companies conduct cross-border M&A deals.
Forum Highlights
A half-day of insights, ideas and networking with China cross-border M&A, PE and investment experts
Learn about the latest trends and best practices in M&A and PE
15+ industrial leading speakers, 200+ participants from corporate investment department and investment banks
Main forum, networking and cocktail
Panel Topics to be Discussed
Boosting cross-border deals in 2021
Opportunities and Challenges for Foreign Investors in China and Outbound M&A
Regulations Updates
PE Industry - The Legacy of 2020 and Market Evolution
M&A Environment - Focus on the Specific Industries(TMT, Healthcare, Industrial goods, Infrastructure and Public Services, etc...)
And more…
Confirmed Speakers and Panelists
Andy Cui, Head of Issuer Services, HSBC China
Kenneth Koo, Managing Director, Orient Securities Investment Banking
Bagrin Angelov, Head of China Cross-border M&A, Managing Director, CICC
Barry Chen, Managing Director, Interchina Partners
Ludvig Nilsson, Managing Partner/Co-Founder, Jade Invest
Cathy Cai, Partner, Junhe Law Office
Joe Zeng, Managing Director, HOPU-Arm Innovation Fund
Tony Wang, Partner, Nordic Match
Dani Yang, PE/HF Data Specialist, ​Bloomberg China
John Yuan, China Head, M&A Community
And more…
For more information, you can visit https://mnacommunity.com/
If you would like to share insights, please contact us at esther.liu@mnacommunity.com
About M&A Community
An international organization committed to building an M&A community on a global scale. We hope this community can be the platform for sharing and networking for M&A professionals around the world.
We have teams in EU, USA, China and Latin America and organize a series of M&A conferences, forums, matchmaking roadshows, media and roundtables, cocktail parties, interviews every year.
Past Speakers & Attendees From: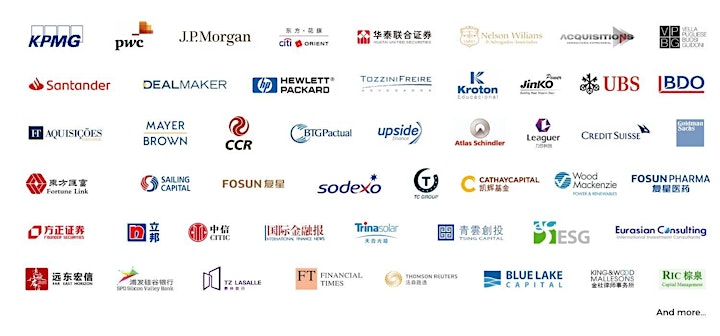 Organiser of 2021 China Cross-Border M&A and Private Equity Investment Forum
EventLinker is a full service event planning and execution company founded in Shanghai, China. Focusing on events in the energy, tech, finance and blockchain industry, EventLinker aims to connect innovative and interesting companies and startups to a network of investors in China and abroad. 

With many investment companies in our network and many more private investors with a wide expertise, we have the necessary connections in every industry for companies looking for financing.