Description
Science Workshop 2020 Summer Odyssey - AI Machine Learning Summer Camp
AI program will guide you to create games, interactive projects that present an actual world use of artificial intelligence and machine learning.
Why learn Artificial Intelligence Machine Learning?
- Facilitates creative thinking
- Helps develop analytical, logical reasoning and problem-solving skills
- Provides early exposure to coding and programming skills
- Prepares a mindset like a scientist
- Helps develop to be future leader
Age: 7-11
Duration: 5 lessons per module, 1 hour 30 minutes per lesson
Workshop location: The Mills, 45 Pak Tin Par Street, Tsuen Wan
The camp consists of three different modules. Each module consists of five different topics teaching machine to recognize text, image and number.
Details of each module and camp schedule: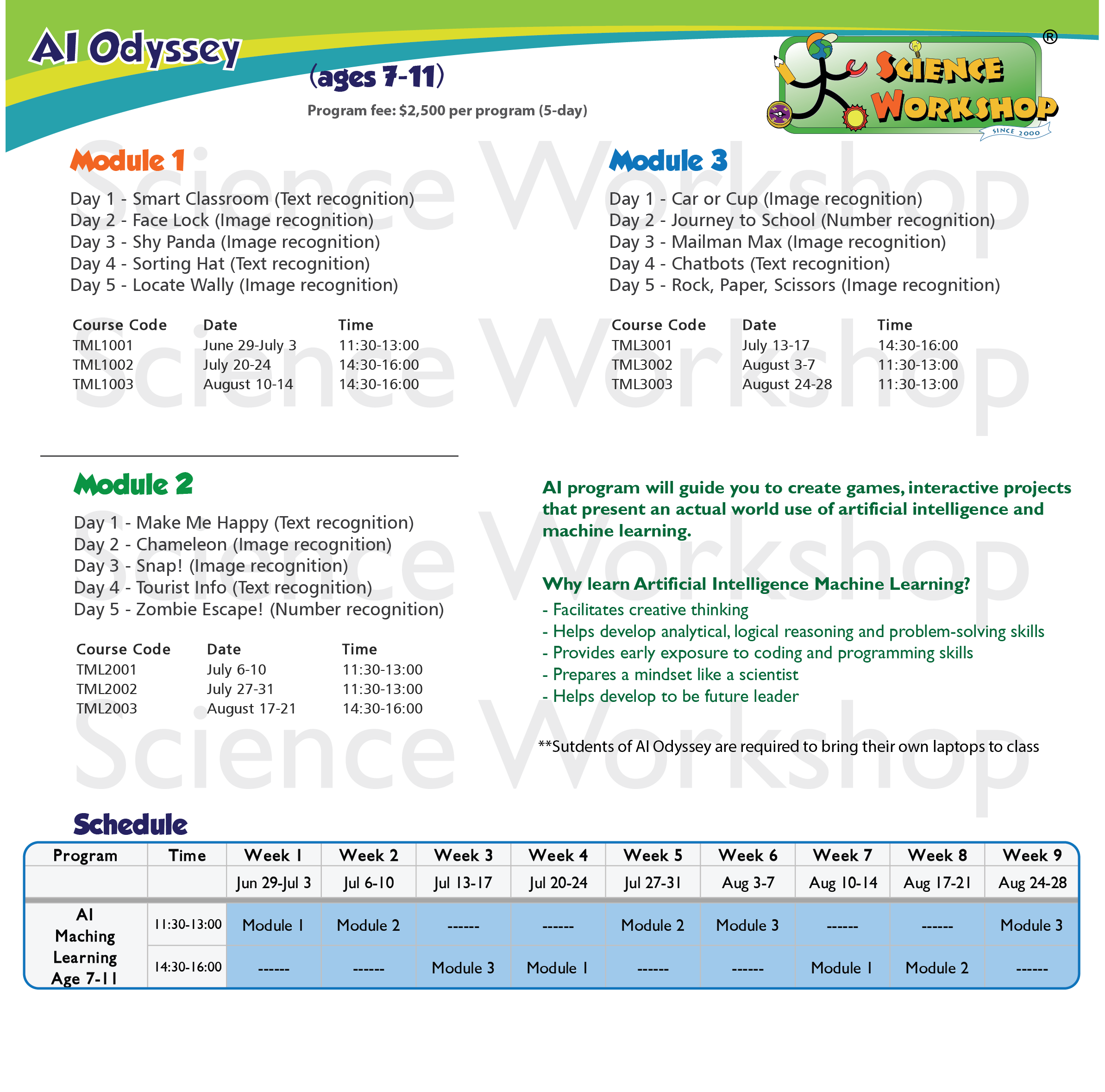 **Sutdents of AI Odyssey are required to bring their own laptops to class
The class will be switched to online teaching and learning if class is suspended due to the COVID-19 or other unforeseeable circumstances. Science Workshop will notify parents individually by phone, whatsapp or email.
Science Workshop facilitator may modify the course content to facilitate your child's online learning experience.
Program fee will be credited and can be used to enroll in other programs in case of class cancellation due to unforeseeable circumstances. There will be no refund.
For full version of the school policy, please visit our website www.scienceworkshophk.com
FAQs
Are there ID or minimum age requirements to enter the event?
7 years old
How can I contact the organiser with any questions?
For inquiries, please contact us at 2523 5533 or by email info@scienceworkshophk.com
Organizer of 2020 Summer Tech Camp (Tsuen Wan Workshop)
Science Workshop® is the industry leader in our field. One of our key success factors is the quality of our curriculum. Our activity-based courses are designed according to theories in constructivism. Our curriculum developers and facilitators are meticulous about choosing topics and activities that are appropriate for the cognitive levels of the participating students.
Our mission is to inspire the passion of thinking and learning, and to instill a scientific way of observing the world. Our budding scientists, mathematicians and engineers augment their creativity and inquisitiveness through fun and hands-on activities. They learn to work individually and in teams, in activities that integrate science literacy, mathematical skills, technological know-how and environmental awareness.