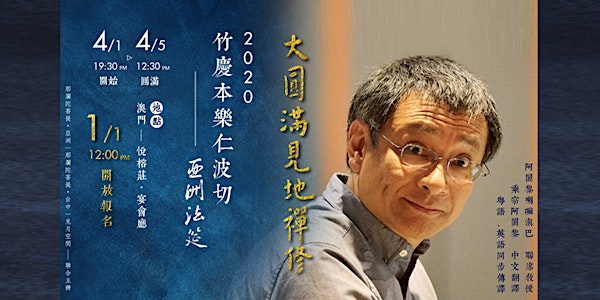 2020 竹慶本樂仁波切亞洲法筵 ∣ Open Retreat in Asia with Dzogchen Ponlop Rinpoche
When and where
Location
澳門 – 悅榕莊 • 宴會廳 ∣ Ballroom, Banyan Tree Macau Avenida Marginal Flor de Lotus Cotai Macao
Description
#2020竹慶本樂仁波切亞洲法筵
#大圓滿
竹慶本樂仁波切的『竹慶』

就是大圓滿的藏文音譯
歷代的竹慶本樂仁波切
都是大圓滿傳承法脈的持有者
大圓滿
一直就是仁波切的傳家之寶
無論你是初學佛的小白
或是已經在佛門參學多年的老參
都能從這樣一位大圓滿上師的法筵中
得到受用
師以一音演說法
眾生隨類各得解
真正的大圓滿上師
教導九乘佛法的頂嚴——
大圓滿的見地與禪修
2020年一期一會的大圓滿法筵
日期:
2020年4月1日 19:30 開始
2020年4月5日 12:30 圓滿

地點:澳門 – 悅榕莊 • 宴會廳

阿闍黎喇嘛滇巴 聯席教授

乘宗阿闍黎 普通話翻譯

粵語、英語同步傳譯


2020年1月1日中午12 點開放線上報名
▍ 閉關課程費用

僧衆登記
僧衆免課程費用由主辦單位供養(不含食宿、個人往返交通)

一般登記
A、2020年1月31日或之前報名,享早鳥價港幣2,500元
B、2020年2月1日起報名,為港幣3,000元


▍ 需事先登記
參加此閉閉 :

港澳地區報名人士
請按綠色 (Register) 鍵, 並依照 【付款及報名三步曲】完成登記程序。

如報名人士身處其他地區, 請參考以下連結並按相關指示完成登記程序。

|大陸地區報名連結:
https://jinshuju.net/f/PqnL7r
|台灣地區報名連結:
https://forms.gle/iFRu7h9z823u67pRA
備註: 為維護上課品質,不可帶10歲以下孩童入場


---
# 2020 Open Retreat in Asia with Dzogchen Ponlop Rinpoche
We are grateful and pleased to announce that our beloved teacher, Dzogchen Ponlop Rinpoche, the genuine holder of the Dzogchen (Great Perfection) Teachings throughout his line of incarnations, has kindly agreed to teach us on"The View and Meditation of Dzogchen"in this coming 2020 Open Retreat to be held in Asia.
Let's get ourselves ready and aspire to be a worthy vessel of this precious teachings, the crown jewel of the Nine Yanas.
Everyone welcome — beginners and seasoned practitioners!
Date and Time: Apr 1, 2020 (7:30pm) to Apr 5, 2020 (12:30pm)

Venue: Ballroom, Banyan Tree Macau, Avenida Marginal Flor de Lotus Cotai, Macau China
Acharya Lama Tenpa will be co-teaching

Mandarin Chinese translation by Acharya Jampa

Cantonese and English simultaneous interpretation will be avialable

Registration starts at 12:00noon on Jan 1, 2020
▍Course Fee

Registration - Monastics
Complimentary admission for monastics (Not including accommodation, food and transportation expenses)

Registration - General
A) Early Bird Fee HK$2,500 (On or before January 31, 2020)
B) Regular Fee HK$3,000 (From February 1, 2020 onwards)
▍ Registration is required.
To Join the Retreat :

For regisrtrants from Hong Kong and Macau Area
Please press the Register Button in green
and follow【3 Steps of Payment & Registration】

For registrants from other areas, please refer to the links below and follow the corresponding guidelines.

Registration Link for Mainland China Area
https://jinshuju.net/f/PqnL7r
Registration Link for Taiwan Area
https://forms.gle/iFRu7h9z823u67pRA

Note: In order to maintain a condusive learning atmosphere, all participants must be aged 10 or above.