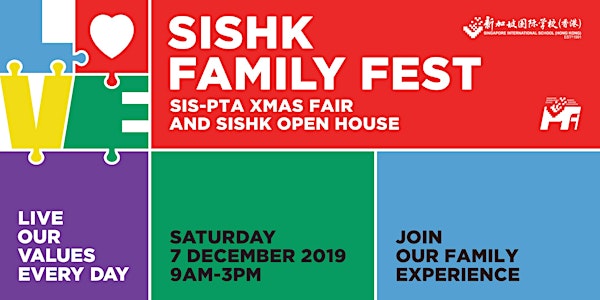 2019 SISHK Family Fest: SIS-PTA Xmas Fair and SISHK Open House
Location
Singapore International School(Hong Kong)
2 Police School Road
Wong Chuk Hang
Hong Kong
Hong Kong
Description
The 2019 SISHK Family Fest: SIS-PTA Xmas Fair and SISHK Open House is an exciting day where we showcase how we live our values every day in SISHK! The school and SIS-PTA have planned an exciting day packed with lots of fun and activities for the whole family!
As part of the 2019 Family Fest, our Principal, Mr Kelvin Tay and the Vice-Principals will be giving admissions talks on how the school nurtures innovative and enterprising minds through imagination, inquisitiveness and interconnected learning!
The admissions talks are scheduled as follow:
Admissions Talk on Secondary Section
10.00am, L7 Lim Kai Auditorium
Presented by Ms Annie Lim and Mr Alvin Soon, Vice-Principals (Secondary)

Admissions Talk on Preparatory Years and Primary (PYP) Section
12.30pm, L7 Lim Kai Auditorium
Presented by Mr Bernard Ng, Vice-Principal (PYP)
Entry to the 2019 SISHK Family Fest is by pre-registration only. If you are registering for an admissions talk, then there is no need to register for a general admission ticket.
For more information please visit https://www.singapore.edu.hk/2019famfest/
Join Our Family Experience!