2019 Hong Kong International CRE & Innovation Expo June 20-21
Description
Hong Kong International CRE & Innovation Expo
Hong Kong International CRE & Innovation Expo is aiming at providing a cross industry platform for enterprises to "open up, communicate and collaborate", to expand oversea markets, build up regular communication, achieve collaboration, improve companies' international competitiveness, and lay foundations of reputation within the industry. Apart from senior managers from government, organizations, enterprises, research and training institutions, leaders and professionals from different industries including finance, insurance, telecom, manufacturing and ecommerce will participate in the event, have in-depth discussion on opportunities and challenges of customer services, pay close attention to and share frontier problems regarding customer service industries' development in China and global international cities.
The Expo will provide opportunities for participants to communicate directly with global leaders in customer service industry, share technology, information and best practice in the forefront of the industry. With top industrial communication, large scale of participation, powerful driving force, the Expo will be a professional, practical, authoritative and international cross industry event.
Themes of Innovation Expo 2019
In the Expo, focusing on below themes, outstanding companies and organizations from China and overseas will display and share, in order to build up a prestigious platform to communicate, cooperate and create more business opportunities.
Big Data, Mobile 5G, Digital, Social and Cloud

CRM, contact center, BPO, eCom & A.I., IoT
Ten Reasons Why You Should Exhibit in the Leadership Summit and Innovation Expo ?
Exhibiting in-front of a customer-focused audience will generate quality leads and accelerate your sales cycle

Showcase your solutions and services giving clients first hand experience and a chance to trial your product on-site

Maximise your sales team's time by providing direct face to face access to the industries decision makers

Differentiate your company from other vendors for competitive advantage

Raise awareness that you are a key player in your industry

Demonstrate your strength by continuing to reach out to your target market even in difficult economic times

Keep your brand and solution front of mind and on the buyers shortlist

Showcase new products and ensure they go launch successfully

Generate qualified leads and host sales meetings there and then with your client

Take advantage of the extra marketing and brand awareness given to your product through our extensive all year round marketing campaign
As an exhibitor of the CRE & Innovation International Expo, Hong Kong 2019, you may enjoy the following benefits:
Hong Kong CRE & Innovation International Expo & Awards Competition Entry.
Exhibition table (2.5ft X 2.5ft) display# of your company products/service information during the CRE & Innovation Expo on 20th-21st June 2019
Logo appears in all marketing materials of the CRE & Innovation Expo (including website, brochures and email) by APCSC CRE & Innovation Expo promotion with support from online media partner* and supporting organization*of the Expo
Company write-up on APCSC Global CRM Community Website with contact details
1 VIP pass for the CRE & CSQS Leadership Summit 2019 (worth HKD12,000)
40 words Write-up in the Leadership Summit Program Catalogue with contact details
One HKCSC Associate Membership (worth HKD3,800) includes:

Annual complimentary pass to APCSC Roundtables throughout the region
APCSC knowledge mail: Tip of the Month
3XHKD500 APCSC Global Certification Discount Coupon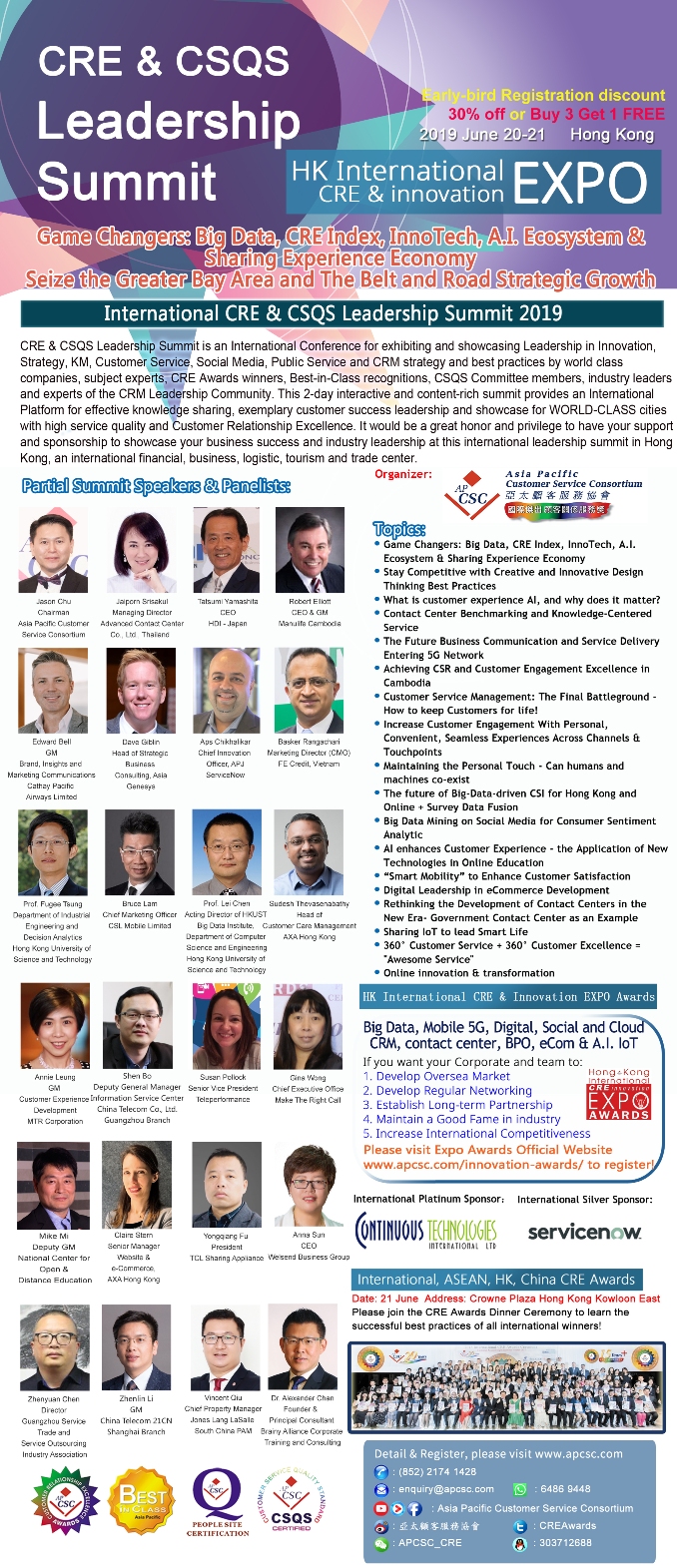 *** Your organization logo will only appear on Exhibitor section if the agreement has been signed and print dates met. In order not to miss out any promotional activity, it is recommended that the agreement be taken up at the earliest possible date.
* Online Media Partner of the CRE & CSQS Leadership Summit and Hong Kong CRE & Innovation International Expo: The Standard, Hong Kong Economic Times, Avazu, Cyber M@rketing Service, CRMXChange, Purple Click Media, TechNow, Zizsoft Limited , MediaBUZZ Pte Ltd,
Asian e-Marketing, EU Reporter, 21cn.com, Questex Asia Ltd. – SMB World, Computer World, Wordlabs Global Sdn Bhd, Outsource magazine online,
北青网、暢享網、飞象网、真心网,中国外包网、中国商业电讯网、
31
会议网、中国企业电子商务网、至顶网,

C114

中国通信网

* Supporting Organization of CRE & CSQS Leadership Summit and Hong Kong CRE & Innovation International Expo: HDI Japan (Help Desk Institution), Hong Kong Direct Marketing Association, Direct Marketing of Asia Ltd., Hong Kong Computer Society, Customer Service Institute of Australia, Taiwan Contact Center Development Association, Academy of Contact Center & BPO,
博锐管理在线
# You can change the table display to exhibition booth (9 sq.m. / 12 sq.m.), additional price will be incurred for booth setup.
Please kindly download the Exhibitor Enrollment Form below for registration.
Introduction of APCSC
The year 2018 is an important year that it marks the 20TH ANNIVERSARY for APCSC. Asia Pacific Customer Service Consortium (APCSC) is founded with the belief of "Customer Relationship Excellence is the only way to Sharpen your Competitive Edge!" The goal of the Consortium is to promote service quality and customer relationship excellence in international cities across Asia Pacific Region and to recognize and reward government bodies, companies, business units, teams, and individuals that have contributed to the success of both their customers and the organizations that they serve through the Customer Relationship Excellence Awards program. Through promoting research and development related member's needs, providing basic frame for customer service knowledge management, organizing meaningful activities, APCSC provide opportunities for companies and organizations in cross industries to gain better understanding on customer service.