2019 EPAM FinTech Hackathon 亿磐金融科技编程马拉松

Saturday, 7 December 2019 at 09:00

-

Sunday, 8 December 2019 at 17:00 (CST)
Event Details
What is EPAM FinTech Hackathon?
什么是亿磐金融科技编程马拉松?
EPAM FinTech Hackathon is the 3rd Hackathon organized by EPAM in Shenzhen, China. Founded in 1993, EPAM is a leading global provider of digital platform engineering and software development services, especially in the Banking and Financial Services domains. EPAM leverages its software engineering expertise to support and equip global clients with the best practice in fintech.
Shenzhen is a focal point of fintech services innovation, and EPAM is working with established banks, financial services institutions and fintech startups to drive innovative thinking. Join our Hackathon, learn about what's happening in our city, and explore your ideas about new ways to bank, invest, or enable the under-serviced to get access to financial support through mobility, blockchain, innovative payments and other services.
亿磐金融科技编程马拉松是亿磐在中国深圳举办的第三届编程马拉松。亿磐创立于1993年,是全球领先的产品开发和数字化工程服务提供商。亿磐的客户群涵盖金融、旅游及消费品、高科技、媒体及娱乐、生命科学及医疗等行业,尤其在银行及金融服务领域享有盛誉。在金融领域,亿磐凭借自身多年演进的软件工程基因、创新性的战略规划和专业IT咨询服务及设计能力,为全球客户提供与金融技术相关的最佳解决方案及技术支持。
近年来,与金融服务业相关的科技不断发展创新,而深圳业已成为金融科技服务创新与前瞻性思维会聚的焦点。亿磐致力于与知名银行、金融服务机构和金融科技初创公司合作,共同推动金融科技创新思维的进步。
加入到我们的编程马拉松中,跨越移动支付、区块链、创新支付等新技术和其他金融服务产品,由你开发的创新性应用原型系统有可能将为你的城市中的金融服务行业内的金融机构、投资者、以至平常甚少有机会享受高端金融服务产品的人群提供创新服务,建立更为便捷易用的平台。让咱们一起放飞思想,开阔在金融服务业的视野吧!
---

THE CHALLENGE
挑战
Within 24 hours you are to develop an app or a mini-program prototype (for example, WeChat) around one of the challenges listed below to provide financial markets information to users, and enable them to make informed investment decisions.
在24小时内,您将会围绕以下挑战之一进行应用程序原型开发(如微信小程序),为以下不同使用者提供金融服务信息,帮助他们做出明智的金融决策。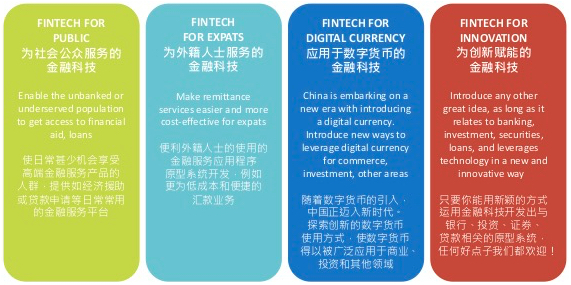 1. FINTECH FOR PUBLIC  为社会公众服务的金融科技

Enable the unbanked or underserved population to get access to financial aid, loans
使日常甚少机会享受高端金融服务产品的人群,提供如经济援助或贷款申请日常常用的金融服务平台

2.  FINTECH FOR EXPATS  为外籍人士服务的金融科技

Make remittance services easier and more cost-effective for expats
便利外籍人士的使用的金融服务应用程序原型系统开发,例如更为低成本和便捷的汇款业务

3. FINTECH FOR DIGITAL CURRENCY 应用于数字货币服务的金融科技

China is embarking on a new era with introducing a digital currency. Introduce new ways to leverage digital currency for commerce, investment, other areas
随着数字货币的引入,中国正迈入新时代。探索创新的数字货币使用方式,使数字货币得以被广泛应用于商业、投资和其他领域
4. FINTECH FOR INNOVATION 为创新赋能的金融科技

Introduce any other great idea, as long as it relates to banking, investment, securities, loans, and leverages technology in a new and innovative way 
只要你能用新颖的方式运用金融科技开发出与银行、投资、证券、贷款相关的原型系统,任何好点子我们都欢迎!
---

WHO IS THIS FOR? 
谁来参加?
We are looking for enthusiastic developers, designers, and creative people with ideas! If you haven't been to any Hackathons before, do not worry. Team up with max. 5 people, meet up with industry experts, pitch your ideas while enjoying free snacks, coffee, refreshments, meals and recreation facilities.

我们期待充满激情的开发人员、设计师和怀揣奇思妙想的创意人士加入!从未曾参加过编程马拉松,单枪匹马有些心虚?无需担心!我们允许最多5人的团队组队参赛。用一个周末的时间,与行业专家会面,分享你的点子,学习新的技能,并享受免费小吃、咖啡、餐饮和娱乐设施吧!
---

HOW DOES IT WORK?
编程马拉松是如何进行的?
We do not limit the range of technologies and programming languages ​​used.

You're welcome to join either individually or as part of a team (max 5 people). 

Please bring your own laptops. 

Each team will submit one product for a 2-minute demonstration and presentation in English on December,

8

th. 


我们不对所使用的技术和编程语言设限

欢迎个人或最多至五人的团队组队参加

请携带自己的便携式电脑

每个团队必须在

12

月

8

日提交一个原型产品,并进行为时

2

分钟的英语介绍和演示
---

PRIZE:
优胜者会有哪些奖励?
Winner RMB15,000

1st Runner-up RMB10,000

2nd Runner-up RMB7,000
冠军:现金奖励人民币

15,000

元

亚军:现金奖励人民币

10,000

元

季军:现金奖励人民币

7,000

元
---

ASSESSMENT CRITERIA:
评判标准是什么?
Results evaluation will be based on the three main criteria: 
40%: creativity, functionality and innovation in the subject,

20%: code complexity and code purity,

40%: demo quality, UX and WOW effect.
成绩评判将基于以下三个方面:
40

%:针对主题的创意、功能性和创新性

20

%:代码复杂度和代码纯度

40

%:现场演示水平、产品的用户体验,以及是否令人耳目一新
---

AGENDA:  
将会是怎样的一个周末?

Day 1 - December, 7 2019 (Saturday)
09:00 AM     Doors Open to Attendees 场地开放
11:00 AM     Opening Ceremony 开幕仪式
11:30 AM     Hack Starts 编程开始
01:00 PM     Lunch 午餐
02:00 PM     Blockchain Talk 区块链讲座 (NEW)
                    (Click HERE to secure your place through registration and get more event details!)
07:00 PM     Dinner 晚餐

Hack through the night! 
场地通宵开放,你可以彻夜奋战!

Day 2 - December, 8 2019 (Sunday)
09:00 AM     Breakfast 早餐
01:00 PM     Hackathon Ends  编程结束并提交最终代码
01:00 PM     Lunch 午餐
02:00 PM     Demos Begin 现场演示开始
04:00 PM     Result Announcement and Prize Presentation 宣布获奖名单并举行颁奖典礼
05:00 PM     The End 编程马拉松圆满结束

Thank you for your participation! 
感谢您的参与!
---

DATA HANDLING
数据处理
Your photos will be taken during the event activities and posted in EPAM social media channels. For more information regarding EPAM Privacy Policy, click here.
EPAM Systems (Shenzhen) Co.Ltd. ("EPAM") is committed to protecting the confidentiality and security of your personal information.

您的照片可能会被用于亿磐编程马拉松和亿磐社交媒体频道。关于亿磐隐私政策的更多信息,请单击此处。 
亿磐系统(深圳)有限公司("亿磐")会致力于保护您的个人信息的保密性和安全。

For event inquiries or further questions, please feel free to contact us at hackathon_CN@epam.com.
Do you have questions about 2019 EPAM FinTech Hackathon 亿磐金融科技编程马拉松?
Contact EPAM亿磐
When & Where

领感Easy Work
3/F, Fulizhen Building
1 Kefa Road
Nanshan, Shenzhen, Guangdong
China

Saturday, 7 December 2019 at 09:00

-

Sunday, 8 December 2019 at 17:00 (CST)
Add to my calendar
Organiser

关于亿磐
亿磐创立于1993年并植根于白罗斯和美国,是纽约证券交易所(NYSE:EPAM)的上市公司,并被认为是全球领先的产品开发和数字工程服务企业。借助其多年演进的软件工程基因、创新的策略部署、专业的IT咨询服务及设计能力,亿磐与客户紧密协同,通过创新的解决方案将复杂的业务挑战转化为真正的商机。亿磐利用其屡获殊荣的全球交付平台,正为遍布于北美、欧洲及亚太超过25个国家和地区的客户提供创新解决方案。
亿磐的客户涵盖金融、奢侈品、酒店、零售、电子商务及企业级技术开发和应用、云计算和大数据等行业 。
亿磐秉承着工程技术文化,以员工自身技能提升和持续高质量的交付为目标,专注于员工的全方面技能提升与发展。
如需了解更多信息,请浏览 www.epam.com。
About EPAM
Since 1993, EPAM Systems, Inc. (NYSE: EPAM) has leveraged its software engineering expertise to become a leading global product development, digital platform engineering, and top digital and product design agency. Through its 'Engineering DNA' and innovative strategy, consulting, and design capabilities, EPAM works in collaboration with its customers to deliver next-gen solutions that turn complex business challenges into real business outcomes. EPAM's global teams serve customers in over 25 countries across North America, Europe, Asia and Australia. EPAM is a recognized market leader in multiple categories among top global independent research agencies and was one of only four technology companies to appear on Forbes 25 Fastest Growing Public Tech Companies list every year of publication since 2013. Learn more at http://www.epam.com/ and follow us on Twitter @EPAMSYSTEMS and LinkedIn.