Description
Our companies American Pacific Tax & GFM Asset Management would like to invite you to join our joint event where we will talk about the Tax Cuts and Jobs Act signed into law by President Trump on December 22, 2017 taking effect beginning in 2018.
Overview of the tax changes

What taxpayers living overseas need to know

How the tax changes may affect you

401(k) and Individual Retirement Accounts (IRAs)

Tax efficient investment strategies
If you would like to learn more about the topics above, please RSVP to the link above and join us for light refreshments. Feel free to share this invite with anyone who is interested.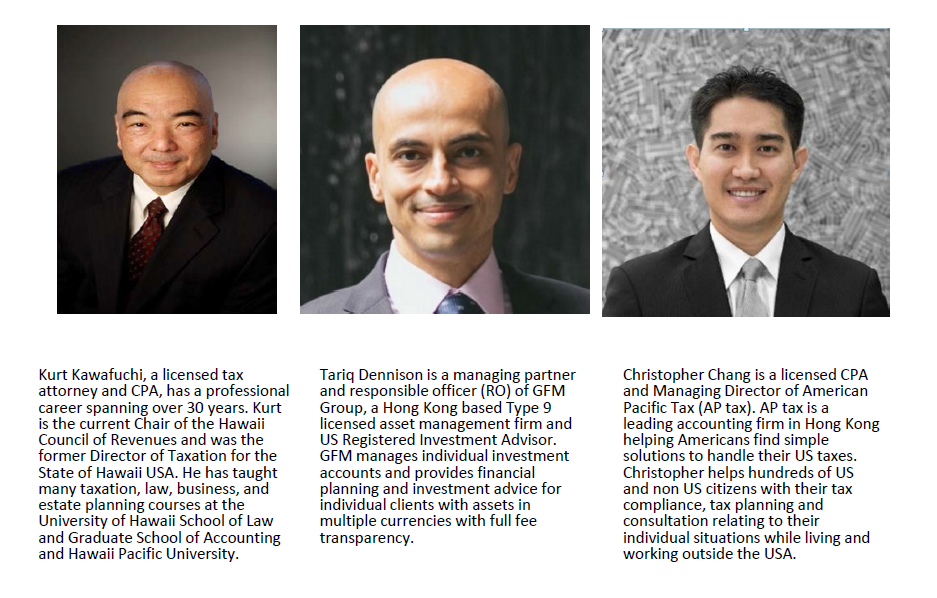 Kurt Kawafuchi a licensed tax attorney and CPA, has a professional career spanning over 30 years. Kurt is the current Chair of the Hawaii Council of Revenues and was the former Director of Taxation for the State of Hawaii USA. He has taught many taxation, law, business, and estate planning courses at the University of Hawaii School of Law and Graduate School of Accounting and Hawaii Pacific University.
Tariq Dennison is a managing partner and responsible officer (RO) of GFM Group, a Hong Kong based Type 9 licensed asset management firm and US Registered Investment Advisor. GFM manages individual investment accounts and provides financial planning and investment advice for individual clients with assets in multiple currencies with full fee transparency.
Christopher Chang is a licensed CPA and Managing Director of American Pacific Tax (AP tax). AP tax is a leading accounting firm in Hong Kong helping Americans find simple solutions to handle their US taxes. Christopher helps hundreds of US and non US citizens with their tax compliance, tax planning and consultation relating to their individual situations while living and working outside the USA.


For more information about the event, please contact us.